Sanchez-fueled Yanks penning thrilling script
Rookie catcher's historic start vaults club into thick of playoff race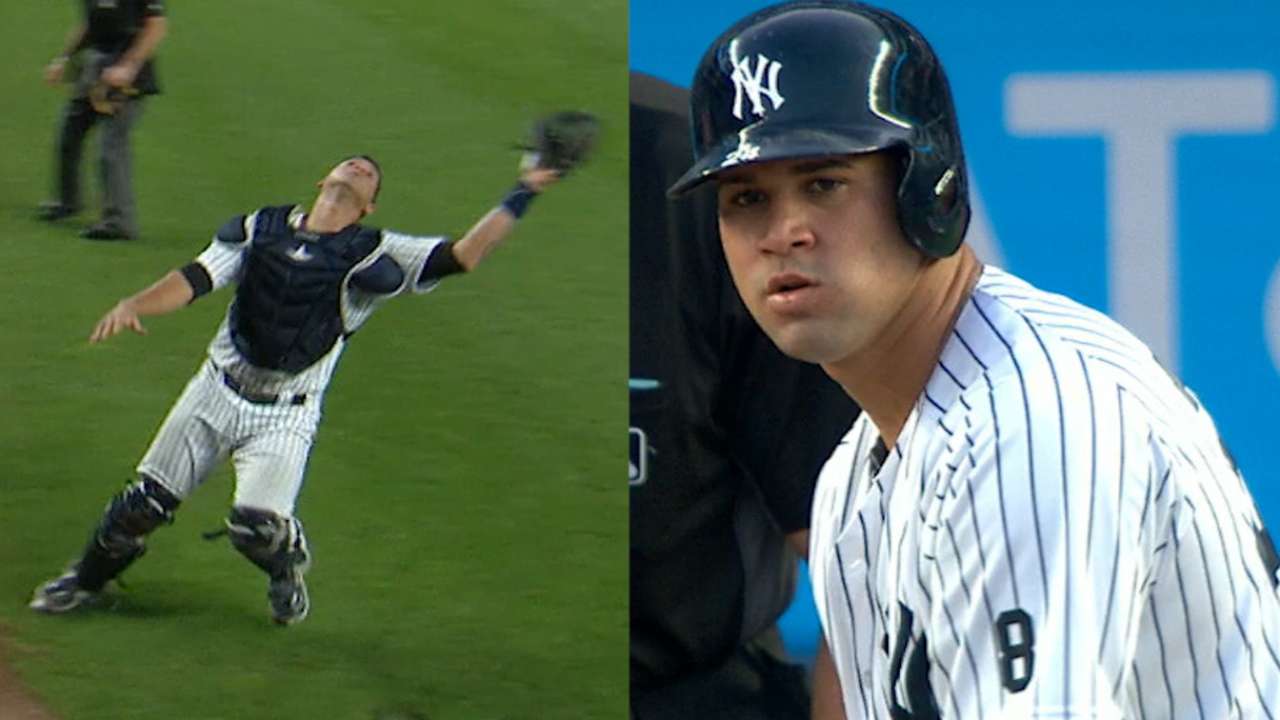 NEW YORK -- The slow jogs have almost become a nightly event for Gary Sanchez, who insists that he doesn't hear a thing while making that 360-foot trip around the basepaths. If so, the rookie might be the only one not caught up in an exciting display that has kept the Yankees in the postseason chase.
Sanchez continued his torrid month on Friday with the 10th home run of his young career, part of a three-hit, four-RBI performance as the Yankees routed the Orioles, 14-4. Sanchez's fifth-inning blast off Vance Worley was celebrated with loud chants of his name from an announced crowd of 38,423 at Yankee Stadium.
"When I'm running the bases, I actually don't hear anything," Sanchez said through an interpreter. "There's a lot of emotions within me when I'm running the bases that sort of block everything else. I don't hear anything. Just keep on running."
And just keep on swinging. Summoned to New York for an Aug. 3 contest against the Mets, Sanchez has enjoyed an all-out assault on both big league pitching and the record books. In 85 plate appearances, he has compiled a robust .403/.459/.883 split line, with seven doubles and 20 RBIs, including a two-run double in the second inning of Friday's win.
"He continues to swing the bat extremely well, seems to center every baseball he hits," Yankees manager Joe Girardi said. "He's patient, he gets his pitch and he's not missing it right now."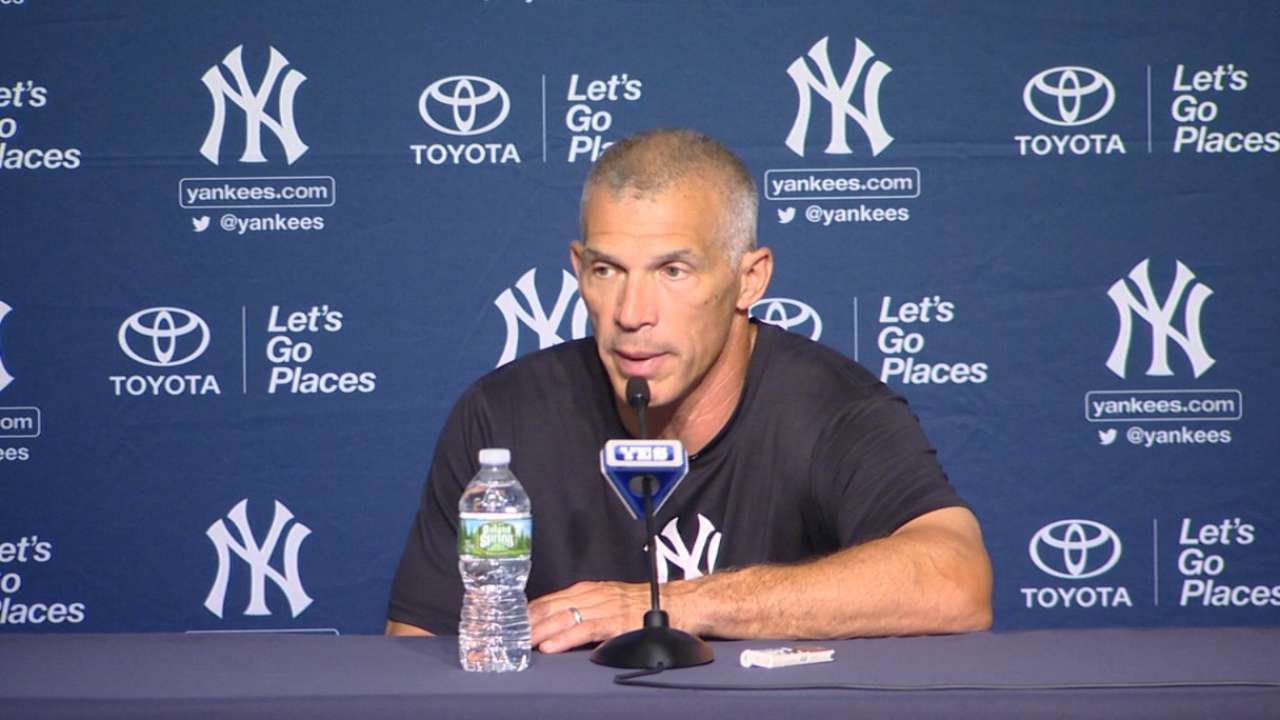 Sanchez is just the third player to hit 10 homers in his first 22 career games; the Rockies' Trevor Story did it this year, and Boston's George Scott enjoyed a similar run back in 1966. Yet perhaps Sanchez's most impressive company resides in Monument Park.
Joe DiMaggio (39) is the only Yankee to have more hits than Sanchez (31) through 22 career games. The Yankee Clipper is also the only man to have more extra-base hits in pinstripes (18 for DiMaggio, 17 for Sanchez). Sanchez's 20 RBIs are third behind DiMaggio (22) and Hideki Matsui (21) through 22 games.
"I'm trying to put a good swing on the ball. That's the mindset that I have," Sanchez said. "Good things are happening so, of course, you feel confident when good things are happening."
The touted 23-year-old's emergence is a major reason why the mood around the Yankees' clubhouse has shifted to one of belief in the face of challenging playoff math, several weeks after their Trade Deadline activity was widely perceived to be a white flag of sorts.
The Yankees had a 53-53 record and were averaging four runs per game before Sanchez was called up on Aug. 3. Since then, they are 13-8 and have averaged 5.4 runs per game, vaulting them 3 1/2 games out of a Wild Card spot. It helps that their lineup now features a must-see force.
"Anytime somebody's hot, you want to watch their at-bats," outfielder Brett Gardner said. "He's as hot as it gets right now, so we're all having a good time watching him."
Sanchez said that he has enjoyed hot streaks like this before, referencing his performance in the Arizona Fall League last season. That display convinced the Yankees that Sanchez was ready, prompting general manager Brian Cashman to trade catcher John Ryan Murphy to the Twins in November.
New Yorkers never quit. Neither will we @Yankees. Please keep coming out to support. Thank you. #YankeesDontQuit #IamGary

— Gary Sanchez (@ElGarySanchez) August 27, 2016
The backup job was Sanchez's to lose in Spring Training, and lose it he did, managing just two hits in 22 at-bats (.091). Austin Romine broke camp in Brian McCann's understudy role, and Sanchez promised that he would turn that failure into motivation. Yanks officials were thrilled to see him take that attitude down to Triple-A Scranton/Wilkes-Barre, where he honed his skills both at the plate and in the field. Sanchez has nabbed five of eight potential basestealers (63 percent) while handling the pitching staff with aplomb.
"[I have surprised myself] a little bit, but at the same time there's a lot of hard work before every game," Sanchez said. "That's giving me good results right now."
What might have remained of Sanchez's anonymity is melting away, as he said that he is starting to get recognized regularly on the streets of New York. He is embracing that attention; after Friday's win, he took to Twitter, urging fans to keep coming out and supporting the team.
"I've only been here for a short time, so I can't really compare the time now to the time before," Sanchez said. "But right now we have a lot of energy and we want to keep winning ballgames."
Bryan Hoch has covered the Yankees for MLB.com since 2007. This story was not subject to the approval of Major League Baseball or its clubs.