MLB.com Columnist
Barry M. Bloom
Blend of youth, veterans working for Yankees
NY controls its own fate with 30 of final 36 games within division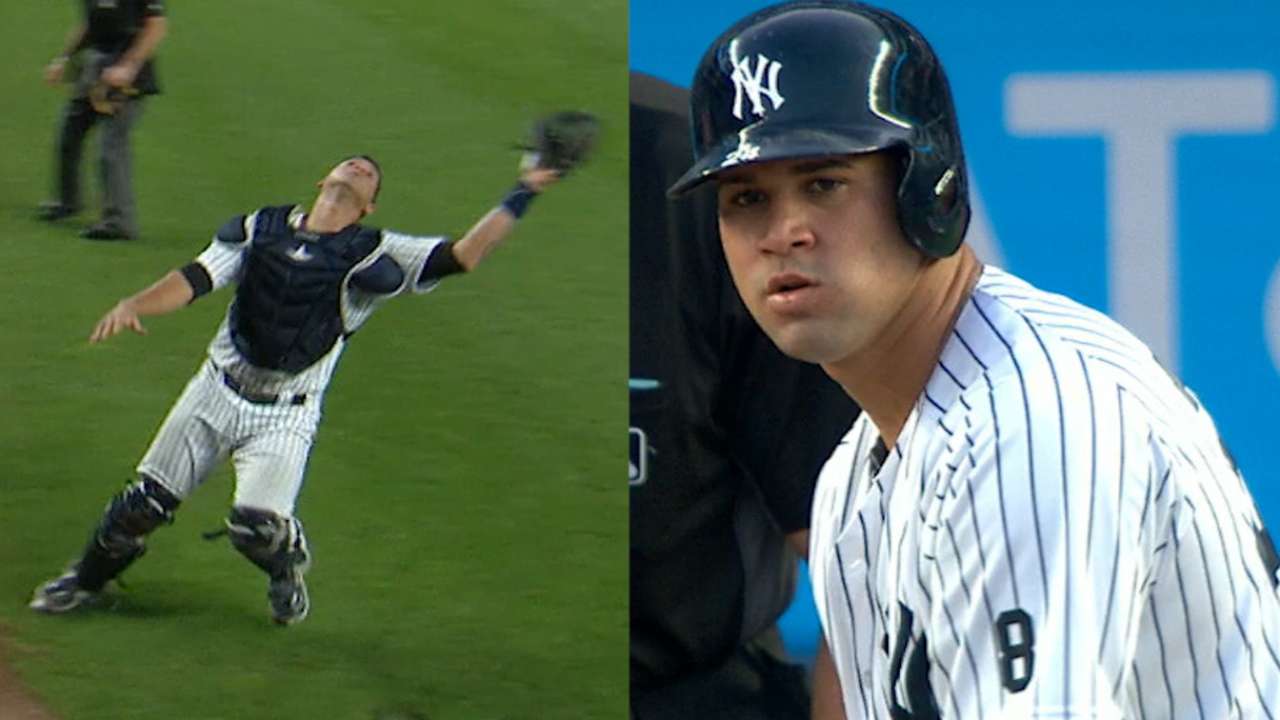 NEW YORK -- Just when it looked like the Yankees had cashiered the season, many of their new acquisitions and younger players have kept them in contention for a playoff spot.
With rookie catcher Gary Sanchez pounding the ball, the Yankees are still in control of their own fate as the season nudges closer to Labor Day.
Heading into this weekend's three-game series against American League East rival Baltimore, the Yanks had 30 of their final 36 games against division rivals.
That the Yanks still have a serious pulse is not surprising, said Orioles skipper Buck Showalter, who began his managing career in the Bronx. The Yanks, at 66-61, are now five games over .500 for the first time this year after opening the season 8-16.
They're 3 1/2 games behind the Orioles for the AL's second Wild Card spot and 4 1/2 games in arrears of the Red Sox for the first spot.
"It's kind of like the perfect storm for them," Showalter said before the Yanks clobbered the Orioles, 14-4. "The expectations are lower. They can relax. A lot of the newer people here have energized them.
"Their kids are playing with the kind of abandon you like to see. They've got nothing to lose, and they're trying to make their mark. They've got a clear direction. Brian [Cashman] and Joe [Girardi] must be excited about it."
Sanchez hit his 10th homer and drove in four runs, giving him 20 RBIs in 20 games since he was recalled from the Minors on Aug. 3. But that's just the half of it.
Stranger things have happened. In 1995, for example, the Yanks were 53-58 on Aug. 26 after losing eight games in a row. Under Showalter, they won 26 of their last 33 to clinch the AL's first Wild Card slot, losing their Division Series in five games to the Mariners.
"It took a long time for us to get going that year," Showalter recalled. "When we did get going, we had one of the best finishes the Yankees ever had. We were very proud of that."
Still, that playoff loss sealed Showalter's fate and sent the Yankees spinning on to one of the most successful eras in franchise history. Showalter was replaced by Joe Torre, and the Yanks won it all in 1996. By the time Torre departed after the 2007 season, the Yankees had been to the playoffs 13 consecutive seasons, won four World Series titles and six AL pennants.
The remainder of this year's script is yet to be written.
"I mean, obviously, a lot of this is in front of us," Girardi said. "We have an opportunity, and we're going to have to play extremely well. We're going to have to win [every] series to get to where we want to get to. You have 30 out 36 games within your division. Three of the teams you're chasing are in your division. It's in front of us."
Really, no one expected this edition of the Yankees to excel after a purge that included the trades of Aroldis Chapman, Andrew Miller, Carlos Beltran and Ivan Nova, the unconditional release of Alex Rodriguez and the pending retirement of Mark Teixeira, effective at the end of the season.
Nathan Eovaldi blew out his right elbow and had his second Tommy John surgery, opening up a spot in the rotation.
The influx of young players from Triple-A Scranton/Wilkes-Barre included Sanchez, right fielder Aaron Judge, first baseman Tyler Austin and pitchers Luis Cessa and Chad Green, who has been up and down filling holes in the rotation all season.
Tyler Clippard was obtained from Arizona and Adam Warren was re-acquired from the Cubs. Both have filled in well as setup men while 28-year-old Dellin Betances slipped into the closer's role to replacer Miller/Chapman.
It's reminiscent of the retirement after the 1995 postseason of Don Mattingly just as Derek Jeter, Bernie Williams, Mariano Rivera, Jorge Posada and Andy Pettitte were about to have a major impact on Yankees history.
The impact of this particular group, of course, has only been a matter of weeks. Sanchez has led the bunch, adding RBIs on a single and double along with his two-run homer Friday night.
Cessa, despite allowing a pair of homers to Orioles All-Star third baseman Manny Machado, pitched six solid innings, raising his record to 4-0.
Judge has cooled off since his sizzling start with homers in his first two games, but he got Chris Davis, who was trying to stretch a single into a double, with a laser-like throw from right-center. Judge also doubled and scored two runs.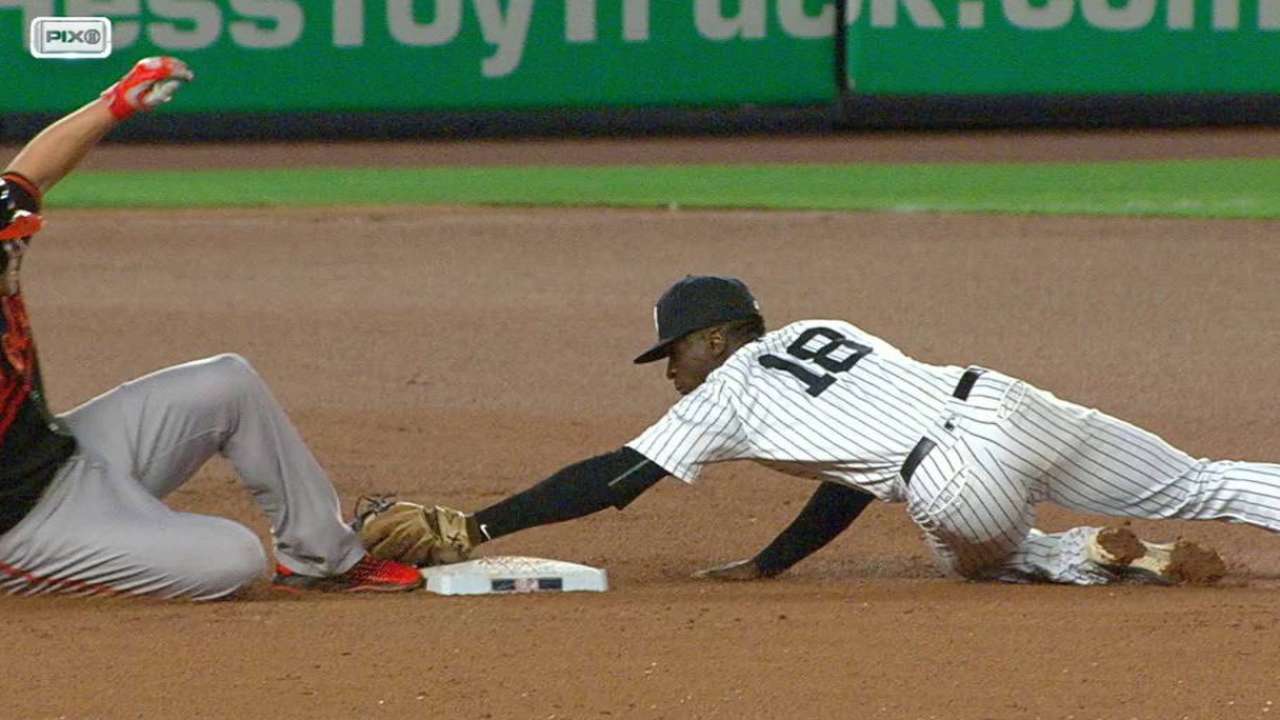 "It's exciting," he said. "We're just getting this opportunity. The clubhouse we have here is a good mixture of veteran guys and rookies. It's just a great opportunity. The veterans have just welcomed us in and made us feel comfortable so we can just go out there and perform."
To be sure, despite all the changes, the Yankees still have their core of veterans and both Teixeira and Chase Headley hit homers on Friday night. Brett Gardner knocked in three runs with a double and single, and Jacoby Ellsbury had a pair of singles, one of them driving in a run. The Yankees pounded out 18 hits.
CC Sabathia and Masahiro Tanaka have been lights out in their most recent starts.
It's not beyond the pale that the Yankees could sustain this and make a concerted run at it.
"They've got a lot of good things going on," Showalter said. "If you wanted to pick a team you might not want to play right now, it might be them."
Barry M. Bloom is a national reporter for MLB.com and writes an MLBlog, Boomskie on Baseball. Follow @boomskie on Twitter. This story was not subject to the approval of Major League Baseball or its clubs.