Braves bullpen being taxed since All-Star break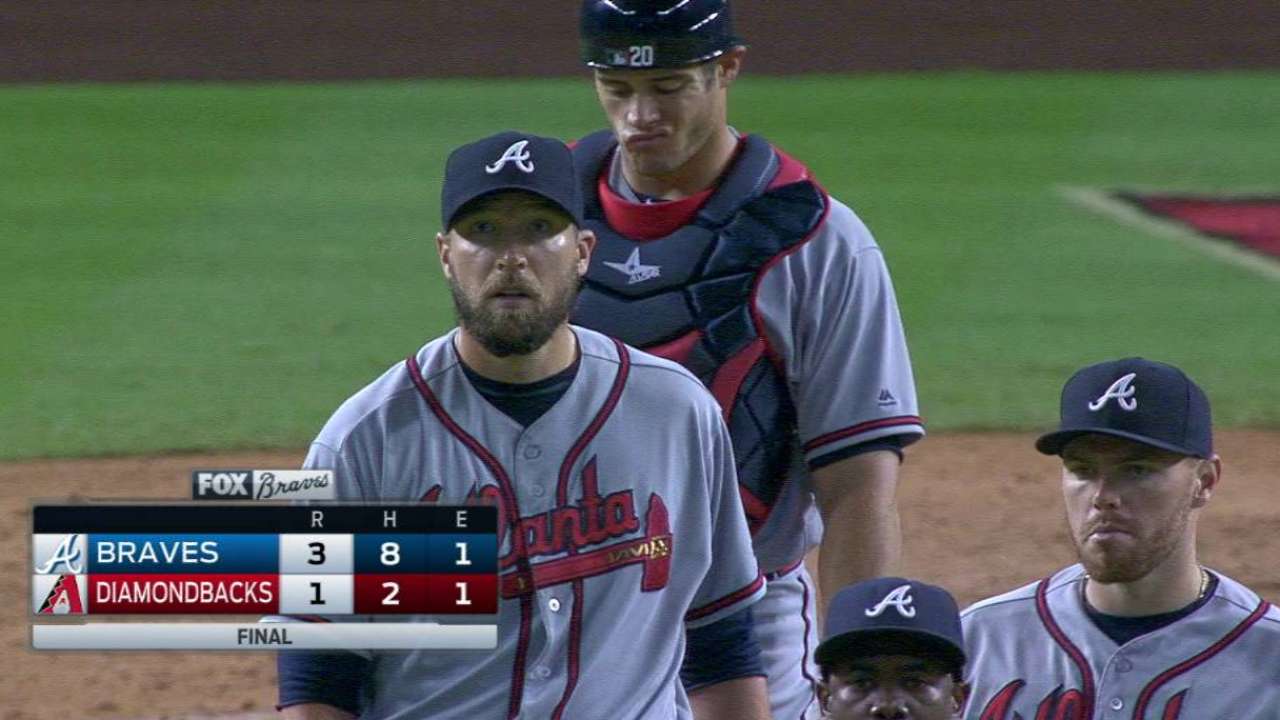 PHOENIX -- After Matt Wisler delivered eight strong innings while making his first big league start in nearly a month during Thursday night's 3-1 win over the D-backs, Braves manager Brian Snitker thanked his young hurler for providing much-needed rest to a bullpen that has been taxed by the starting rotation's second-half woes.
Wisler became the first Braves pitcher to complete as many as seven innings since Mike Foltynewicz and Julio Teheran did so on July 16 and 17. The residual effect of a long stretch of abbreviated starts has been felt by Atlanta's bullpen, which entered Friday having completed the second-most relief innings (140 2/3 innings) in Major League Baseball since the All-Star break.
"Their workload has just been beyond what it should be," Snitker said. "They've done a great job; I'm just glad as many of them are still standing as they are, quite honestly. Because how we've had to use them, it's a credit to them that they're doing what they're doing, really."
The Braves have used 24 relievers this season, 15 of whom have completed at least 10 innings. A quick look at statistics may indicate individual workloads have not necessarily been overwhelming as Jim Johnson has worked a team-high 48 1/3 relief innings. No Atlanta reliever has made more than 50 appearances, but six members of this group -- Johnson, the recently traded Hunter Cervenka, Ian Krol, Arodys Vizcaino, Chris Withrow and Eric O'Flaherty -- have each made at least 39 appearances.
Those six relievers also have one other thing in common as each has spent at least one month either on the disabled list or pitching at the Minor League level.
As the Braves look toward the remainder of this season, they can protect some of their relievers by adding some reinforcements when the rosters expand in September. But they would also like to gain some assistance from the rotation, which has included 14 members this season, eight within the 40 games that have been played since the All-Star break.
Odds and ends
• Freddie Freeman was in the lineup for Friday night's series opener against the Giants, despite still feeling pretty sore after bruising his lower back when he flipped over a railing during Thursday's game in Arizona. Asked how he felt before the game, Freeman said, "Like I got hit with three Mauricio Cabrera fastballs back-to-back-to-back."
• The Braves still have not announced Sunday's starting pitcher, but all indications remain that Aaron Blair will be promoted from Triple-A Gwinnett to make the start.
Mark Bowman has covered the Braves for MLB.com since 2001. This story was not subject to the approval of Major League Baseball or its clubs.