Giants hope energy from Moore's gem carries over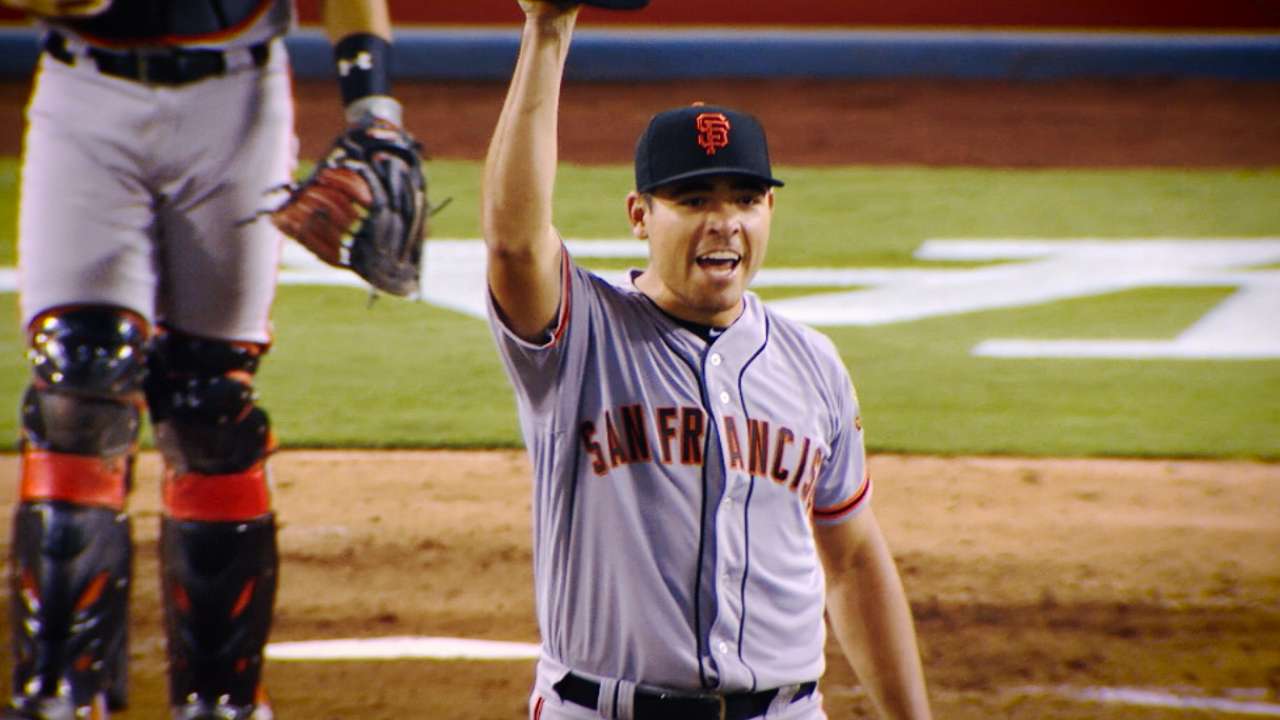 SAN FRANCISCO -- Giants manager Bruce Bochy innocently smirks now when asked how important each upcoming series is. He echoed what he's continued to say throughout August when questioned last Sunday about his club's then-upcoming three-game set with the National League West-leading Dodgers.
"I say this so many times, and we'll say this every series from this point on," Bochy said after the Giants' 2-0 loss to the Mets. "You're getting down toward to the end, to the stretch run; that's the way you got to look at it. It's an important series; the one after that is going to be important, too."
Now it will just be a matter if the results can mirror that attitude, as the Giants on Friday opened a five-game homestand against teams with sub-.500 records, including the Major League-worst (47-81 entering Friday) Atlanta Braves. The Giants entered their brief homestand two games out of first place in the NL West, after losing two of their three games in Los Angeles.
However, the Giants' clubhouse received a "big lift" before heading home Thursday, thanks to Matt Moore's near no-hitter in the series finale.
"Those are always the type of wins you hope that jump-start you," Bochy said before the club's series opener versus the Braves on Friday. "The game was the most important thing, but just the way he pitched and how well he pitched, against a club we're battling with, it does do a lot for a club."
Moore's only hope is that the revitalized sense of energy didn't get lost on the plane ride back to San Francisco.
"Hopefully something like this can get us going," Moore said a night after tossing 8 2/3 shutout innings while throwing 133 pitches in a 4-0 Giants win. "Hopefully we get off to a good roll."
It certainly feels like Moore has found a roll. The left-hander was winless while posting a 4.70 ERA in his first four outings with the Giants. But he settled in Thursday and credited the use of the cutter -- a pitch that he had previously cut ties with -- to his success.
Before Moore's first start with Buster Posey catching him last Saturday, Posey asked Moore if he'd ever "messed around" with the cutter before and if he flashed three fingers (the sign for a cutter), what would Moore do?
"I guess I'm going to throw it," Moore answered.
Moore began experimenting with the pitch that day, but said he only used it about five times. He tripled its usage Thursday, and it proved to be as much of a difference maker as his changeup.
Ultimately though, Moore felt that he stopped worrying about his mechanics and just pitched. As a result, Moore recorded his first win as a Giant and the club avoided a series sweep.
"It was one of the most fun games I've ever pitched in, being new to the atmosphere of Giants-Dodgers and in the middle of the race," Moore said.
He just "hopes" the momentum he generated can carry over.
• Hunter Pence was out of the Giants' starting lineup Friday because of a tight right hamstring. The right fielder exited during Thursday's game against the Dodgers because of the issue, but conceded he could be "ready to rock" in the next day or two. Pence's status remains day to day.
Justin Wise is a reporter for MLB.com based in the Bay Area. This story was not subject to the approval of Major League Baseball or its clubs.