Molitor hoping Twins make most of opportunities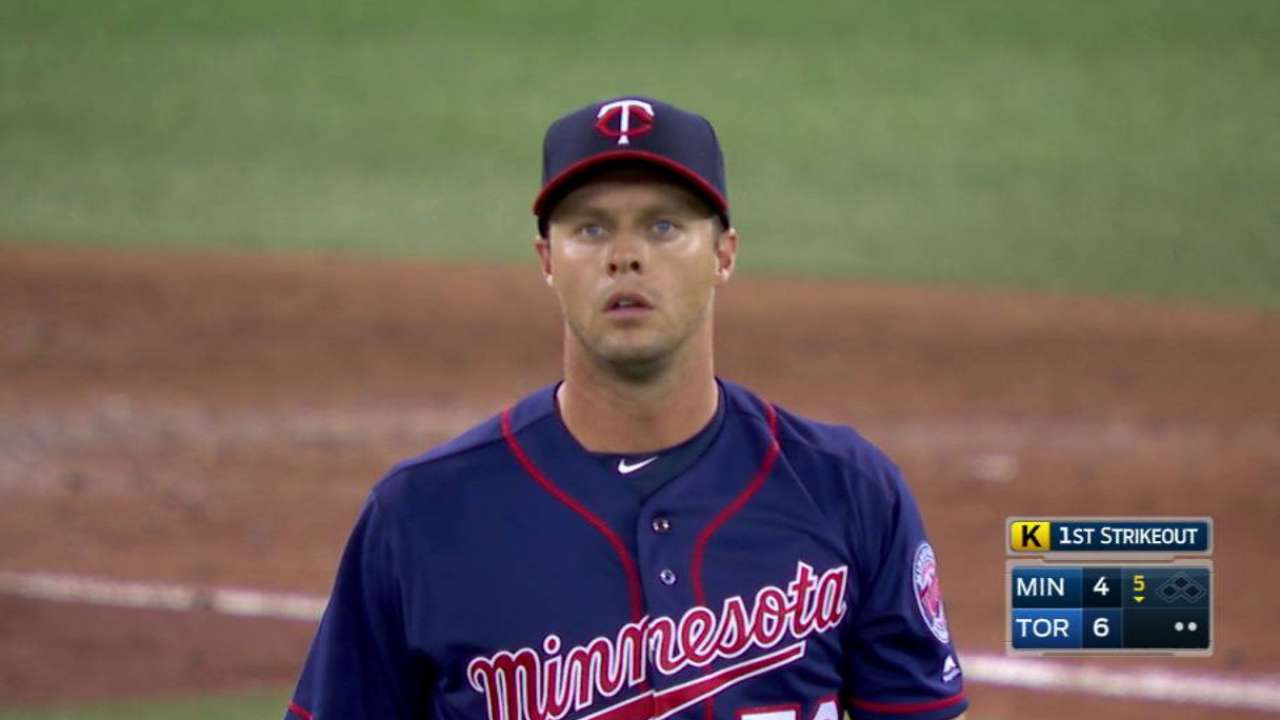 TORONTO -- Prior to Friday's series opener against the Blue Jays, Twins manager Paul Molitor called a rare team meeting in an attempt to get his group on the same page with a little over a month remaining in the season.
The meeting didn't have an immediate impact on the team's recent struggles -- the Twins dropped their eighth consecutive game, losing 15-8. But with 34 games remaining, Molitor stressed the importance of players taking advantage of opportunities.
"I think, sometimes, you have to collectively get a perspective and put it out there -- just let them know I want them to go out there and let it fly here the last five weeks, you know? Show us what you can do," Molitor said. "We'll give guys opportunities, when you get a chance to play or pitch, be ready and go out there and have some fun."
Relievers Andrew Albers and rookie Alex Wimmers, both recalled on Friday, were given an opportunity to showcase their game in the loss.
Albers allowed two runs, one earned, on one hit while striking out one in 2 1/3 innings of work. The 30-year-old allowed a leadoff home run to Darwin Barney in the sixth inning -- something he'd like to have back.
"We had some momentum going, all of a sudden it's a 6-5 ballgame and I go out and give up a leadoff homer. You can just feel the team kind of deflating," Albers said. "It's one of those things, that's a tough one -- I thought I made an OK pitch, I thought I got in on him enough, obviously not quite enough. In the end, it just managed to sneak out, I couldn't believe it. That one hurt."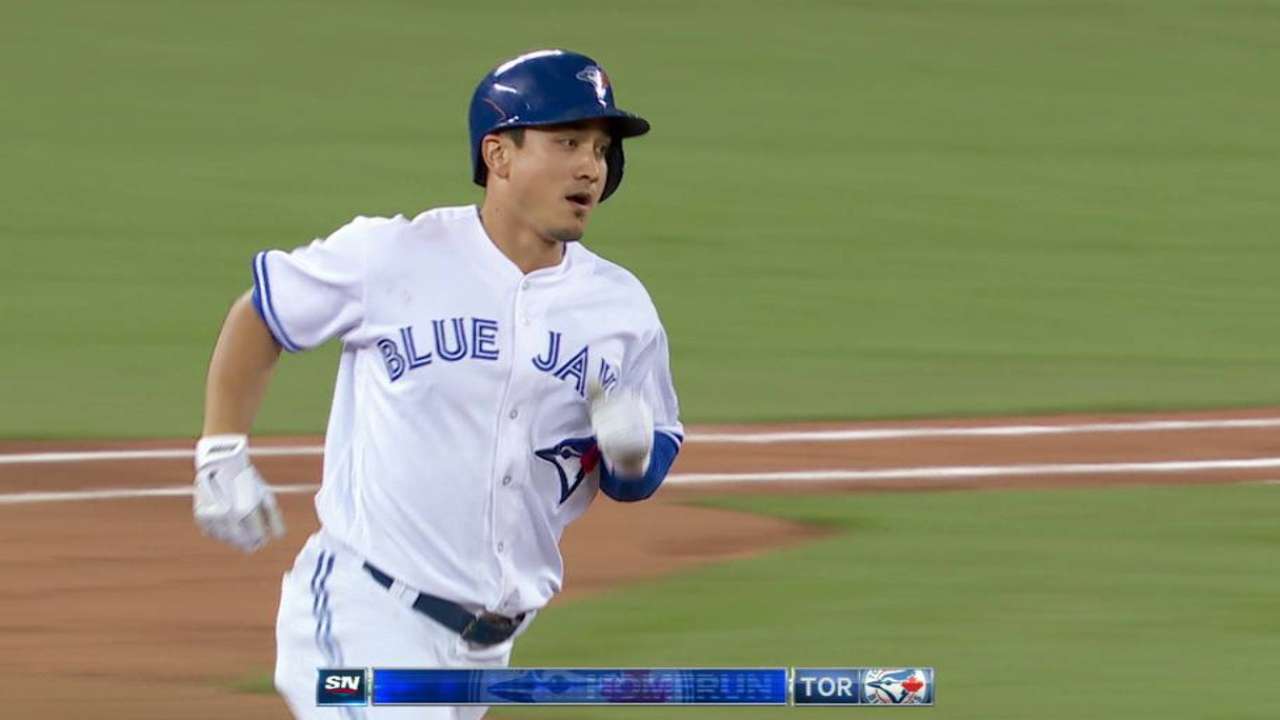 The left-handed Canadian, who was making his 13th big league appearance, understood Molitor's tactic.
"Things aren't going as well as we like here right now, but it was just one of those meetings of staying positive," Albers said. "Its easy to get down when things aren't going your way. Tonight things just continue to not go our way. Our offense did a great job, we weren't able to keep the ball in the ballpark tonight.
"[The meeting] was all about staying positive and trying to finish strong. For us, the wins-losses aren't where we want them to be, but that doesn't mean you don't go out there and compete for the last 40 games."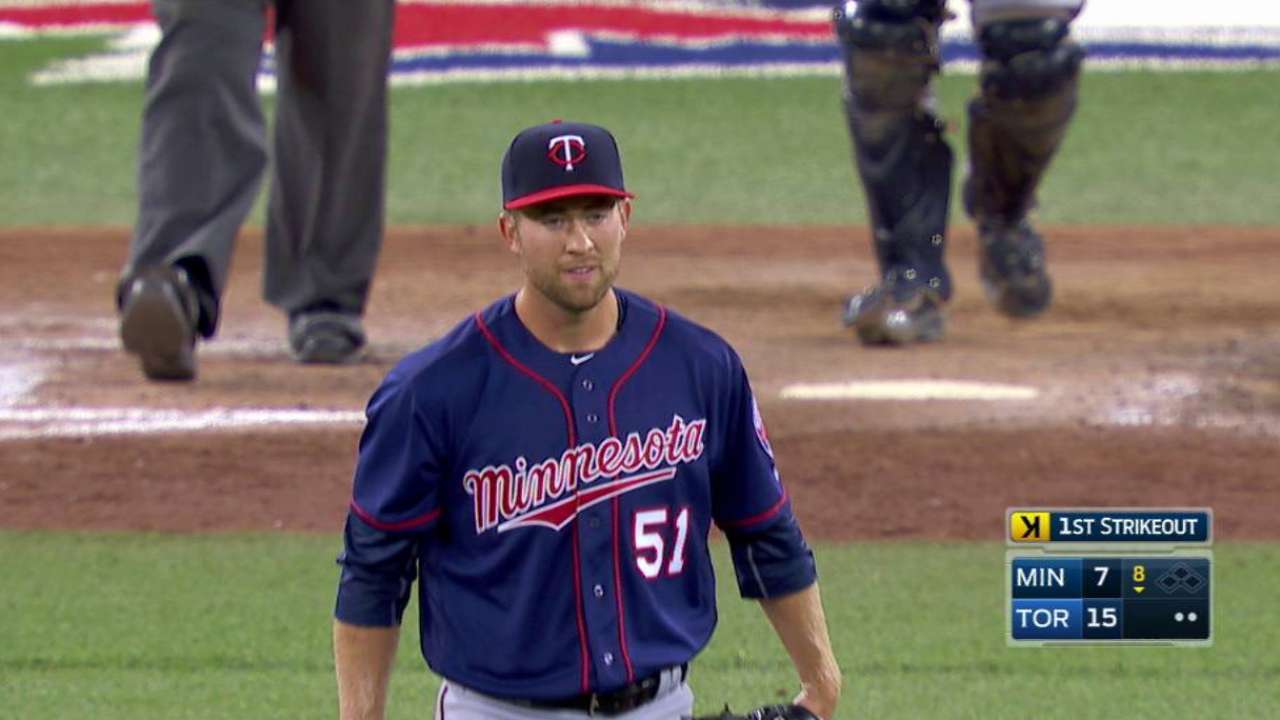 Wimmers, a 2010 first-round pick of the Twins, made his Major League debut in the ninth and struck out a pair while retiring the Blue Jays in order.
"I told them, it's not a matter of me trying to convince them of how many games we can win," Molitor said. "I just talked about what was left on the table here over the last 35 games. You can choose which way you're going to go and what you're going to do with those 35 games.
"It's not like you can go out there, and all of a sudden, it's going to change over the course of one game. You look for guys to step up and take the challenge head on."
Dhiren Mahiban is a contributor to MLB.com based in Toronto. This story was not subject to the approval of Major League Baseball or its clubs.