Smoak catches fire with five-RBI night
First baseman snaps 0-for-29 skid with RISP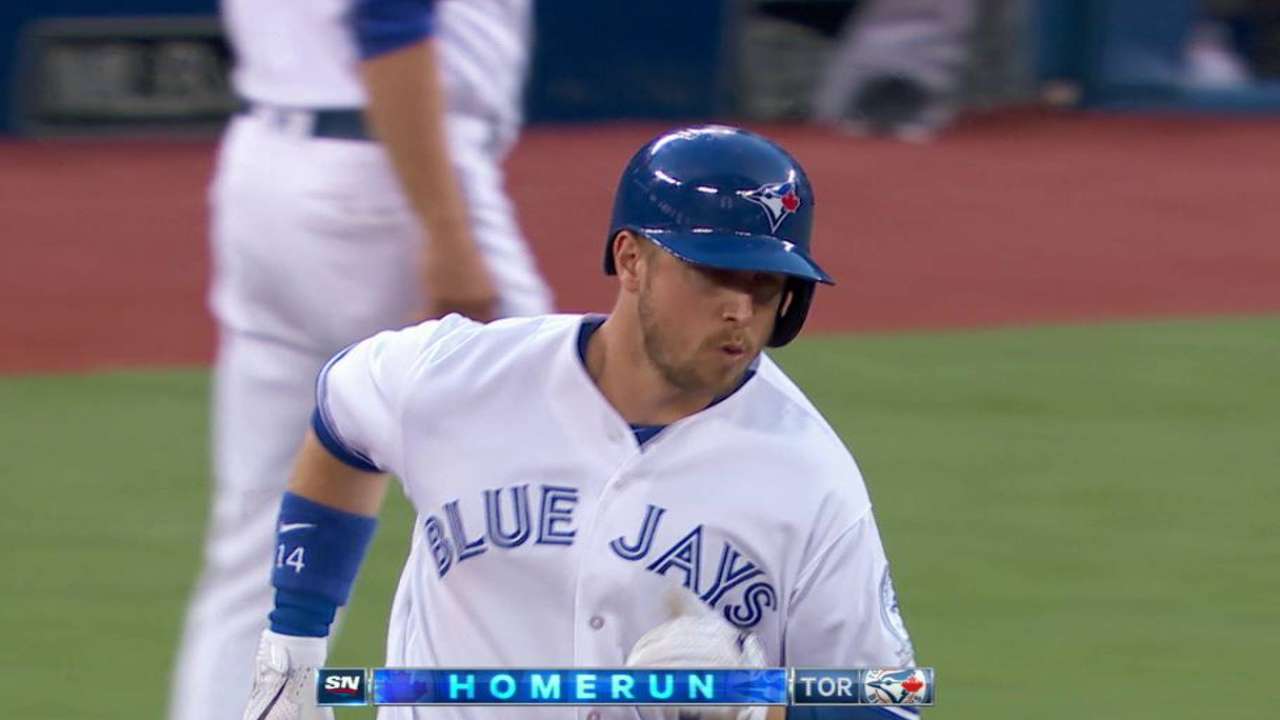 TORONTO -- The Blue Jays' offensive explosion had an unlikely catalyst on Friday evening, as Justin Smoak had night to remember in Toronto's 15-8 victory against the Twins.
Smoak slammed a three-run home run in the second inning to give the Blue Jays a lead they would not relinquish, and he finished his outing 3-for-5 with a season-high five RBIs.
The first baseman entered Friday's contest in a major offensive funk, notching just 21 hits in his past 139 at-bats with an alarming 60 strikeouts over that span.
Smoak's playing time has also decreased in the second half, with the Blue Jays rotating several of their regular veterans and players returning from injury in the designated hitter's spot and moving Edwin Encarnacion to Smoak's natural position at first base.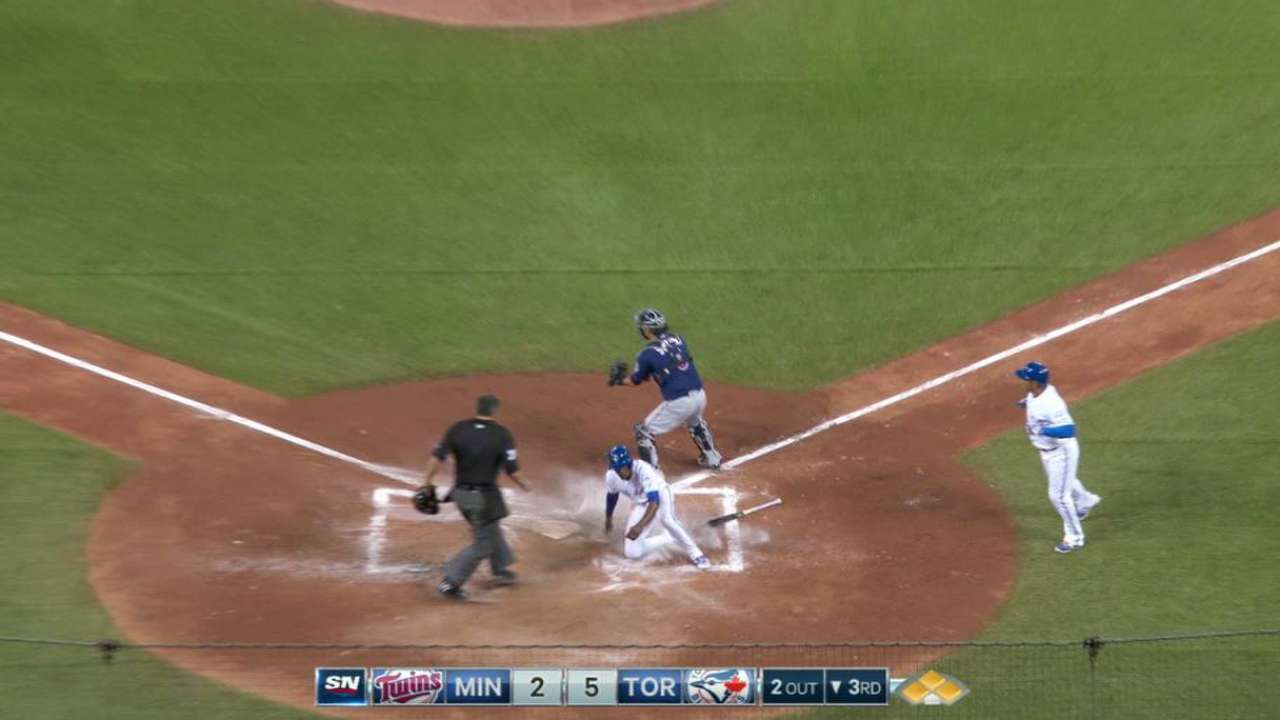 Despite all that, Smoak's offensive outburst led Toronto's 15-hit attack on Friday, and it opened the floodgates during a five-run second inning. Smoak recorded five RBIs for the third time in his Major League career and the first time since Aug. 8, 2015, against the Yankees.
"It's pretty impressive," Blue Jays manager John Gibbons said. "I can't remember the last time he's played [like that], it's been a while. Good for Smoaky. He's got the right attitude, but it's a tough attitude to have. He gets it, and especially with [Jose] Bautista coming back, that's going to really cut into your time. But he stepped up tonight."
Smoak had made just one start in the Blue Jays' past eight games entering Friday's contest, and he had recorded just four at-bats over that timeframe, mostly seeing action as a defensive replacement. The University of South Carolina product's home run snapped his 0-for-29 funk with runners in scoring position, and Smoak finished his night with three RBI hits.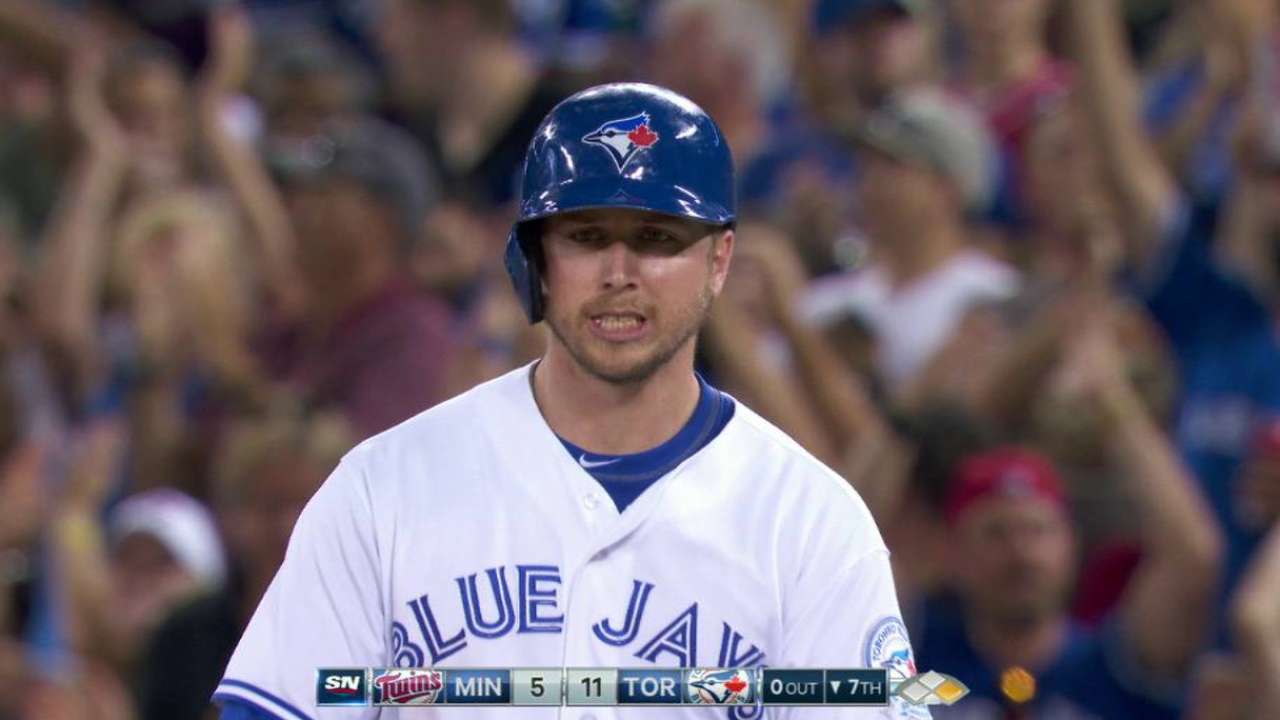 "It's definitely not easy," Smoak said about staying focused despite the lack of playing time. "For me, facing a lefty with the right-handed side being my natural side, I somewhat feel pretty comfortable going up against a lefty. I felt great tonight, and as a team, we put some runs on the board. Hopefully, we can keep doing it."
While Smoak will likely continue to see limited at-bats during the stretch run of the season, the seven-year veteran also understands his role on the team and faced a similar situation one year ago. The Blue Jays used Chris Colabello as the primary first baseman in the playoffs last season, and Encarnacion is expected to see a majority of the at-bats at first base going forward.
"Your goal is to be in there every day, but I feel like I know my role on this team," Smoak said. "Whenever my name is called upon, I'll do what it takes to help us win ballgames. I think that goes for everyone in this clubhouse."
Alykhan Ravjiani is a reporter for MLB.com based in Toronto. This story was not subject to the approval of Major League Baseball or its clubs.