Collins: Colon has kept Mets in playoff race
Ageless right-hander collects two hits, earns win in opener vs. Phillies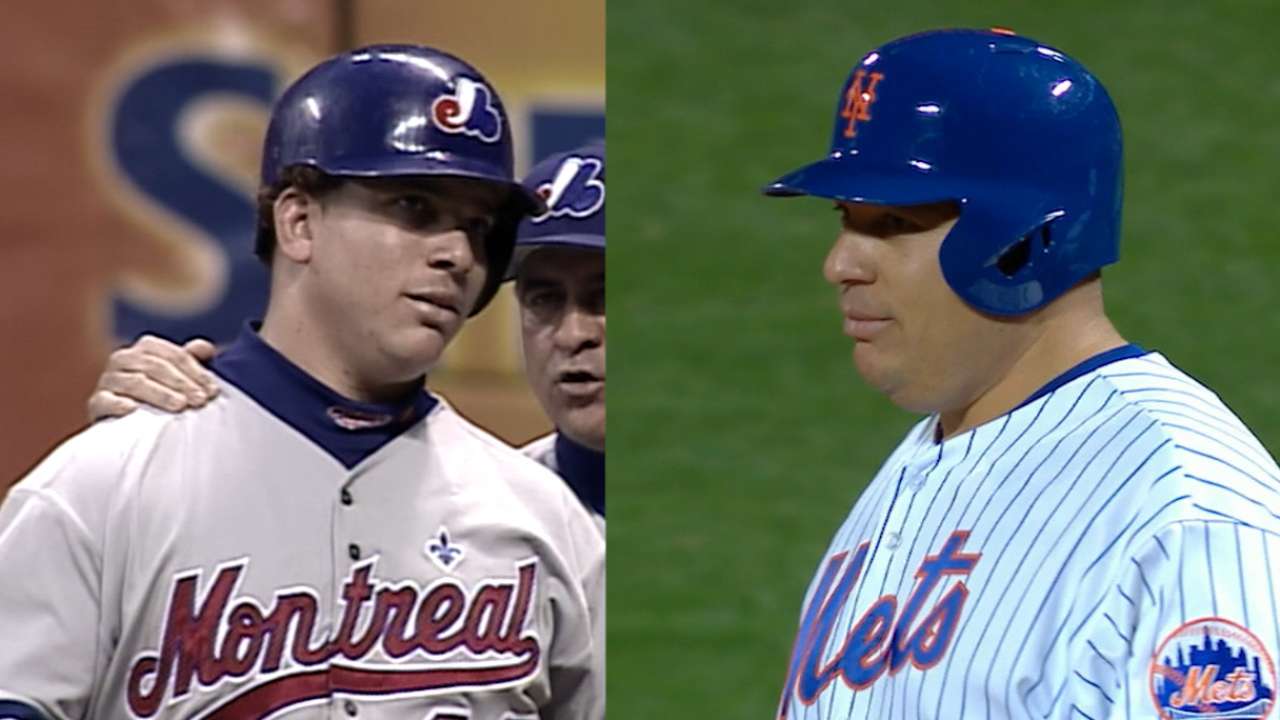 NEW YORK -- On a day when the Mets announced that they will skip Jacob deGrom's next start because of mechanical issues, Mets manager Terry Collins couldn't provide enough praise for Friday's starter Bartolo Colon, the lone pitcher in New York's rotation who hasn't dealt with any sort of lingering issue this season.
"I can't come up with a name of a guy who we could have had that has done a better job," Collins said before the Mets' 9-4 victory over the Phillies at Citi Field. "Not only has he been the healthiest of the bunch, but he's won big games for us -- a lot of big games for us.
"You talk about a guy in his spot that usually just eats up innings, this guy does more than eat up innings. He'll go deep into games, and he'll keep you in games, and I'll tell you, I don't know where we'd be without him right now."
With the Mets entering play 3 1/2 games behind the Cardinals for the final National League Wild Card spot, Colon delivered a dual-threat performance on the mound and at the plate that helped lift the club to its fifth win in its last six games.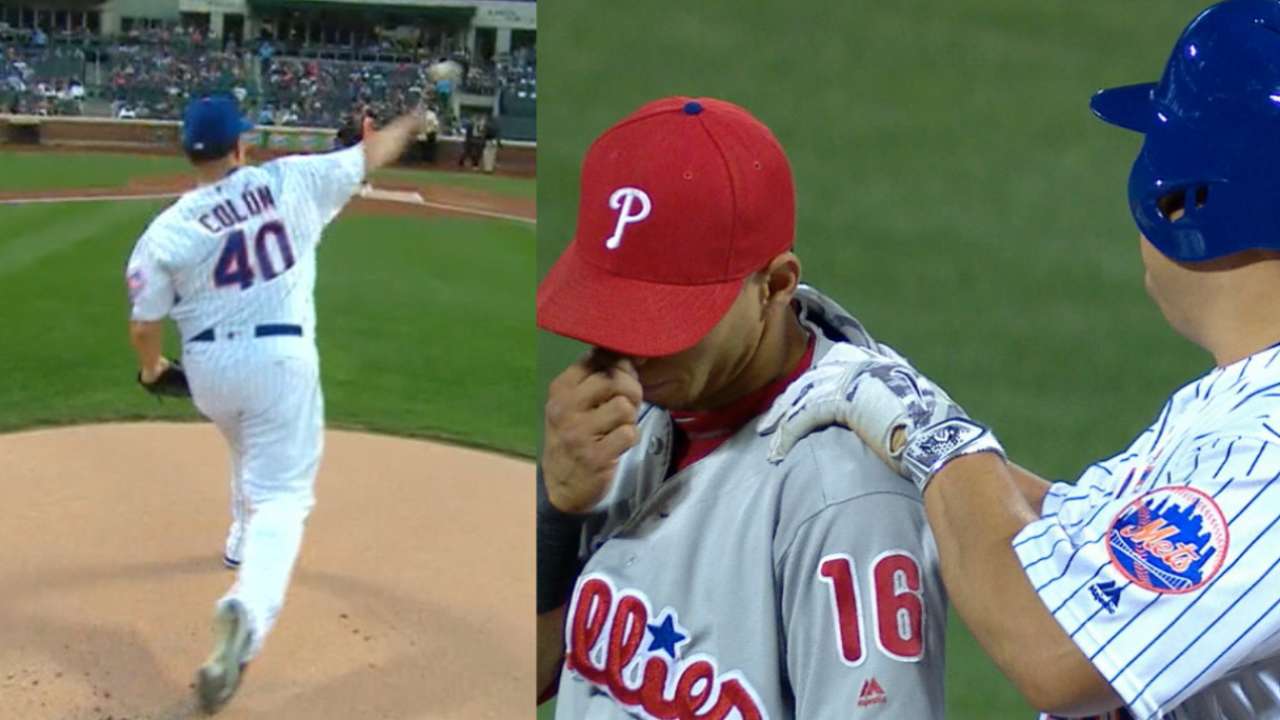 "I always tell the guys that we have to stay positive and keep on moving forward," Colon said via an interpreter.
• Colon celebrates double with massage
Colon equaled the number of hits he allowed through the first seven innings of his outing -- two -- at the plate. The first came when the 43-year-old belted a 90-mph fastball from Phillies starter Adam Morgan in the fifth and lumbered to second base in 16 seconds for a double. He scored on Wilmer Flores' grand slam five batters later.
The next inning, Colon singled to record his first multi-hit game since Aug. 9, 2002, when he was on the Montreal Expos. Two batters later, he strolled home again on Asdrubal Cabrera's second home run of the game.
"When I rounded first base, Ryan Howard asked me if I wanted any water, and I started laughing," Colon said. "When I got to second base, I started joking around with the guys, telling them that I don't know how I got two hits because I'm not a great hitter."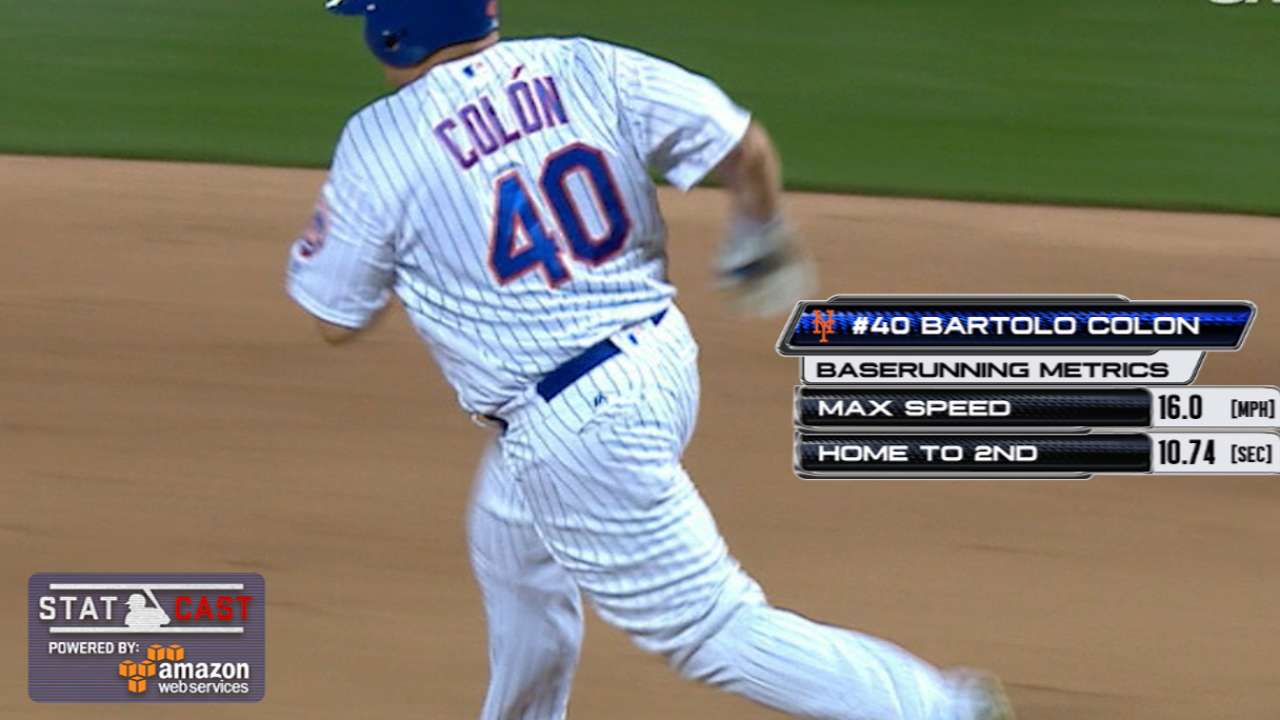 In the eighth, though, Colon seemingly ran out of gas, giving up four consecutive hits that resulted in three runs. The last of those hits, an RBI double by Aaron Altherr, chased Colon from the game, but not before the 31,111 fans in attendance sent him off to a standing ovation.
"I went to him after the seventh inning and asked if he had an inning and he said, 'I got two,'" Collins said. "I thought if that happens, then that's great because our bullpen could really use a blow. And then all of a sudden you saw balls in the middle of the plate.
"My guess is that Bart isn't used to legging all those hits out, scoring from third, so that may have taken a little starch out of him."
Troy Provost-Heron is a reporter for MLB.com based in New York. This story was not subject to the approval of Major League Baseball or its clubs.