Rays were rooting for Moore in no-hitter bid
Former Tampa Bay starter goes 8 2/3 innings before yielding single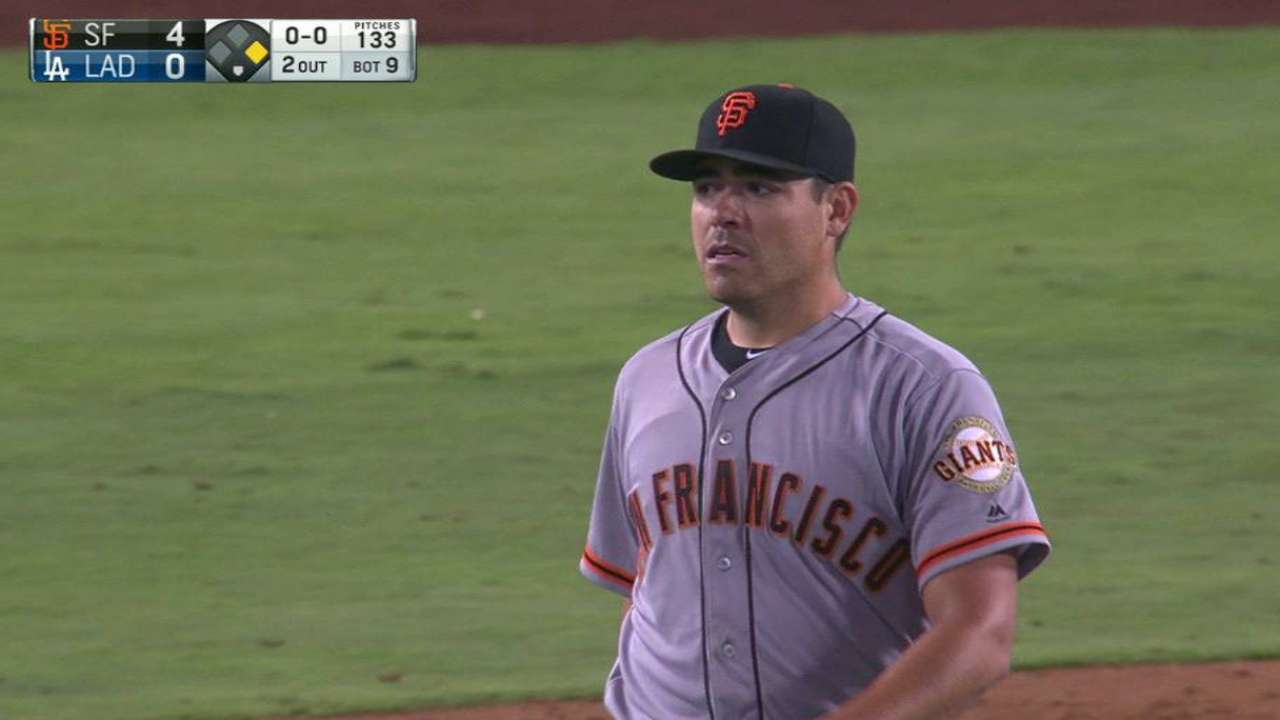 HOUSTON -- Former Rays starter Matt Moore was one out shy of pitching a no-hitter for the Giants against the Dodgers on Thursday night before Corey Seager singled to break up the bid.
The left-hander had plenty of fans in the Rays' clubhouse, including shortstop Matt Duffy, who was the main player acquired by Tampa Bay in the non-waiver Trade Deadline deal with San Francisco.
"That was a big game," Duffy said. "And Moore really stepped up. I was watching and pulling for him."
Duffy harped on the fact that Moore's performance came during a game between two storied rivals.
"That rivalry, it's something you know about in the baseball world," Duffy said. "But when you're part of it, you really get to live it. Of course I grew up an Angels fans so I already wasn't a Dodgers fan. You get a little extra appreciation when you're in it. And you see how much more feisty and ferocious the fans get during the games.
"Dodger Stadium fans, they boo you. And that for me, fires me up. That always got me pumped to play at Dodger Stadium. To this day, one of my favorite places to play because of the rivalry. I don't know if I'd feel the same way if I was on another team. Because I have that feeling of going in there that these fans hate us. It's a good hate. It's fun. It works for both teams, it's good for baseball, it's good for everything. ... Those are the games you live to be in. I always appreciated it, I always loved it, playing against the Dodgers. And for Matt Moore, that was a huge game for him."
Rays pitching coach Jim Hickey said the pitch that Moore threw that Seager hit for a single "was a good pitch."
"But that's why it's hard to throw a no-hitter, you have to have good fortune," Hickey said.
Hickey called the performance "rewarding to see" even though he "was cringing at the pitch count [Moore threw a season-high 133] a little bit" despite not being a big fan of pitch limits.
"But it was a special occasion and I guess you can push it a little bit, but I'm just really happy for him," Hickey said. "...This guy was 17-4 a couple of years ago and then he got hurt, and went through the whole entire process and was extremely dilligent.
"He came back and wasn't very good. He went to the Minor Leagues and didn't pout. Did everything right, came back and he was pretty darned good. He was really good."
Rays manager Kevin Cash said, "I was super pumped for him."
"That was awesome," Cash said. "Obviously, we were all pulling for him, wanting him to get it. Just a tremendous game for him against them. We saw him have pretty good success against the Dodgers when we went in there. So I'm sure he's feeling pretty good right now."
Blake Snell wanted to see the no-hitter happen, bad.
"The thing that upsets me the most is he threw a good pitch," Snell said. "... Jams him and he gets a hit. That's a great pitch."
Snell smiled about the 133 pitches Moore was allowed to throw.
"That's not happening here," Snell said. "They'd be like, 105, good job buddy."
Bill Chastain is a reporter for MLB.com and covers the Rays. This story was not subject to the approval of Major League Baseball or its clubs.