Wainwright holds fantasy football draft for charity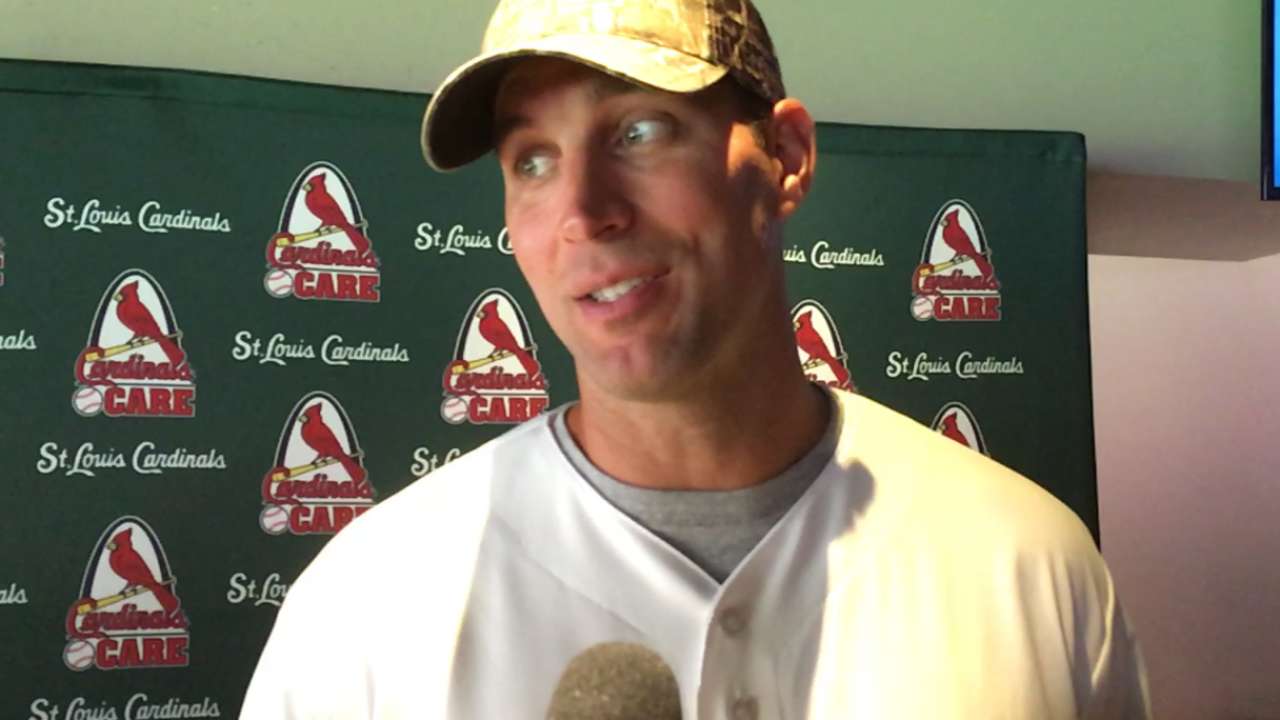 ST. LOUIS -- Adam Wainwright is a busy man. On Wednesday morning he had a field dedicated to him. On Thursday night he started against the Mets, and Friday morning he held his fourth annual fantasy football fundraiser at Busch Stadium.
Participants drafted a fantasy football team to manage over 13 weeks in a competitive league against Wainwright and teammates Matt Carpenter, Stephen Piscotty and Lance Lynn.
"Even when things are going great, things are going bad you need that outlet to give your mind some ease and some peace of mind and occasionally change the subject because this is a long season," Wainwright said. "In April and May you don't need something like this, but in August and September you do."
All proceeds from Friday's event went to benefit Cardinals Care, Operation Food Search of St. Louis, Crisis Aid International and Big League Impact's Global Initiative Fund.
Wainwright founded Big League Impact four years ago under the name "Waino's World" with his brother, Trey. The organization and its charitable fantasy football endeavors have since expanded to eight Major League cities with a different player representative.
Fans traveled from Texas, Hawaii, Oklahoma and Chicago to be a part of the event Friday. Wainwright made the first pick in the draft, taking Pittsburgh Steelers wide receiver Antonio Brown. Unable to sleep, he added that he was up at 4 a.m. Friday and did a last minute draft cram session.
"I'm very prepared," he said. "…We want it to be like a fantasy league you would do at your home table with your 12 best friends. We want it to be fun and we want it to be a great experience for everybody."
Wainwright raised over $1 million through Big League Impact's eight fantasy leagues in 2015.
"I just hope people realize the type of impact that he has," Cardinals Care Executive Director Michael Hall said. "Adam has been great to us, not only for the foundation but to the organization as well. He's very very gracious with his time."
Operation Food Search Executive Director Sunny Schaefer said she plans to use the money given to her organization toward a capital campaign for a new building.
"The fact that he uses his platform to do so much good for so many people just makes him a very endearing person," Schaefer said. "Whenever you mention hungry kids and feeding them, he just brightens up. He wants to help and make a difference in their lives and is obviously concerned with the welfare of people in our community and all around the world."
Nick Krueger is a reporter for MLB.com based in St. Louis. This story was not subject to the approval of Major League Baseball or its clubs.