Pirates' playoff run receiving boost from Cutch
Former NL MVP squaring ball up again, driving it to right, center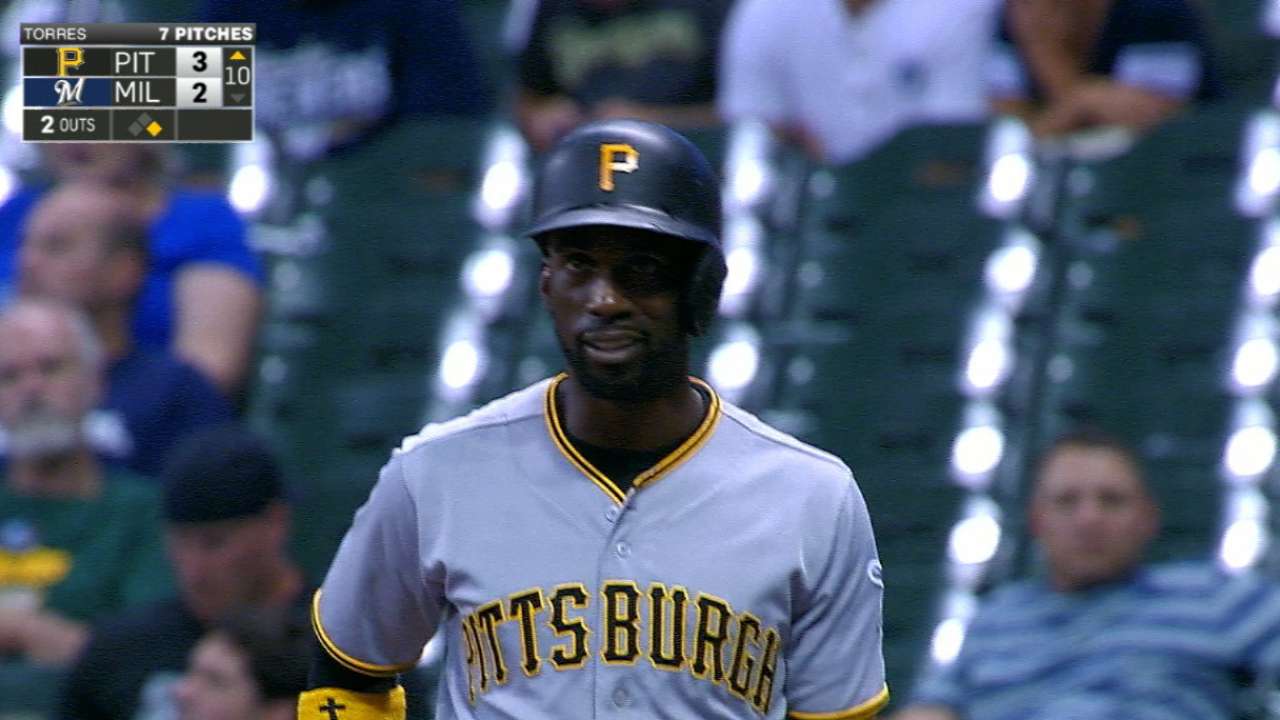 MILWAUKEE -- As the Pirates gear up for a playoff push, they may be getting a return to form from Andrew McCutchen.
If Thursday's game against the Brewers was any indication, the Pirates could be getting the McCutchen of the past seven years. McCutchen homered and laced two singles to the right side of second base, including his 10th-inning game-winning hit 105.6 mph off the bat, according to Statcast™.
"I hit it pretty hard," said McCutchen, who went 1-for-4 and scored a run in Friday's 5-3 win over the Brewers. "I'm just taking what they give me. If they give me a pitch away, I want to hit it over there. If they have a shift on, I'm a guy that hits the ball to all parts of the field. That's starting to show a lot more. I'm not just going to pull it."
As McCutchen noted after the game, the Brewers' infield was shifting against him in both at bats. And both times, McCutchen beat the shift.
The Brewers varied their shifts against McCutchen last night, and he still beat them. Shown: 3rd and 10th inning 1Bs pic.twitter.com/nhx4eZZ2st

- Curt Hogg (@CyrtHogg) August 26, 2016
Those singles could represent a reason to be optimistic. Not only has he improved drastically with his plate discipline, but McCutchen is back to squaring the ball up consistently. If he continues driving the ball to center and right field, that would be a welcome sign for Pittsburgh, which entered Friday 2 1/2 games back of the Cardinals for the second National League Wild Card.
While terrorizing through NL pitching from 2012-'15, McCutchen batted a robust .362 (75-for-207) against all shifts, according to FanGraphs. Entering the four-game weekend set with the Brewers, that figure was .261 (29-for-111). McCutchen's year-by-year wRC+ against the shift reads: 151, 122, 131, 115 and, in 2016, 55. Given his proclivity to pull balls on the ground (71.1 percent of his grounders this season; up from 61 percent for his career), it only made sense that the Brewers would employ the shifts they did Thursday night.
A strong showing in August has gotten McCutchen's wRC+ back above league average at 101, but it took some work to get there. At the end of July, he was batting .240 with a .719 OPS. McCutchen was not making his usual hard contact, his infield fly ball rates soared and, at times, was hitting into tough luck, but the real issues involved his strikeout and walk rates heading in opposite directions.
Think Andrew McCutchen is getting back to normal Andrew McCutchen? pic.twitter.com/514r1JZs61

- Curt Hogg (@CyrtHogg) August 26, 2016
As the figures above show, McCutchen was scuffling for an extended period of time. For reference, his career K% and BB% are 17.9 and 11.8, respectively. This month, he has drawn more walks and times he has struck out, while driving more balls off the bat.
McCutchen's numbers are on the rise thanks in large part to those improvements, as he entered Friday batting .303 with a .376 wOBA in August.
"I'm in a good spot," McCutchen said. "Even when I'm behind in the count, I know I can still battle and get the job done. There's 30-something games left and I'm just trying to finish them strong."
This season has not been on par with McCutchen's recent history, but there are plenty of signs that point toward the five-time All-Star getting back on track just when the Pirates will be needing it the most.
Curt Hogg is a reporter for MLB.com based in Milwaukee. This story was not subject to the approval of Major League Baseball or its clubs.