Blond bombshells make history with homers
Reyes, Cabrera become 2nd Mets duo to hit back-to-back dingers to open game; Asdrubal adds 2nd HR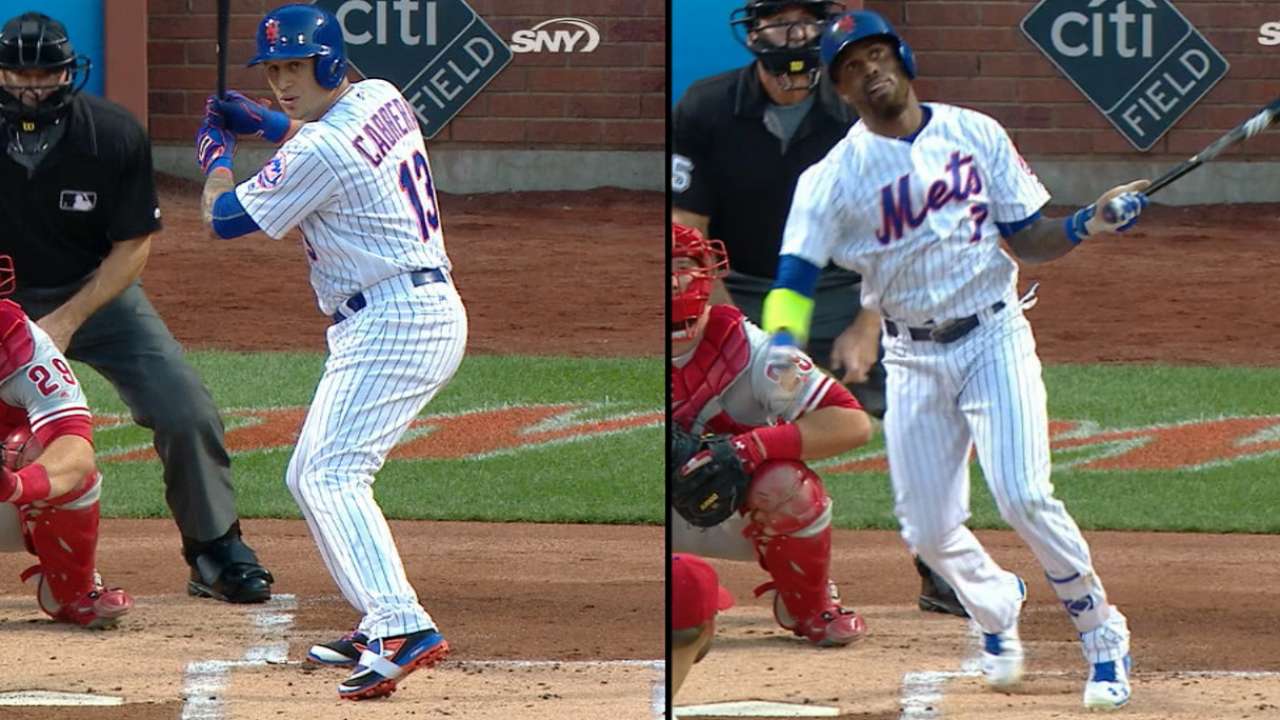 NEW YORK -- The play that did not show up in either the box score or the record books unfolded in the eighth inning Friday, with the Mets' 9-4 win over the Phillies already largely in hand.
Maikel Franco squirted a ground ball down the third-base line, where Jose Reyes attempted, unsuccessfully, to barehand it. As all of this was happening, Asdrubal Cabrera raced over from shortstop, positioning himself to grab the ball, dive toward third base and force out Aaron Altherr advancing from second.
That play may not have been as impactful as the two home runs that Cabrera hit, becoming the first Met since Carlos Beltran in 2011 to go deep from both sides of the plate in one game. Nor did it offer the same sort of jolt as his and Reyes' back-to-back homers, which made them just the second set of Mets teammates to open a game with consecutive solo shots.
But it was exactly the sort of thing the Mets are seeking as they look to grapple their way up the National League Wild Card standings. It was a hard-nosed, heads-up, alert sort of play -- pick your cliché. Cabrera called it instinct. The Mets called it an ingredient for success.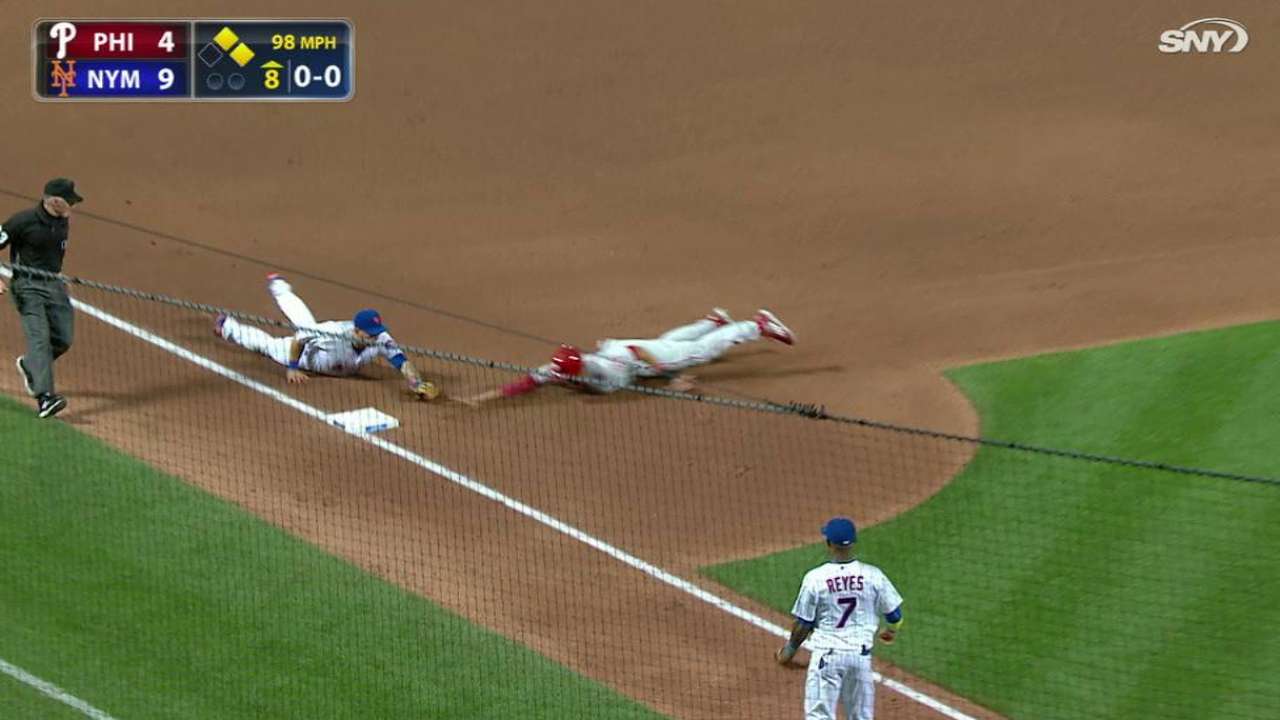 "He's played very well since [his Aug. 19 return from the disabled list]," manager Terry Collins said. "His presence in the dugout, in the clubhouse, he's a pro. This guy's a pro. This guy plays the game the right way."
For most of the early season, as usual leadoff man Curtis Granderson floundered, the Mets sought production atop their lineup. It was only recently, when both Reyes and Cabrera returned from the DL within six days of each other, that the Mets found it, leaning on the former as their leadoff hitter and the latter behind him.
It hasn't always worked out as dynamically as it did Friday, when Reyes and Cabrera greeted Phillies starter Adam Morgan with a pair of homers in the span of five pitches. But overall the duo has been sound, combining for 11 extra-base hits and nine multi-hit games since their returns. They are batting a combined .354 over that stretch.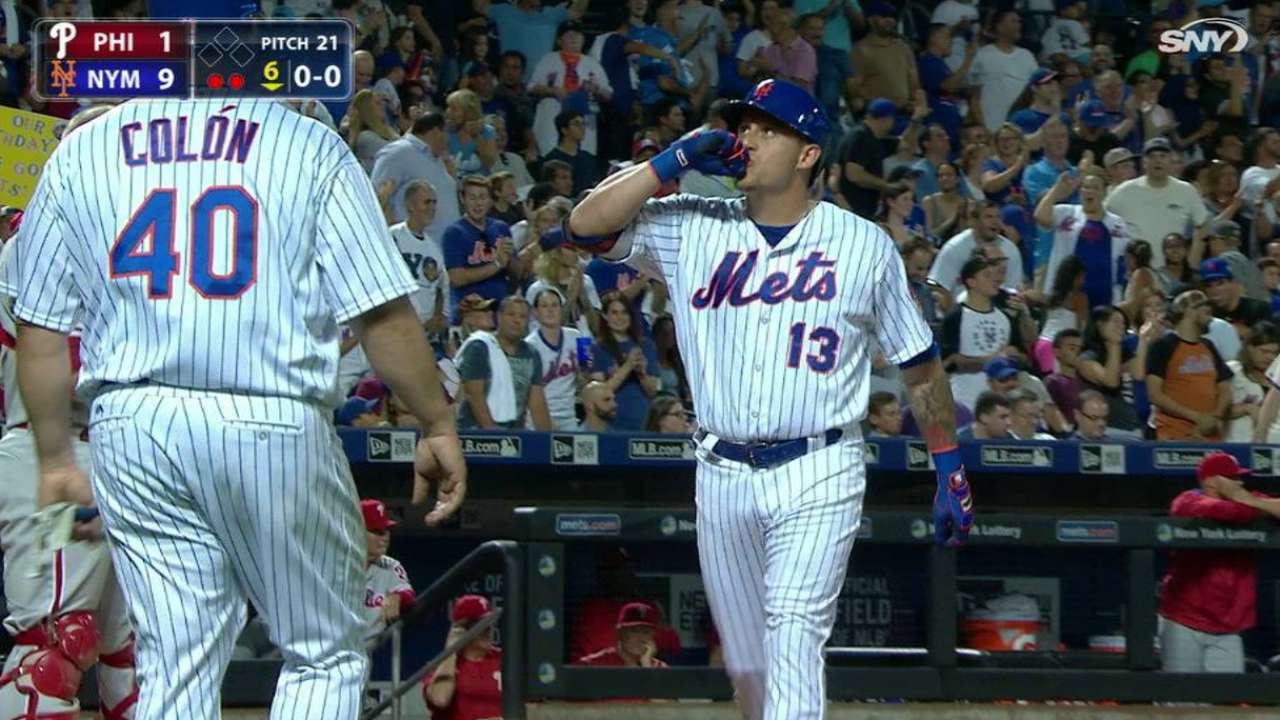 "Everything I do is to help the team to win," Cabrera said. "So I'm really happy about it."
Cabrera added a two-run homer off Frank Herrmann in the sixth inning, blowing open what was already a sizeable Mets lead. And Reyes did his thing throughout, coming up with a fine defensive play of his own to rob Ryan Howard in the fourth. Of course it was Reyes who was involved in the Mets' other game-opening pair of homers, going deep with Ruben Gotay on July 12, 2007. (In a bizarre coincidence, Gotay also hit a home run in his first at-bat Friday, for the independent-league Long Island Ducks.)
Prefer team history? Reyes' leadoff blast gave him 18 such homers as a Met, tying him with Granderson for the franchise lead. And Reyes' 416th extra-base hit shot him past Mike Piazza for fourth-most in the Mets' books.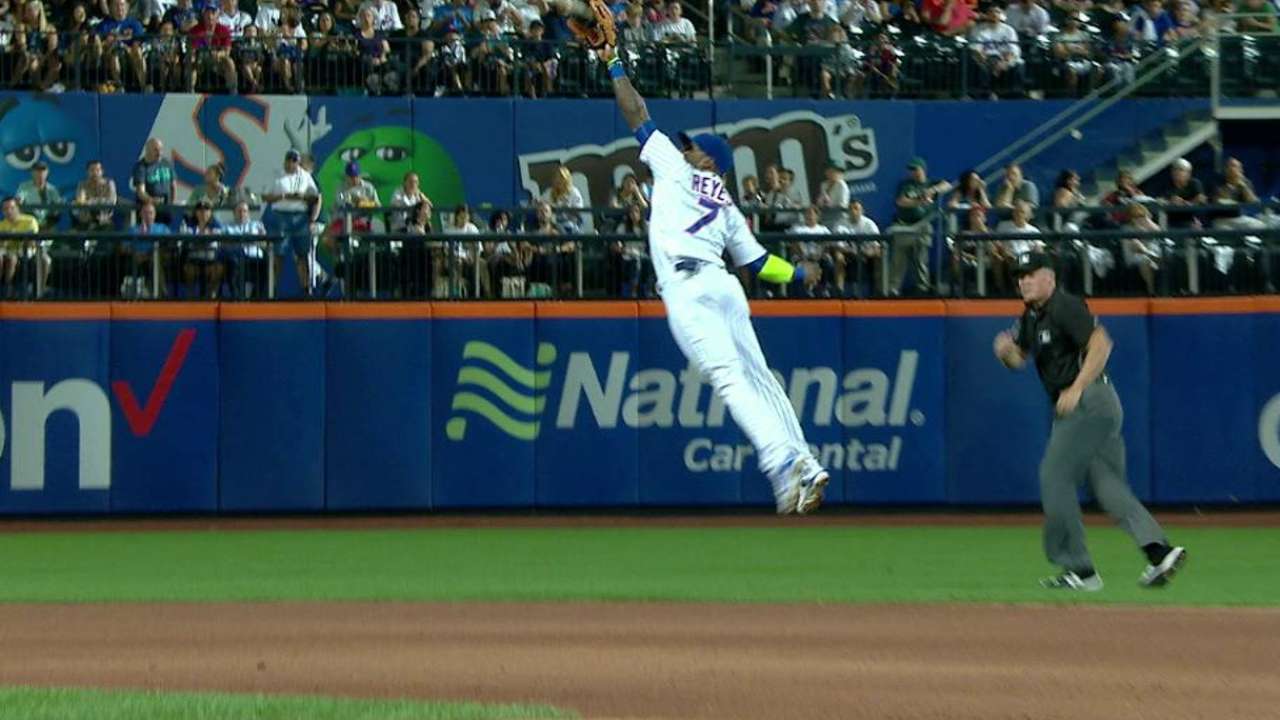 Those accolades are nice. But it's wins that the Mets are after, which won't come easily without Reyes and Cabrera doing their parts.
"We battle every day," Cabrera said. "We come to fight every day. Now good things are happening, and I hope everything that's happening right now stays here."
Anthony DiComo has covered the Mets for MLB.com since 2008. Follow him on Twitter @AnthonyDiComo and Facebook, and listen to his podcast. This story was not subject to the approval of Major League Baseball or its clubs.