Improving Seager getting closer to returning
Mariners hopeful third baseman can rejoin lineup Saturday vs. Sox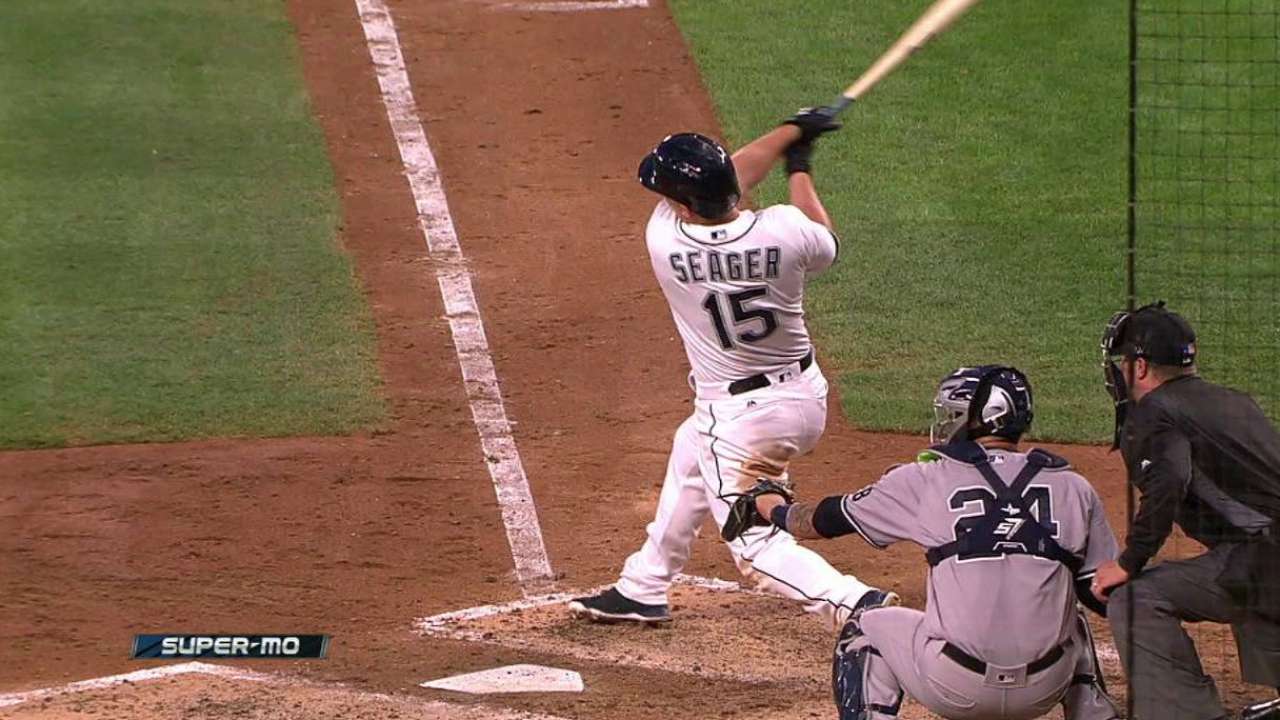 CHICAGO -- Kyle Seager has missed just six games over the previous three seasons combined, so you know something wasn't right when the Mariners third baseman was out of the starting lineup for a third straight day on Friday with a bruised right foot.
But the good news for the 28-year-old North Carolina native was that he no longer had to wear a protective boot in pregame work on Friday and the plan is to have him back on the field for Saturday's game against the White Sox.
"It's definitely getting better," Seager said after testing the foot in some light drills under the watch of trainer Rick Griffin. "It feels a lot better today than it did yesterday, and yesterday it felt a lot better than the day before. So it's definitely going the right direction. Mr. Rick has been working non-stop on me."
Seager fouled a ball off his foot in his first at-bat Tuesday against the Yankees and finished the game, but has been unable to play since. He said the ball apparently just caught him in the wrong spot, on the bone on the inner top of his foot.
"That's what is so crazy. You foul balls off your foot all the time," he said. "It happens. It's probably karma on my end because I've made fun of other guys for milking it and now I'm the one doing it. I guess sometimes it hits a little differently. I'm not sure what happens, but this was a lot different than other ones."
Seager, who is hitting .286 with 24 home runs and a team-leading 83 RBIs, did have some good news from Thursday night when he got back to his hotel room just in time to see younger brother Corey break up a no-hitter by the Giants' Matt Moore with two outs in the ninth inning in the Dodgers' 4-0 loss.
"That was pretty exciting. I think he upset some people," said Kyle. "That was exciting for me. As the hitter in that situation, nobody wants that. I've had it done to us and it's not fun. You never really want to be a part of that. To get the hit on a blooper is an extra little jab there. He was trying to get a hit, too, so it worked. He got a hit."
Now the oldest of the three Seager brothers wants to get back to getting his own hits as soon as possible. Once he's back in action, he'll take some extra precautions.
"I'll throw a shin guard on there to cover the foot," he said. "And hopefully not take any more bad swings and foul it off the foot. That'd be the first goal."
Greg Johns has covered the Mariners since 1997, and for MLB.com since 2011. Follow him on Twitter @GregJohnsMLB and listen to his podcast. This story was not subject to the approval of Major League Baseball or its clubs.