Red Sox target key relief innings for Buchholz
Manager Farrell envisions righty handling eighth-inning duties occasionally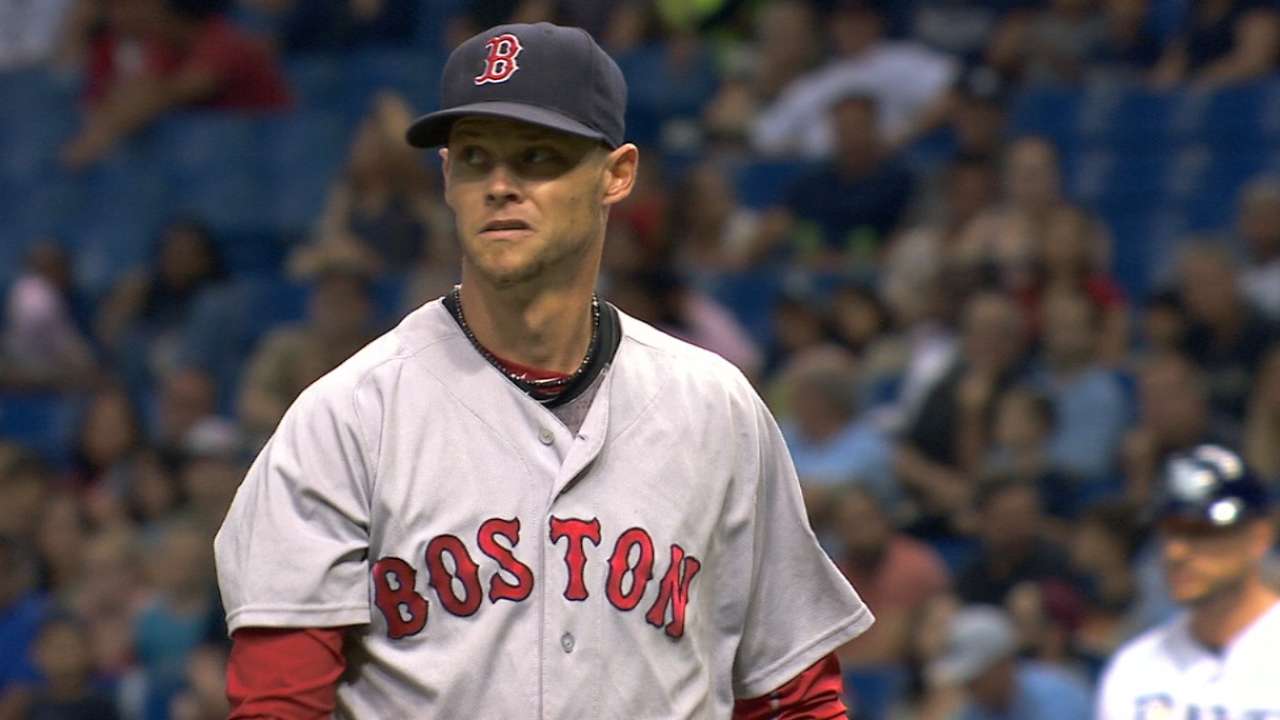 BOSTON -- The return of Steven Wright and Eduardo Rodriguez from injuries means that Clay Buchholz is going back to the Red Sox's bullpen. But this time, the righty is likely to be used in high-leverage situations.
In recent weeks, the Red Sox have struggled mightily to hold leads in the eighth inning, and Buchholz could get some opportunities to hand the ball to closer Craig Kimbrel.
"I don't want to outline a defined role, but at the same time, it's going to be with responsibility," said Red Sox manager John Farrell. "We're still trying to mix and match and match up in the eighth inning. Depending on the given day, or if we're in a stretch of right-handed hitters, yeah, that's likely to be Brad [Ziegler] in that spot. But I wouldn't [rule] Clay out from pitching in the eighth inning, either."
When Buchholz served earlier stints in the bullpen, he was used sparingly as a mopup man.
To Buchholz's credit, he's gotten on a roll since late July, posting a 1.96 ERA over eight appearances, the last three of which were starts.
"He's had a couple of opportunities, and I think there's more comfort now," said Farrell. "I think there's just more comfort in general, because he's confident. He's commanding the baseball very well. Exclusively going from the stretch has been a help to him. The cutter depth is improved, and he's got better overall stuff, with command. He's just a more confident pitcher now than at any time during the season."
Worth noting
• Righty Koji Uehara, who is trying to return from a right pectoral strain, worked an aggressive bullpen session on Friday, throwing roughly 50 pitches. How he responds should be a good indicator of how he is progressing.
• One pitcher who could give the Red Sox a lift down the stretch is Joe Kelly, who has been dominant as a reliever at Triple-A Pawtucket. In his last 14 innings for the PawSox, Kelly has recorded one walk and 23 strikeouts.
"He will help us, yes," said Farrell. "And yet, we're six days away from expanding the roster. There's not a whole lot of flexibility with the current pitching staff, in terms of movement to get another guy here. … Joe's getting more swing and miss to his fastball, in large part because I think he's doing a good job of elevating it in key spots. He's going to have an opportunity to contribute and help this club."
Ian Browne has covered the Red Sox for MLB.com since 2002. Follow him on Twitter @IanMBrowne and Facebook. This story was not subject to the approval of Major League Baseball or its clubs.