No structural damage to Benintendi's left knee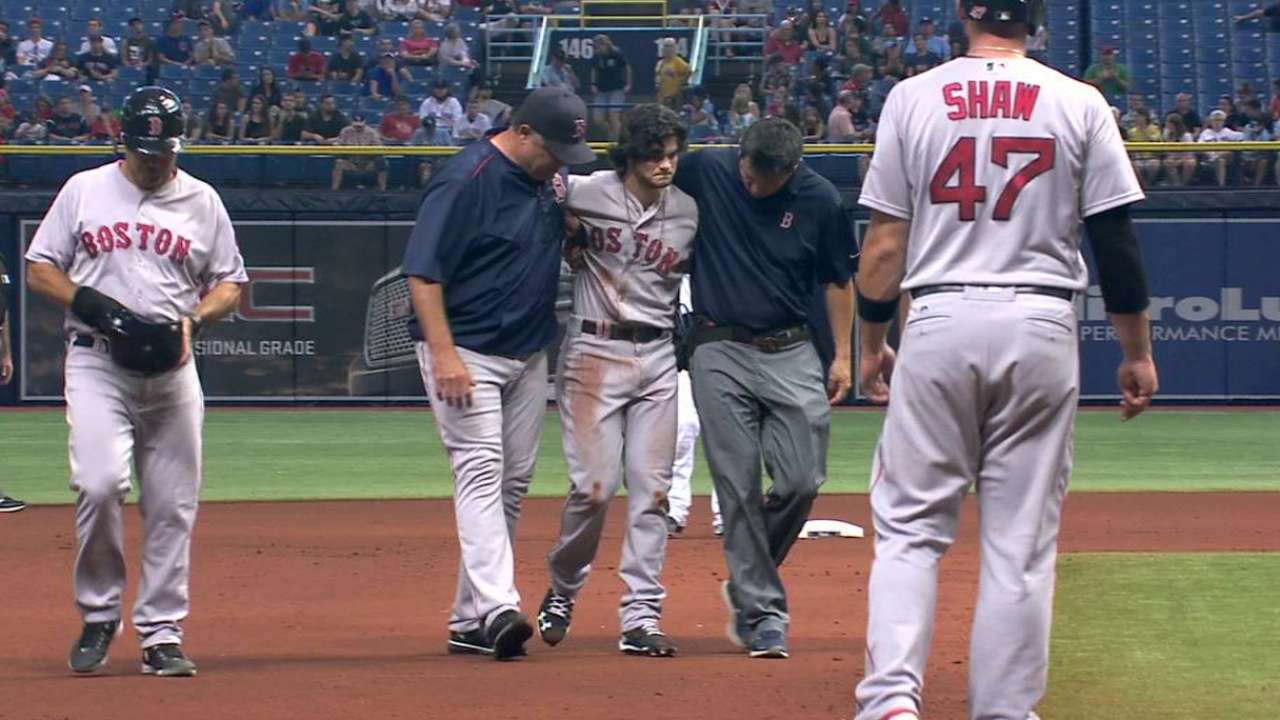 BOSTON -- Red Sox left fielder Andrew Benintendi underwent a battery of tests from team doctors on his sprained left knee and no structural damage was found, providing more hope that the club's No. 2 prospect will play again this season.
"Yeah, I'm definitely fortunate," said Benintendi. "It looked a lot worse than it actually was, so I feel pretty lucky."
It's too early to say exactly when Benintendi will return. The Red Sox entered Friday's series opener against the Royals with 35 games left in the regular season, hoping there will be a prolonged postseason run to follow.
"He'll be back as soon as first available, and optimistically, we're thinking that could still be the regular season," said Red Sox manager John Farrell.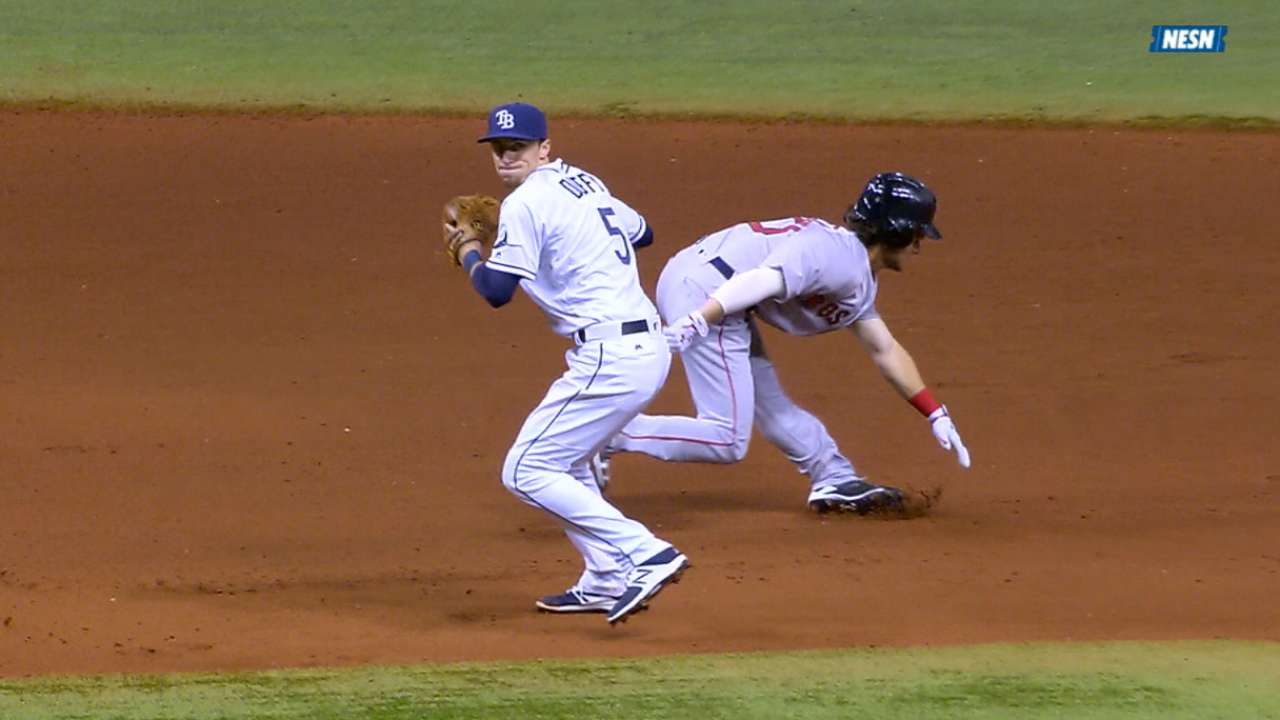 Brock Holt and Chris Young will get most of the playing time in left field while Benintendi is out.
"There was another MRI, X-rays, CT scan, and all concur that he's still dealing with the sprained left knee," said Farrell. "No structural damage. When you think back and look at the video, this could've been much, much worse. We're lucky that the ACL is not involved, so we're still optimistic that he can return this season."
Benintendi has given Boston a big lift in the lower part of the batting order and in left field since his promotion to the Major Leagues on Aug. 2. In his first 21 Major League games, Benintendi has slashed .324/.365/.485 with six doubles, a triple, a homer and 10 RBIs.
"It's an interruption," said Farrell. "He has been quickly embraced by this team; that's obvious. His production has been apparent. On both sides of the baseball, he has made an impact, so we're going to miss him. But at the same time, I think we've gotten a lot of good news today that, despite the injury and the DL stint that he has here, there's optimism in this, and that's his return here at some point this season."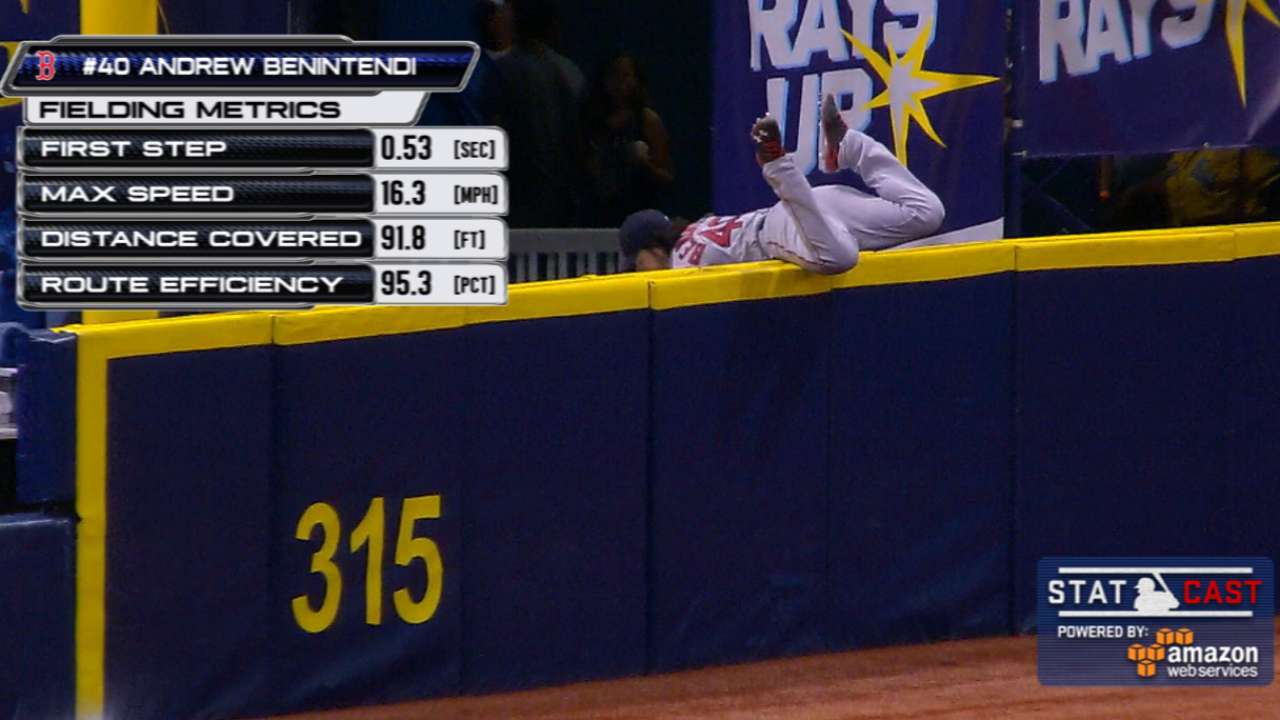 In Monday night's game at Tropicana Field, Benintendi made one of the plays of the season, jumping over the wall in left to bring back a home run. Benintendi injured his knee diving back to second base on Wednesday.
"It's tough," said Benintendi. "I've only been up here for three weeks, and I'd rather be out there playing, obviously, and taking fly balls in left field, but it's part of the game. It's unfortunate that it happened."
Ian Browne has covered the Red Sox for MLB.com since 2002. Follow him on Twitter @IanMBrowne and Facebook. This story was not subject to the approval of Major League Baseball or its clubs.