Mets decide to skip deGrom's next start
New York feels ace right-hander's issues are mechanical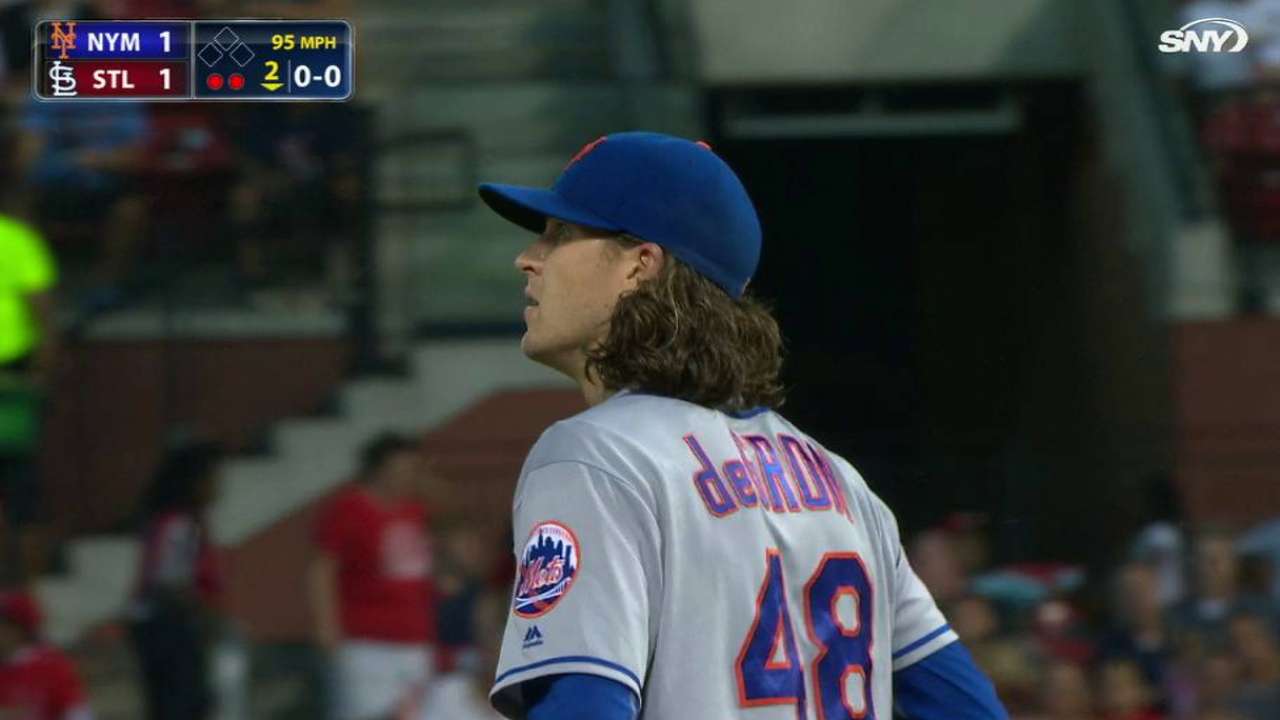 NEW YORK -- Concerned about Jacob deGrom's consecutive poor starts, the Mets spent this week digging into the Trackman technology available to them at ballparks around the country, hoping to spot the root cause of their ace's struggles. Coming away convinced that deGrom's issues are mechanical, not health-related, the team will spend the next 10 days attempting to fix them.
As such, deGrom will miss his next start in an attempt to rediscover the form that made him a National League Cy Young candidate as recently as mid-August.
"Of course I want to be out there, but these past few I haven't helped the team very much," said deGrom, who has given up 13 runs on 25 hits over his last two outings, ballooning his ERA from 2.29 to 2.96. "I think this is going to help me in the long run."
The Mets' data showed that deGrom is releasing his pitches from a point significantly higher, and more toward the first-base line than he has in the past. As a result, his entire body is "falling off" toward first, flattening his throws and making them more hittable. It is a problem that vexed deGrom earlier this season.
"The last couple of starts, his ball just has not moved the way it typically does," general manager Sandy Alderson said. "We don't think that's related to injury. It's maybe related to mechanics. Which is not to say that he hasn't pitched quite a bit, and could use the day off. But all things considered, we're very hopeful that we'll give him one day off and then he can pitch again."
While pitching coach Dan Warthen works with deGrom, someone else -- Gabriel Ynoa, Sean Gilmartin and Rafael Montero are the candidates -- will start Monday against the Marlins in his place. Mechanical issues aside, the Mets also believe the extra rest can only help deGrom, who has thrown 359 innings since the start of last season.
"If we look over the past few years that he's been up here, if he's had time off, he's been dominant," manager Terry Collins said. "So even though it's only one start … we still think it's necessary right now."
The situation is independent of left-hander Steven Matz, who was scheduled to throw a bullpen session Friday in advance of potentially coming off the disabled list next week. But the Mets are unwilling to commit to Matz before seeing how he responds to throwing off a mound this weekend. In either case, Seth Lugo is tentatively scheduled to start Tuesday for the Mets, followed by Matz on Wednesday, if he feels well enough to pitch.
Lugo left Thursday's outing after five innings due to a right calf cramp, but he expects to be available after taking his normal rest.
Anthony DiComo has covered the Mets for MLB.com since 2008. Follow him on Twitter @AnthonyDiComo and Facebook, and listen to his podcast. This story was not subject to the approval of Major League Baseball or its clubs.