Tour brings pieces of Cooperstown to St. Louis
Ozzie, Edmonds on hand for grand opening of Hall of Fame showcase's latest stop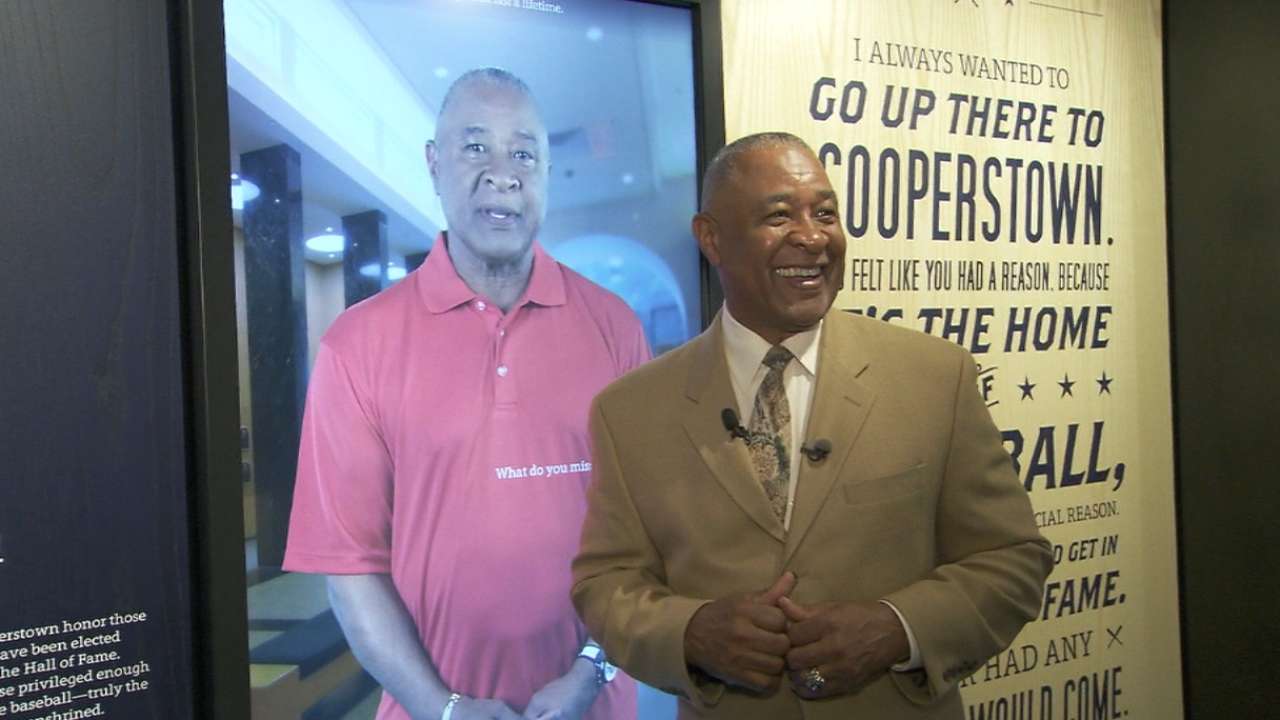 ST. LOUIS -- The trip from Cooperstown, N.Y., to Busch Stadium is almost 1,000 miles, but Major League Baseball is making that distance a lot shorter in the coming weeks.
The Hall of Fame Tour will take root in the parking lot at Ballpark Village from Friday through Sept. 11 on one of six stops this year as the experience of Cooperstown is brought to the fans. The traveling showcase includes five mobile exhibit galleries containing artifacts such as Jackie Robinson's cap from the 1955 World Series and Babe Ruth's 714th home run ball.
Cardinals Hall of Famer Ozzie Smith and former center fielder Jim Edmonds were given a tour during the grand opening Friday.
"This is great," Smith said. "It's all about giving the fans an opportunity to experience somewhat what Cooperstown would be like if they had the opportunity to go there. This is probably as close as a lot of people are going to get to Cooperstown, and I think it's a great concept and a great idea."
Virtual reality technology immerses fans, giving them the feeling of being on the field and in the dugout in Major League parks. Guests can also scroll through digital Hall of Fame plaques, and a mobile IMAX movie theater shows historical footage.
"I think it's pretty cool," Edmonds said. "I think this is more interactive friendly for kids and for families, but I think it's really cool to be able to bring this to … fans who don't get to travel. It's pretty special."
Tom Shieber is a St. Louis native and senior curator at the National Baseball Hall of Fame. He guided Smith and Edmonds through the exhibits Friday and added that taking the Hall of Fame on the road isn't an easy task.
"There are a ton of challenges," Shieber said. "We've got to max out security. … We've got to make sure the temperature in these mobile exhibit spaces are carefully controlled. There are a lot of different factors that most people wouldn't care about, but museum people really care about."
The remaining stops on the Tour this year include the Mall of America in Bloomington, Minn. (Sept. 16-29) and the Las Vegas Convention Center in Las Vegas (Oct. 7-23).
Nick Krueger is a reporter for MLB.com based in St. Louis. This story was not subject to the approval of Major League Baseball or its clubs.