Cardullo completes unlikely rise to Rockies
Paulsen optioned to Triple-A Albuquerque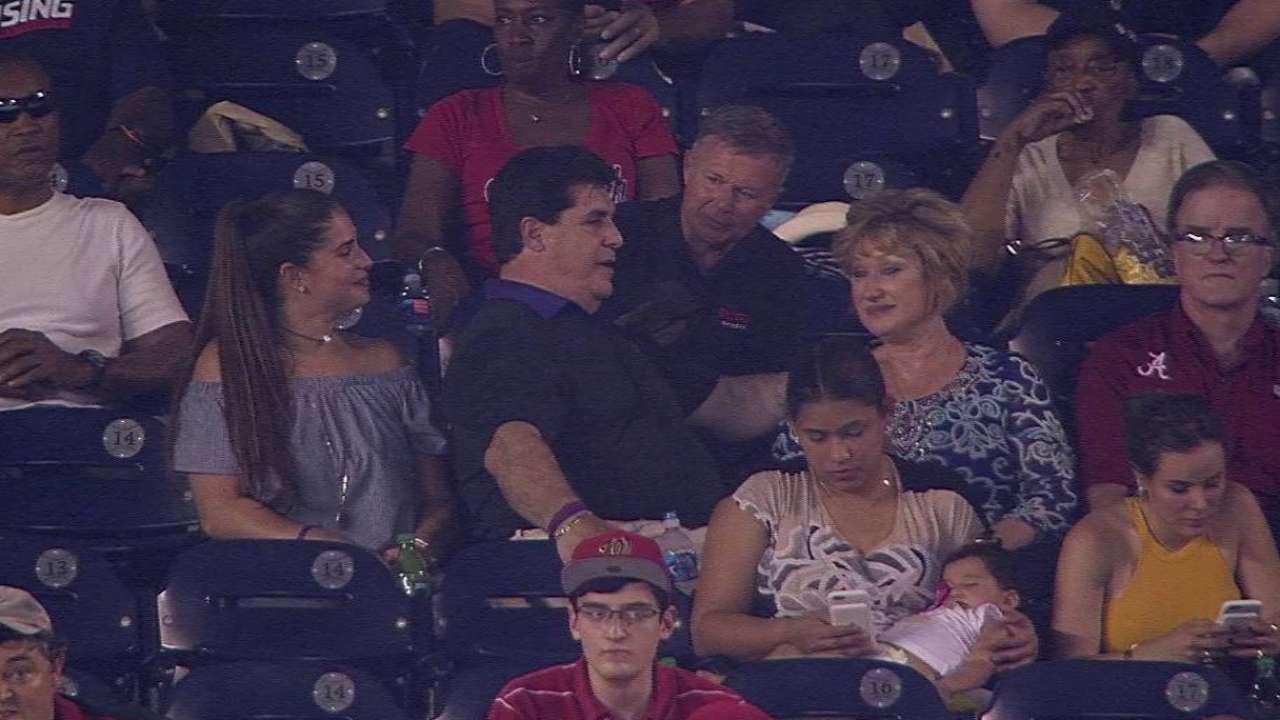 WASHINGTON -- Stephen Cardullo learned from Triple-A Albuquerque manager Glenallen Hill that he was being rested Thursday night. Knowing the team is battling for a postseason chance, Cardullo asked if he could pinch-hit against El Paso. Hill said no, so Cardullo used his energy for a lonely batting-cage session after the Isotopes' 3-0 win.
Little did Cardullo, 28, know his long climb -- from having to earn a spot at Florida State's tryout camp and ending up an All-American, to being a lightly regarded D-backs 24th-round Draft pick in 2010, to being released after two years of Rookie-level ball, to four years of independent ball before joining the Rockies on a Minor League contract this year -- was about to reach its goal.
"I was picking up the balls in the cage, and [Hill] was like, ''Dullo, hurry, up, we've got a team meeting,'" Cardullo said. "He brought the whole team inside the gym, closed it to just training staff, coaches, players.
"He was like, 'I don't want to single anybody out, but Stephen Cardullo, he was [Pacific Coast League] Player of the Week last week … and your teammate's going to the big leagues.' Everybody started jumping on me. I was definitely humbled. … I had no idea."
It's official! Our very own Stephen Cardullo is Rockland's first ever Major Leaguer! Congrats Dullo! #RisingBoulders https://t.co/jrHg9JBLPM

— Rockland Boulders (@RcklandBoulders) August 26, 2016
The Rockies optioned struggling left-handed-hitting first baseman Ben Paulsen (3-for-26 in 10 games since his callup) to Albuquerque. To clear a 40-man roster spot and be allowed to select Cardullo's contract, the Rockies placed righty reliever Scott Oberg on the 60-day disabled list with axillary artery thrombosis (blood clots) in his right arm.
Rockies manager Walt Weiss figured, why not give Cardullo a chance to show what he could do? Weiss put the first baseman in the No. 2 spot in the batting order in Friday's 8-5 loss to the Nationals for his Major League debut, during which he went 0-for-3 with a walk and a strikeout.
The right-handed-hitting Cardullo became the fifth player to start at first base since Mark Reynolds left the lineup with a left hamate bone injury on Aug. 11. The Rockies have also used Paulsen, utility man Daniel Descalso and outfielders Ryan Raburn and Gerardo Parra.
The D-backs released Cardullo after two seasons in Rookie ball. From there, his resume shows he played for the London (Ontario) Rippers of the Frontier League and the Florence (Ky.) Freedom when the Rippers folded at midseason, then three years for the Rockland (N.Y.) Boulders of the Can-Am League. He had a .291 batting average, .363 on-base percentage and .435 slugging percentage in four independent seasons.
Cardullo hit .308 with 17 home runs and 72 RBIs in 115 games this season at Albuquerque, where he played mostly in the outfield with three games at first base. With the lineup heavily left-handed since injuries to Reynolds and shortstop Trevor Story, the time was finally right for a guy who had spent years being overlooked.
"I told him when he came in my office today, nobody's handed anything in this league, ever; you have to earn everything you get to get here and stay here," said Weiss, who said some limited at-bats in Spring Training caught his attention.
"He's done that, and then some."
Thomas Harding has covered the Rockies since 2000, and for MLB.com since 2002. Follow him on Twitter @harding_at_mlb, listen to podcasts and like his Facebook page. This story was not subject to the approval of Major League Baseball or its clubs.