MLB.com Columnist
Jonathan Mayo
Top 2016 draftees who can contribute in bigs soon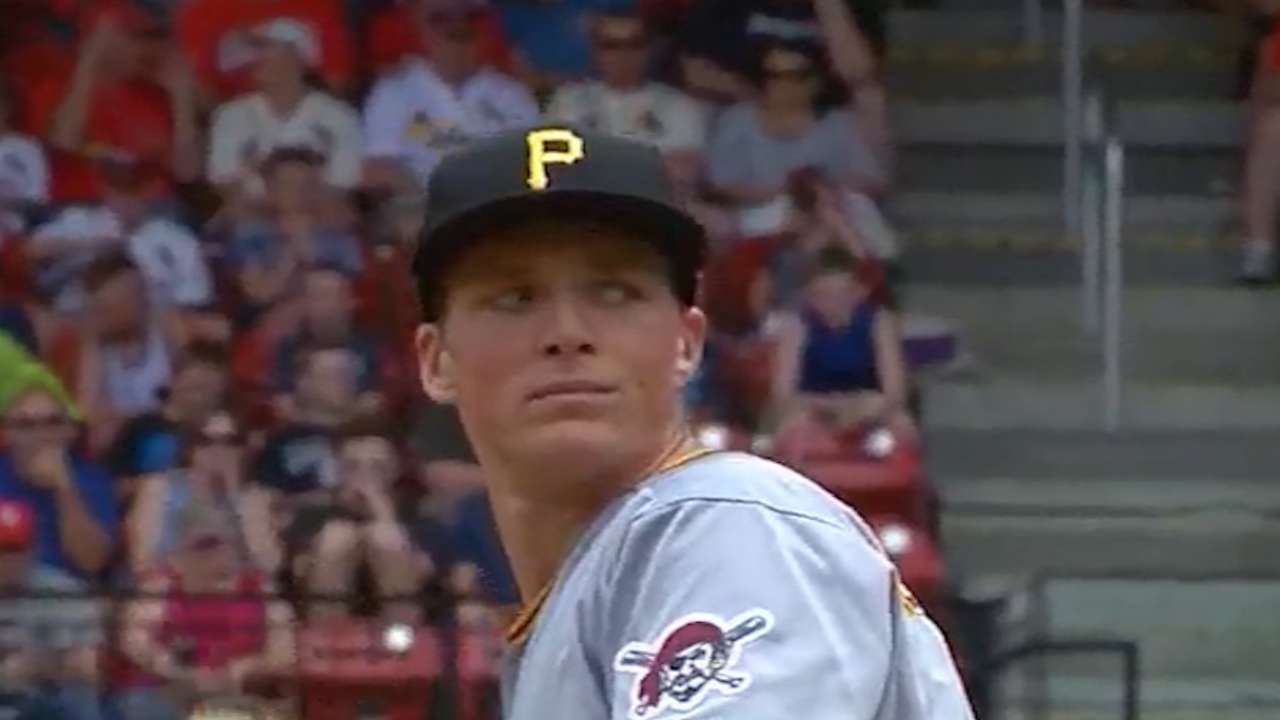 It used to be that Major League teams wouldn't feel any impact from a Draft class for a few years. That's changed lately, particularly in the past couple of years.
In 2015, '14 first-round picks Kyle Schwarber and Michael Conforto not only made it up to the Cubs and Mets, they both played a large role in their team's push to the playoffs. Carlos Rodon and Aaron Nola were two pitchers who made large contributions to their team's, albeit not in playoff contention, in their first full season as well.
The 2015 Draft class didn't want to be outdone. No. 1 pick Dansby Swanson (No. 5 on the Top 100 Prospects list) recently got called up by the Braves to take over at shortstop, while No. 2 pick Alex Bregman beat him to the bigs in Houston by a few weeks. No. 7 pick Andrew Benintendi was helping the Red Sox compete in the American League East until he landed on the disabled list with a knee sprain. No. 8 pick Carson Fulmer has seen time in the White Sox bullpen and should be back when rosters expand on Sept. 1.
With this new trend, it made sense to take a look at the most recent Draft class and who looked like they could follow in the footsteps of the aforementioned quick-to-the-big-leagues prospects. Here's a list of three pitchers and three hitters who could make Major League contributions sooner rather than later.
The pitchers
Zack Burdi, RHP, White Sox
College relievers are often the top choice to get to the big leagues first from a Draft class, though that hasn't been the case in the past couple of years. It should be for the Class of 2016 as Burdi, the No. 26 overall pick in the Draft, is already in Triple-A. No. 4 on the White Sox Top 30, he hasn't allowed an earned run since July 20, covering 18 1/3 innings and two levels. For the summer, the potential future closer has struck out 13.4 per nine and held hitters to a .168 batting average.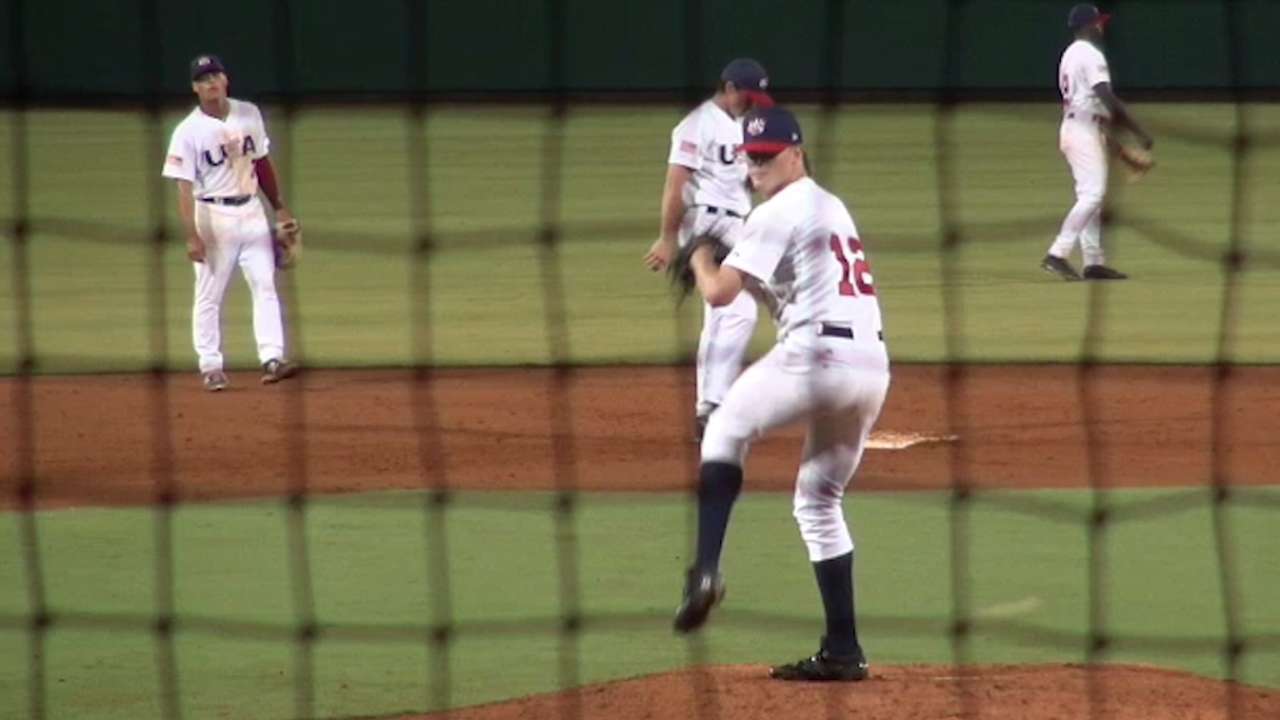 Dakota Hudson, RHP, Cardinals
The Cardinals' No. 10 prospect has been pitching in relief after a heavy workload at Mississippi State, but he's been showing the ability to get outs in the Class A Advanced Florida State League. The No. 34 overall pick in the Draft will develop as a starter in 2017, but this head start -- to go along with his stuff and feel for pitching -- should allow the right-hander to progress rapidly. Luke Weaver, a college starter taken at the end of the first round in 2014, spent his first full season in the FSL and made it to the big leagues this year. Hudson could potentially move faster than that.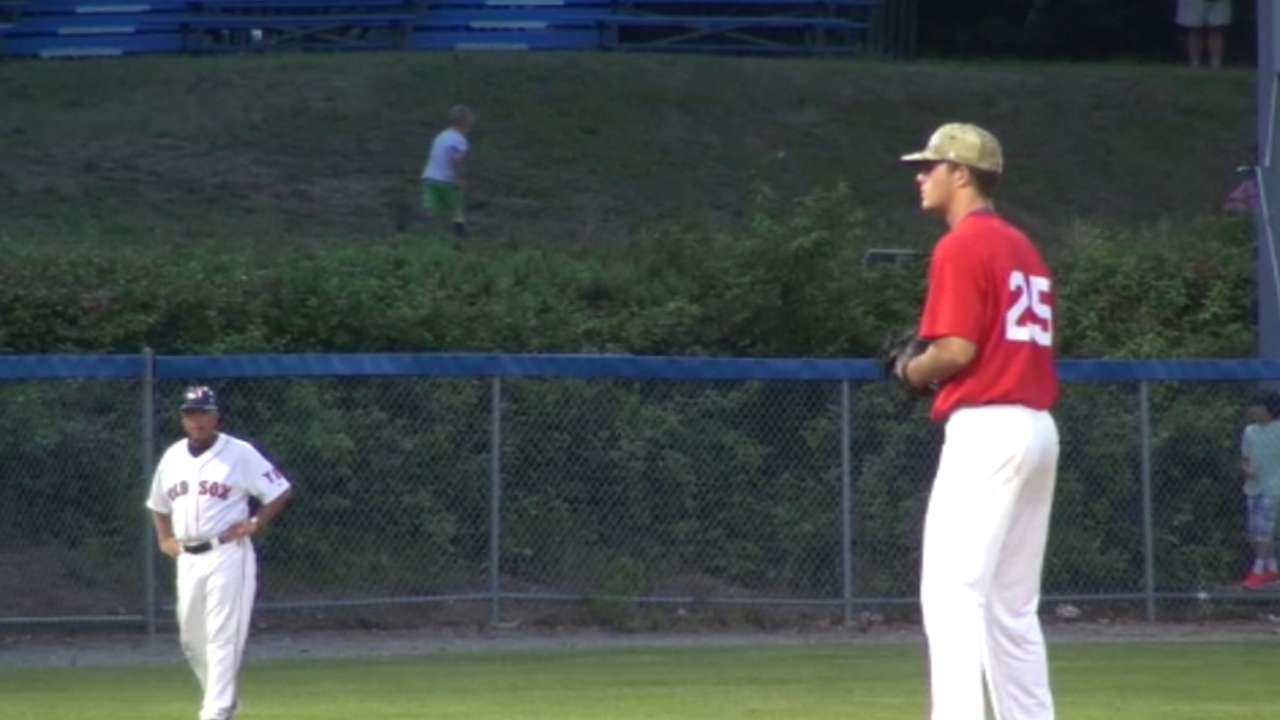 A.J. Puckett, RHP, Royals
Puckett is precisely the kind of advanced college arm who can move quickly through a system. While he doesn't have plus stuff, he does mix his pitches well, keeps hitters off balance and has outstanding command. The Royals' No. 17 prospect has also built a very good foundation by logging a good amount of innings this summer in the full-season Midwest League. The second-rounder might not have the highest ceiling in the class, but he might reach his -- as a mid-rotation-type starter -- sooner than most.
The hitters
Nick Senzel, 3B, Reds
The No. 2 pick in the Draft and the Reds' No. 1 prospect fits the Swanson-Bregman mold in terms of being an advanced college bat. Like Bregman did a year ago, Senzel is getting a lot of at-bats in full-season ball, and he's excelling there. Over his first 50 Midwest League games, the third baseman has hit .307/.404/.536 with seven homers, 32 RBIs and even 14 steals. Seeing him jump to Double-A to start the 2017 season seems reasonable, which puts him on a path to reach Cincinnati in his first full season.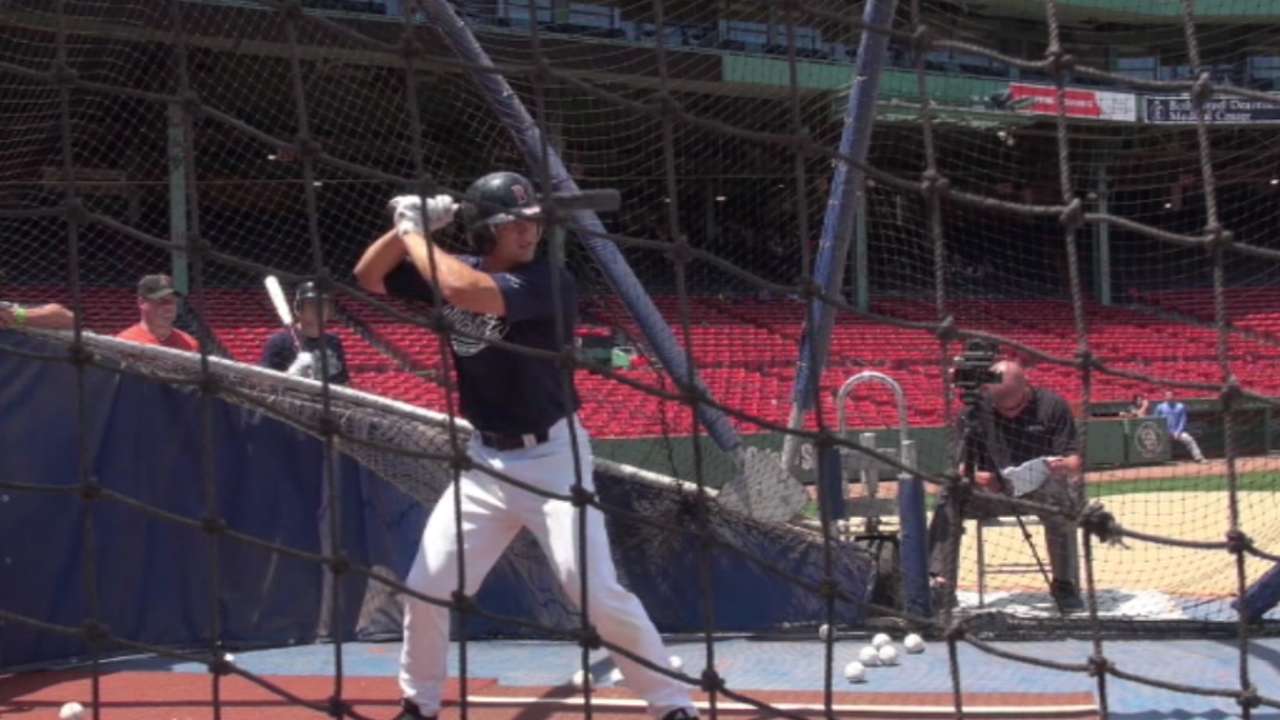 Matt Thaiss, 1B, Angels
A catcher at Virginia, the Angels moved the No. 16 pick (and their top prospect) to first base permanently. That should allow his very advanced bat to move even faster. He's spent 43 games in the full-season Midwest League and has shown just how good his approach is (21 walks vs. 22 strikeouts). Combined with his start in the Pioneer League, Thaiss is now carrying a .297/.373/.472 line during his pro debut, and there should be even more power to come as he adjusts to the pro game.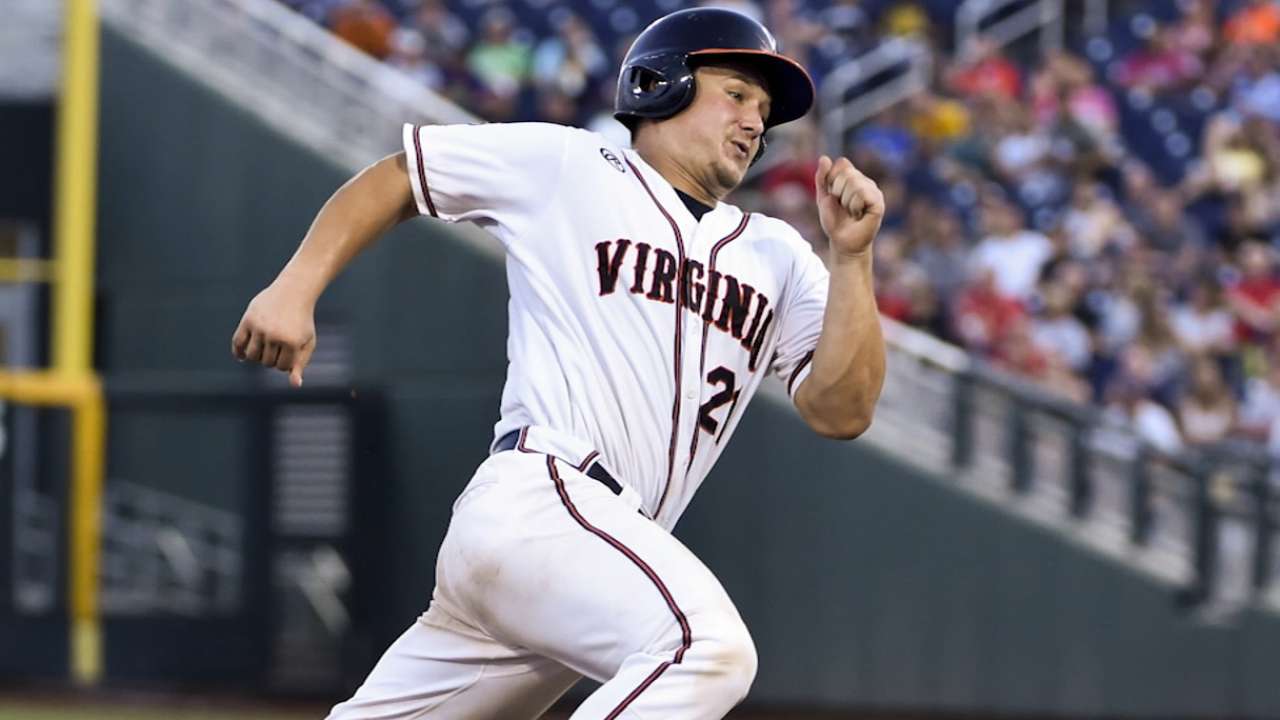 Zack Collins, C, White Sox
The only thing that could hold Collins back is getting work in to refine his defensive skills, as is the case with many young backstops. But there's no question the bat is ready to move quickly. The No. 10 overall pick jumped to the Class A Advanced Carolina League after a very quick debut in the Rookie-level Arizona League. No. 2 on the White Sox Top 30, Collins is doing what he does best in Winston-Salem: getting on base (.381 on-base percentage) and showing power (six homers in 98 at-bats for a .490 slugging percentage).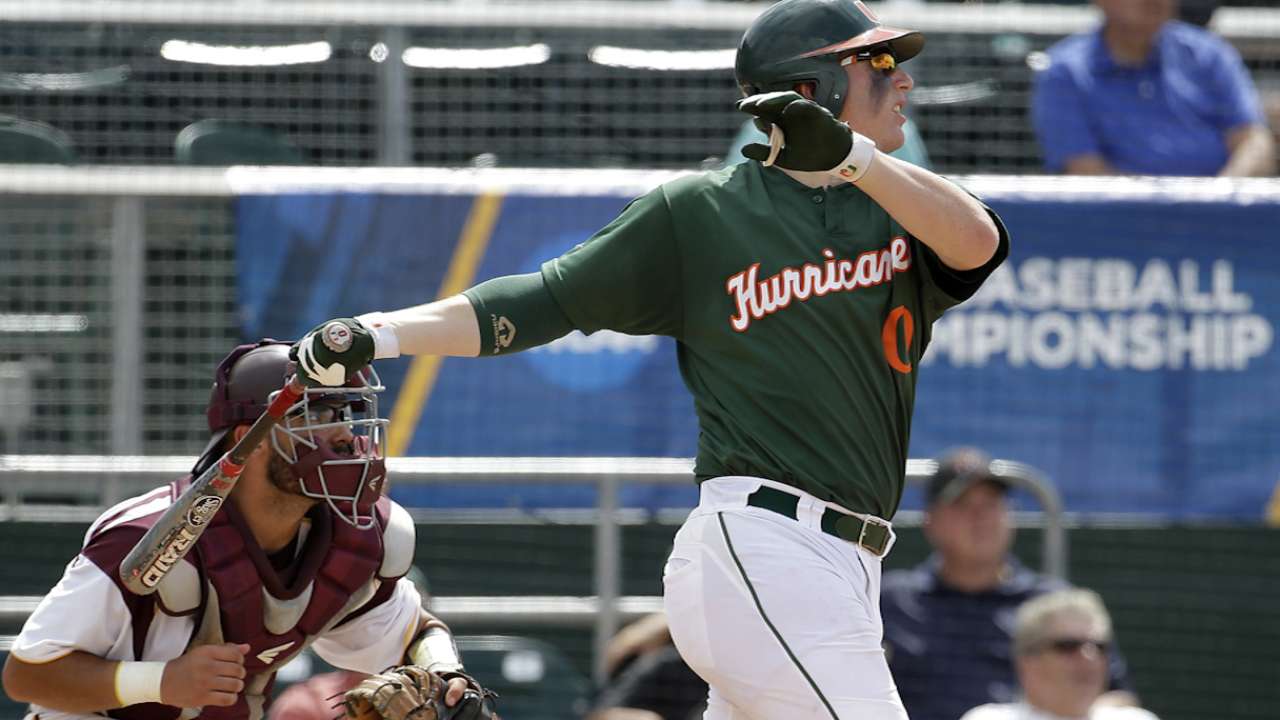 Jonathan Mayo is a reporter for MLBPipeline.com. Follow him on Twitter @JonathanMayo and Facebook, and listen to him on the weekly Pipeline Podcast. This story was not subject to the approval of Major League Baseball or its clubs.