MLB.com Columnist
Mike Petriello
Keeping it simple: Darvish using high-spin fastball more often
Swinging-strike rate on fastball is second best in baseball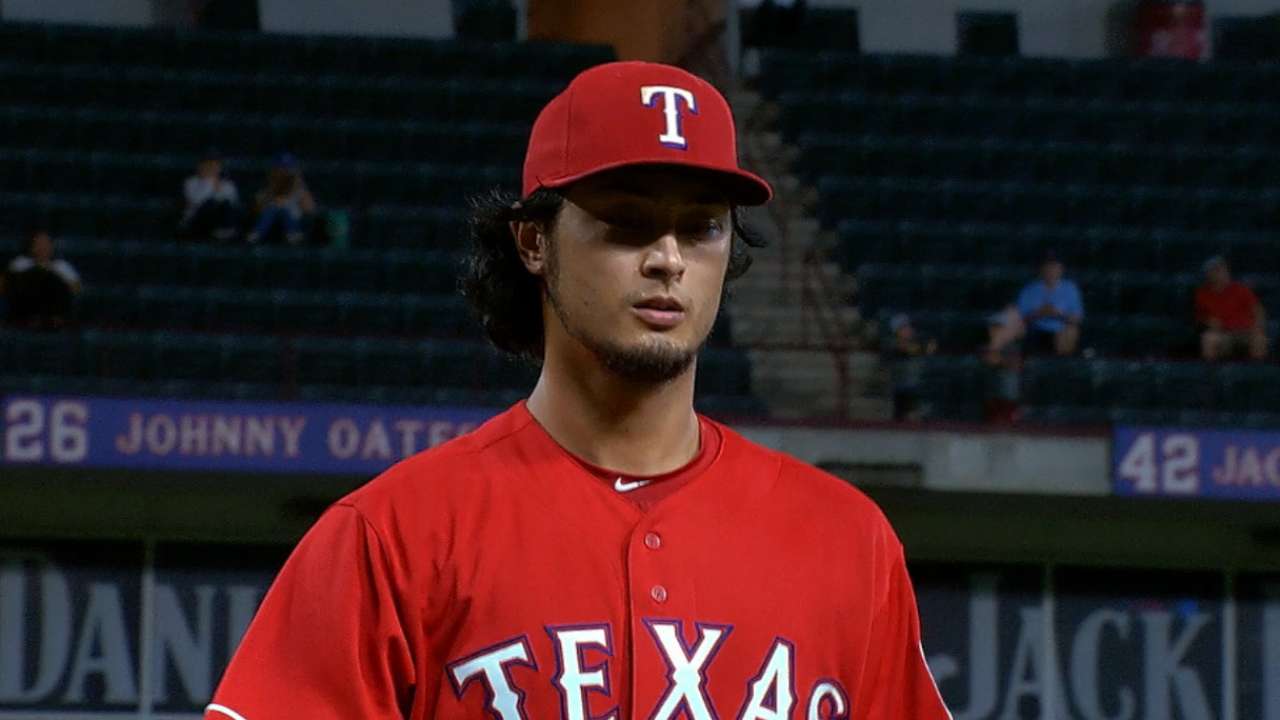 All of baseball missed having Yu Darvish around in 2015, because he's one of the game's most interesting and dominant pitchers when he's healthy. The Rangers, of course, missed him even more in October, when they lost to the Blue Jays in some part because of inconsistent starting pitching behind Cole Hamels -- who himself cost a tremendous prospect package headed to Philadelphia so he could take Darvish's spot atop Texas' rotation.
From a data perspective, we missed Darvish, too. Last season was the first year of Statcast™, and as we collected all sorts of interesting data points on spin rates, exit velocities and route efficiencies, we didn't get any of that on Darvish. We learned a lot about what made certain pitchers so dominant -- like the spin on Justin Verlander's fastball or Rich Hill's curve -- but so far as Darvish went, we were in the dark. We knew in his first three seasons, he had a 3.27 ERA and struck out 30 percent of the batters he faced. We just couldn't go deeper, in the way we'd have wanted to.
Finally, Darvish made it back late in May, then for good in July after missing a month with a sore shoulder. The data is accumulating. And, perhaps unsurprisingly, it's impressive, even beyond the 410-foot homer he smashed last week.
Consider Darvish's four-seam fastball, a pitch he uses about 40 percent of the time. With a spin rate of 2,515 rpm, it's well above the Major League average of 2,263 rpm, and it's one of the eight-best four-seamers among the 199 pitchers who have thrown as many as he has:
Top four-seam fastball spin rates, minimum 350 thrown, 2016
1. Verlander, 2,561 rpm
2. Max Scherzer, 2,555 rpm
3. Aroldis Chapman, 2,547 rpm
4. Matt Bush, 2,534 rpm
5. Cody Allen, 2,519 rpm
6. Blake Snell, 2,515 rpm
7. Xavier Cedeno, 2,511 rpm
8. Darvish, 2,485 rpm
Obviously, spin isn't everything; if we lowered the minimums, Andrew Bailey would be atop the list. But unable to command his fastball, he was released by Philadelphia earlier this month. But everyone else on this list is an above-average (or better) Major League pitcher -- even the underrated Cedeno, who has 41 strikeouts in 39 1/3 innings for Tampa Bay this year.
As we've learned, high spin on a fastball tends to correlate well with swinging strikes and popups, because the spin allows the ball to defy gravity for slightly longer than the hitter expects. And while velocity, placement and sequencing play a big part in getting whiffs as well, it's hard not to be impressed by where Darvish ranks on the leaderboard for swinging strike percentage on fastballs this year:
Best swinging strike percentage, four-seam fastballs, minimum 200 thrown, 2016
1. Hill, 34.7 percent
2. Darvish, 31.2 percent
3. David Price, 30.3 percent
4. Dylan Bundy, 28 percent
5. J.A. Happ, 27.9 percent
Bundy, by the way, would be the ninth name on our earlier list, with a nearly identical spin rate to Darvish of 2,483 rpm. On the swinging strike list, Verlander and Scherzer are 10th and 11th. If you're looking for swinging strikes, having a high-spin fastball is really, really useful.
It helps, also, if you're adding velocity onto it, as Darvish is. This tweet from Daren Willman may be a few weeks old, but the numbers are still up to date:
Yu Darvish average fastball velocity by year:

2016 - 93.1 MPH
2014 - 91.2 MPH
2013 - 91.5 MPH
2012 - 91.5 MPHhttps://t.co/jNQUzTXOul

— Daren Willman (@darenw) August 8, 2016
As Darvish told MLB.com's T.R. Sullivan earlier this month, being more aggressive with the fastball has been part of his game plan:
"I felt like they played a big part of the success today, throwing a lot of four-seam fastballs inside to the lefties," Darvish said. "To the righties, I threw a lot of sinkers in, and it worked well. I think that played a big part in the success I had. Just being aggressive with the four-seam and sinker, and that was good enough. I didn't have to throw many other pitches."
And it's perhaps not a coincidence that new catcher Jonathan Lucroy has been instrumental in having Darvish rely on the fastball more often, as Darvish told local media he has "extreme trust" in Lucroy, who has stressed the importance of "keeping it simple" with Darvish. As you can see, he's done just that, using the four-seam more and more often this season, to great effect -- hitters have just a .190 average against it.
Maybe that's not what you'd expect from a pitcher who is famous for throwing seven pitches. But maybe that's not what's necessary, not when you have a fastball that's this good, this high-spin and is actually coming in harder than it did before his surgery. Darvish can still drop in that ridiculous slider or effective curve. He can also just stick with this. It's almost not fair.
Mike Petriello is an analyst for MLB.com and the host of the Statcast podcast. He has previously written for ESPN Insider and FanGraphs. This story was not subject to the approval of Major League Baseball or its clubs.