Kuhl stays cool vs. Crew, continues strong '16
Right-hander allows two runs over 6 1/3 against the Brewers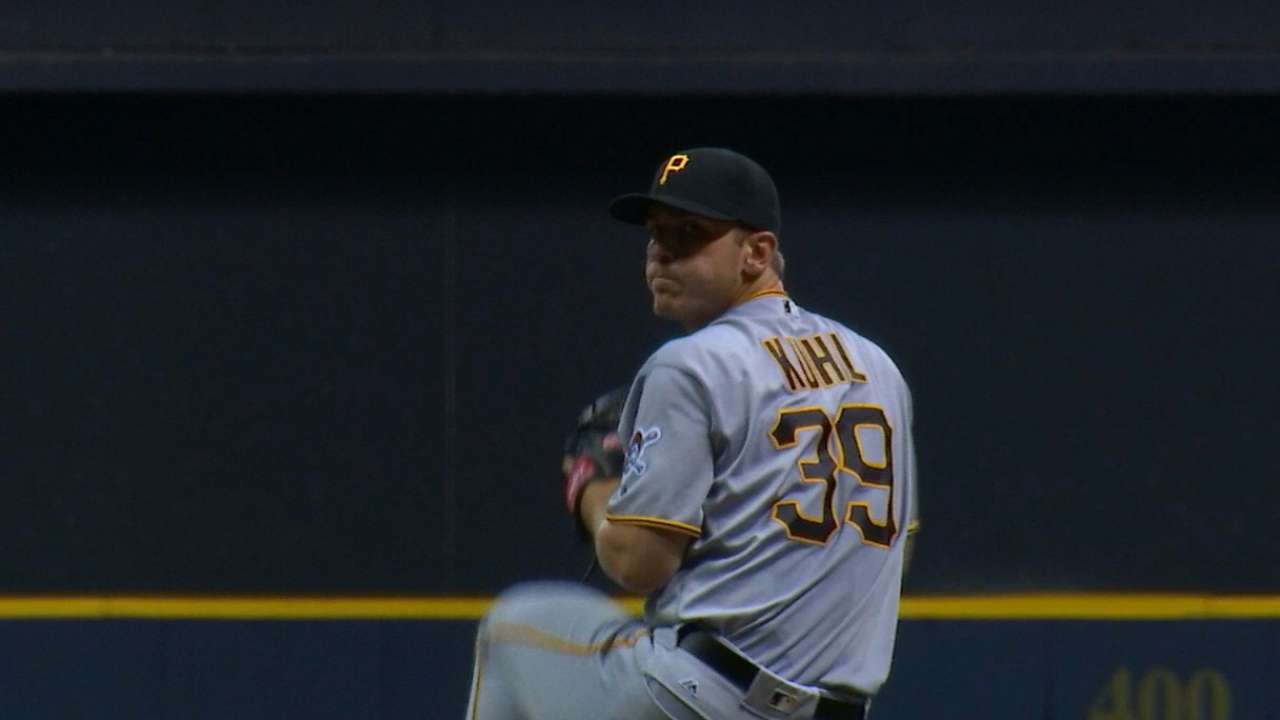 MILWAUKEE -- The puns are there to be had -- he's a Kuhl customer, Kuhl under pressure and so on -- but starter Chad Kuhl's performance in the Pirates' 3-2 win on Thursday against the Brewers was no joke.
Making his eighth big league start, Kuhl kept Milwaukee's offense under control through 6 1/3 innings until eventually cracking, as he led the Pirates to just their 18th win in their last 82 games at Miller Park. With the Cardinals falling to the Mets, Pittsburgh drew within 2 1/2 games of the second Wild Card spot, as well.
"It was another really good outing," Pirates manager Clint Hurdle said. "That's the deepest he's been in a game. It was fun to watch."
Kuhl, 23, allowed just two hits while retiring his first 19 batters into the seventh. After not striking out a batter in his last outing, he fanned five Brewers on Thursday but remained efficient with his pitch count, as well. With a sinker inducing ground balls and a slider keeping hitters off-balance, it appeared Kuhl may continue to breeze through the order.
"The slider showed more depth tonight," Kuhl said. "It's a really viable weapon against left-handed hitters. I feel really comfortable throwing it to left-handed hitters."
In the end, though, it was a slider to a left-hander that became Kuhl's lone pitfall. The right-hander's first pitch to Kirk Nieuwenhuis was flat, and the Brewers center fielder unloaded, sending the ball 463 feet, according to Statcast™, for a game-tying two-run homer.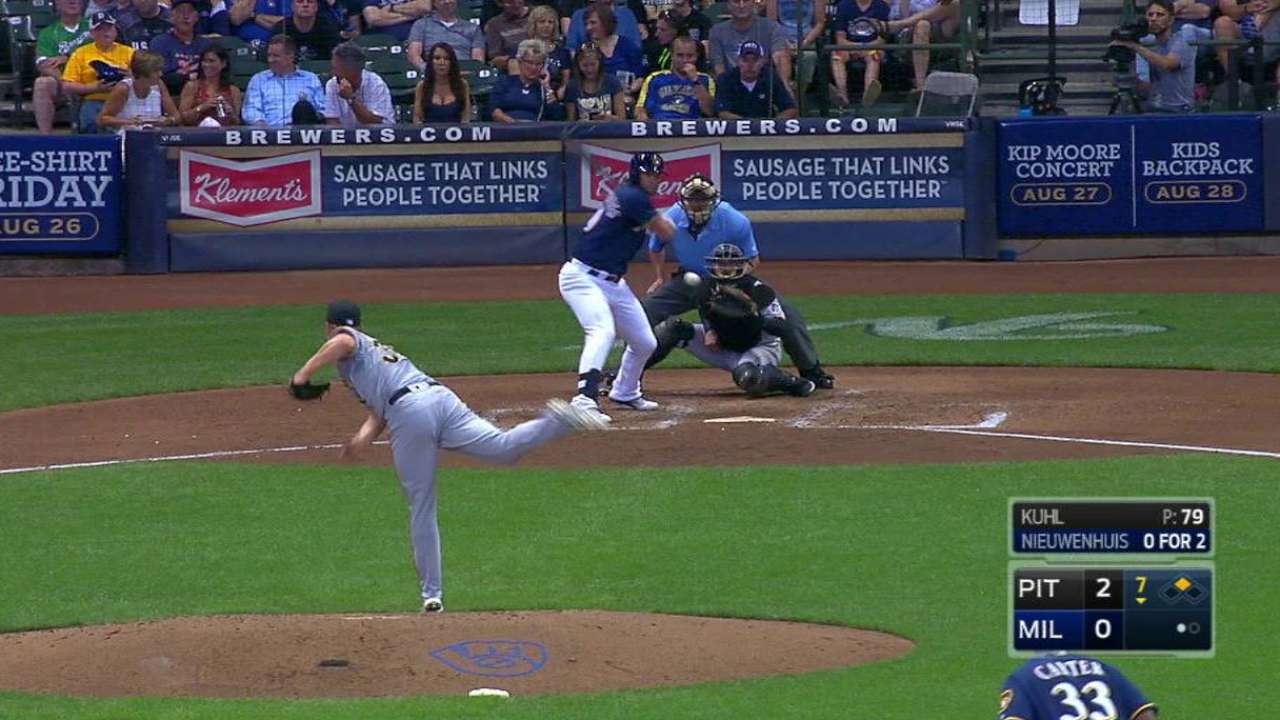 The next batter, Orlando Arcia, roped a double to end Kuhl's night, but left-hander Felipe Rivero escaped the jam, the rest of the bullpen did not yield a run, and Andrew McCutchen delivered the game-winning hit in the 10th.
"The sinker worked, his changeup and slider worked until the seventh inning," Hurdle said. "He had a couple flat sliders, and he paid for it. It shows you the fine line between cruising and all of a sudden, it's a tie game and then there's a runner on second."
Kuhl's final line after 6 1/3 innings saw him allow five hits, two runs and two walks while striking out five, as his ERA dropped to 3.50 on the season.
Miller Park has been nothing short of a house of horrors for the Pirates, who snapped a nine-game losing streak at the park. The rookie Kuhl became the perfect man to stop that skid and help set Pittsburgh back out on the right foot.
"You can't really make it too big," Kuhl said. "You just have to treat it like another day and once you get out there it's just you vs. the hitter. You don't make any park or any player bigger than it is."
Prior to the game, Hurdle joked with reporters that Kuhl's inexperience may be the perfect elixir for the Pirates at Miller Park. That proved to be no laughing matter, either.
Curt Hogg is a reporter for MLB.com based in Milwaukee. This story was not subject to the approval of Major League Baseball or its clubs.