'That's what aces do': Scherzer devises gem
With Nats stuck in 4-game skid, righty studies O's before allowing 2 hits in 8 IP, fanning 10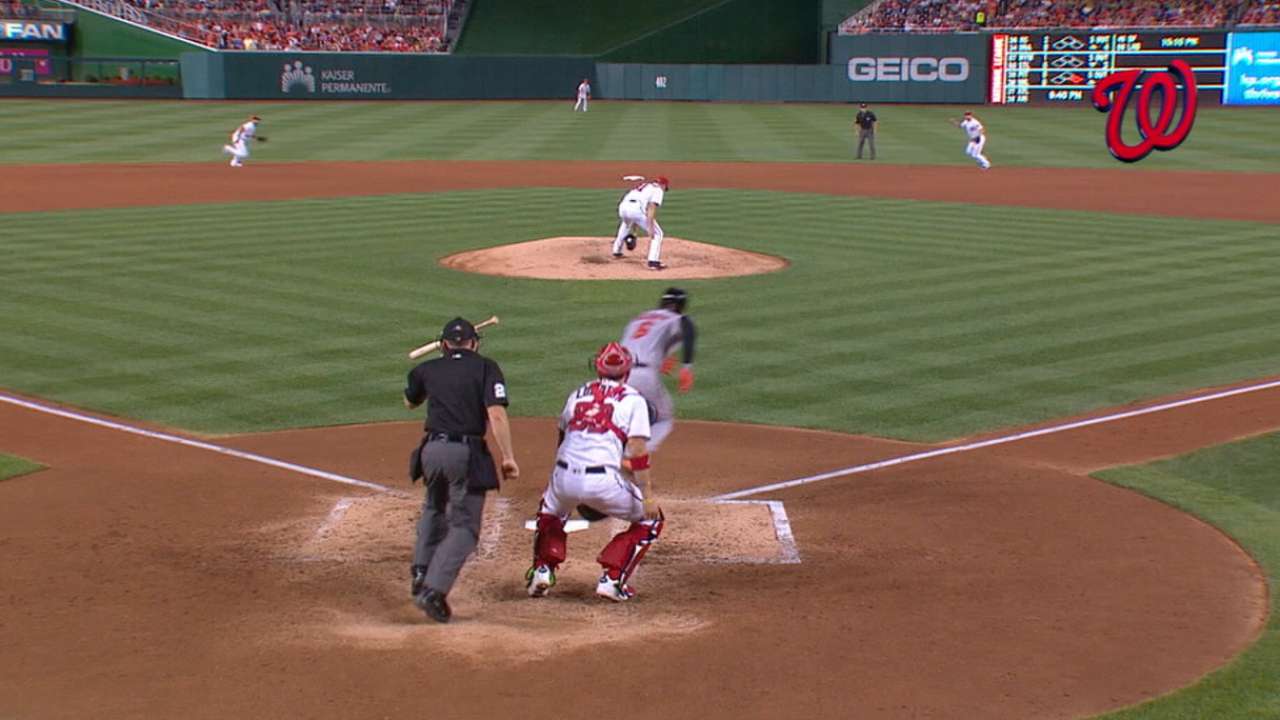 WASHINGTON -- Max Scherzer realized the circumstances heading into his start Thursday night against the Orioles. The Nationals had lost four consecutive games with a bullpen that had been taxed regularly lately after so many short outings from starters.
With that in mind, Scherzer turned in a dominant performance at Nationals Park. He held the Orioles to two hits in eight innings and struck out 10 to lead the Nationals to a 4-0 victory. It gave Washington a much-needed win and gave its bullpen a breather heading into the weekend.
"That's what aces do," manager Dusty Baker said.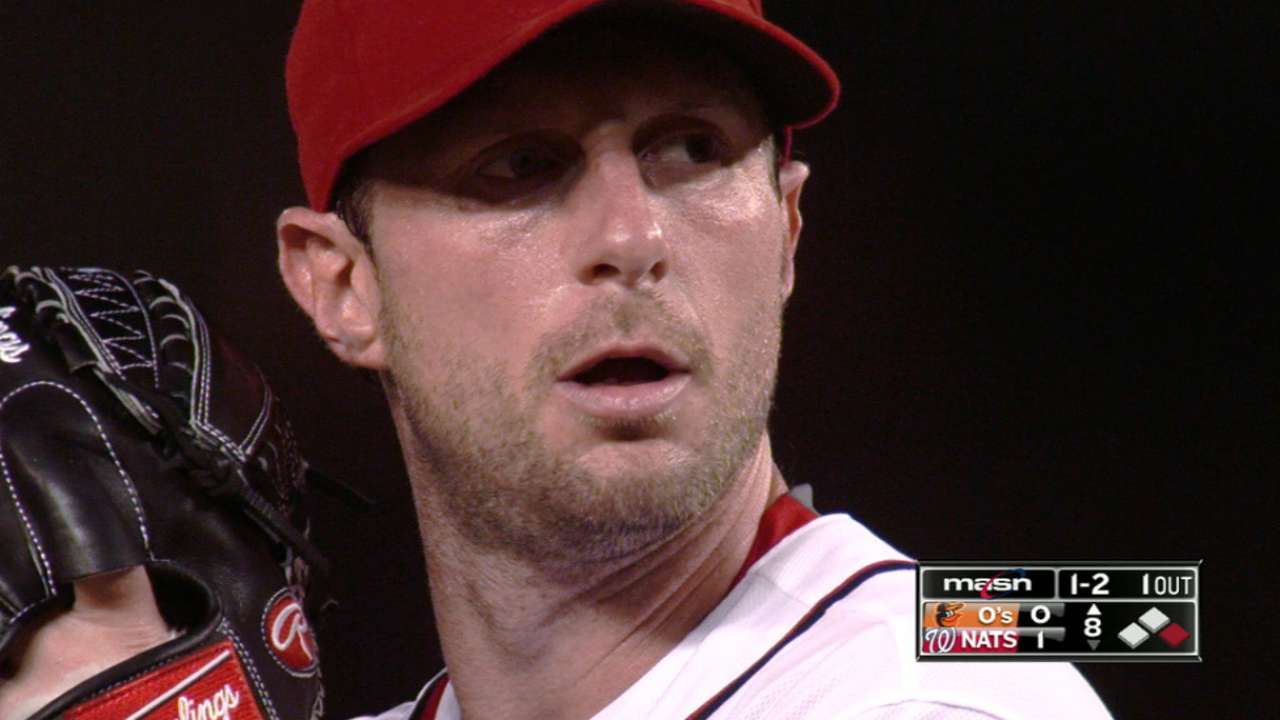 Scherzer spent the last few days watching the Orioles, who had won three in a row against the Nationals, and devised a plan of attack against them. He figured out when he would need to pitch up in the zone, when to keep the ball down and when he needed to throw strikes. The Orioles have a right-handed-dominant lineup -- with only left-hander Chris Davis and switch-hitter Matt Wieters -- and Scherzer was able to play off a mix of his fastball and slider all night to keep them off balance.
• Scherzer needs a mixtape after this between-the-legs trick play
He also knew he needed to be efficient in order to last deep into the game, so he beamed at the fact that he did not issue a walk and needed 95 pitches to last through eight innings. This was Scherzer's Major League-leading 11th double-digit strikeout game of the year, and he leads baseball with 227 strikeouts on the season.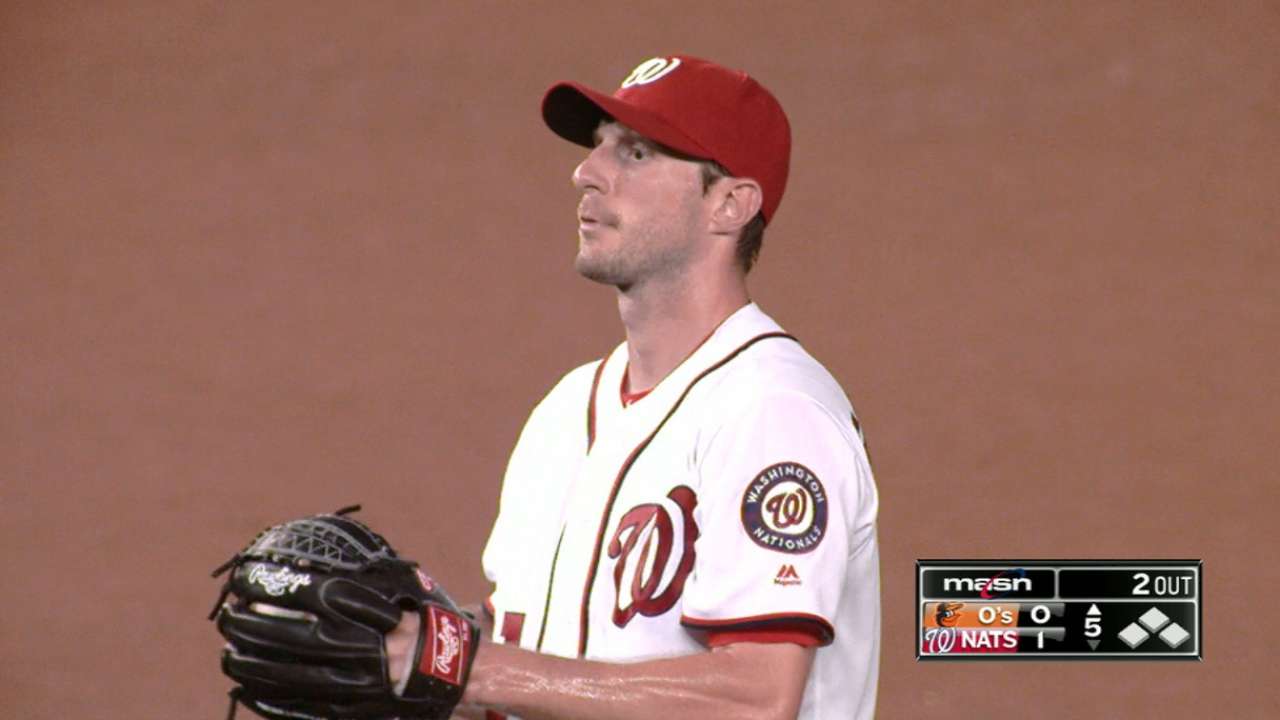 And for eight innings, Scherzer did all of this while clinging to a one-run lead.
"There's zero margin for error, and every pitch has got to be at its best," Scherzer said. "And you can't just float anything in there; everything has got to be full throttle. With that lineup, you make one mistake, they're going to hit it 450 feet, so it's one of those things that every pitch you throw has got to be well-executed."
Jamal Collier covers the Nationals for MLB.com. Follow him on Twitter at @jamalcollier. This story was not subject to the approval of Major League Baseball or its clubs.