100 RBIs: Another night, another Pujols feat
Veteran joins A-Rod, Foxx, Ruth, Gehrig by reaching century mark for 13th time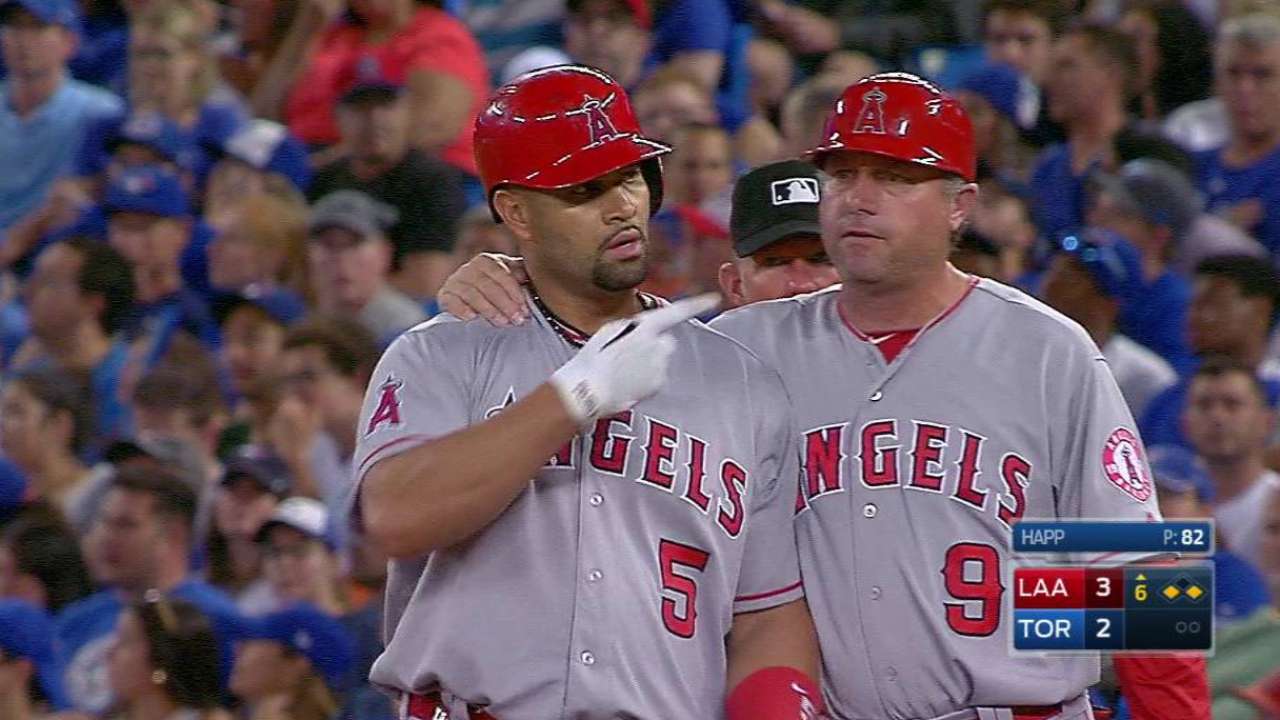 TORONTO -- Albert Pujols added another milestone to his name in the Angels' 6-3 win over the Blue Jays on Thursday, becoming just the fifth Major League player to drive in 100-plus runs in 13 different seasons.
Pujols collected his 100th RBI of 2016 in the Angels' four-run sixth inning, slamming a 91-mph fastball into center field to bring home Kole Calhoun and give the Halos a 3-2 lead.
The Dominican-born slugger joins Alex Rodriguez, Jimmie Foxx, Babe Ruth and Lou Gehrig as the only players with 13 seasons of 100-plus RBIs, and only Rodriguez (14) has more such seasons since the stat became official in 1920.
"I think when my career ends and I settle down, I can sit back and enjoy," Pujols said. "Right now, to be able to soak everything in and think about that is hard for me. I'm just very blessed to have the opportunity to accomplish that."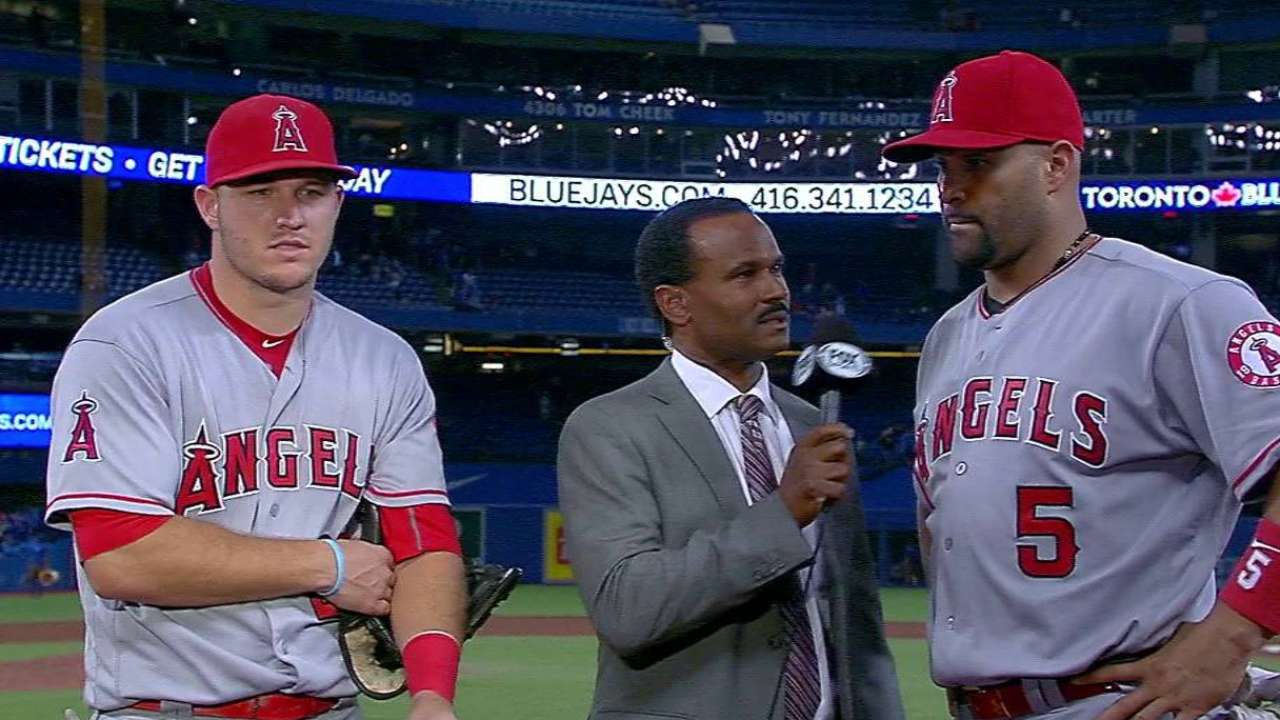 Pujols reached the 100-RBI mark 10 times over his 11 seasons with St. Louis, and now three times in his five seasons with the Angels. Despite his age, the 36-year-old continues to take advantage of his opportunities, forming a dynamic tandem with Mike Trout. Pujols has at least one RBI in 61 games this season, and the three-time MVP has 59 RBIs in his last 60 games.
"Sixteen years is a long time," Pujols said of his big league career. "To be able to do that, you have to give credit to a lot of my teammates for getting on base and coaches for helping me out with my swing."
The accolade comes one night after Pujols hit home run No. 584 to move into sole possession of 10th place on the all-time homer list, passing former teammate Mark McGwire. Pujols remains close to McGwire, and the two exchanged messages after Wednesday's game.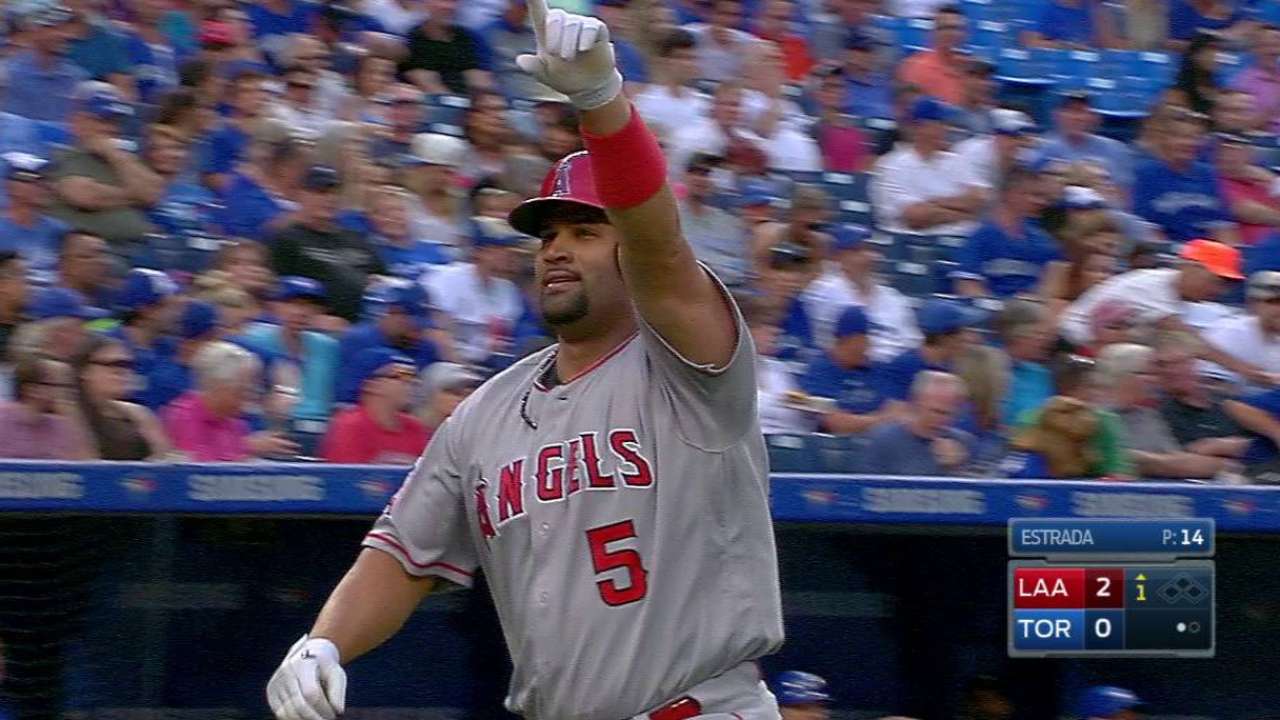 "Mark is a pretty great friend of mine and someone who I was with in St. Louis," Pujols said. "I had the opportunity to play with him and see his preparation, see the way he looked at video and worked in the cage and his mentality. It's great.
"That's something that I also cherished with him, because he helped me out mentally with the game. He sent me a text yesterday, and I responded back. It's pretty special to be in the same company as some of those guys."
Pujols looked as though he would add to that home run total in the first inning, hooking a ball just foul off J.A. Happ. The veteran slugger went on to finish the three-game set 6-for-12 with a home run and four RBIs, helping the Angels win their first road series since July 25-27 against the Royals.
"Obviously, he has a Hall of Fame career," Angels manager Mike Scioscia said. "That's what he's like in the clubhouse, that's how he plays. The personal milestones are fun for us and fun to watch, but he wants to do all these things to help us win. I think that's inspiring."
Alykhan Ravjiani is a reporter for MLB.com based in Toronto. This story was not subject to the approval of Major League Baseball or its clubs.