Ubaldo gives O's chance when put on spot
Stepping in for injured ace Tillman, righty hopes strong 6 IP earns him another start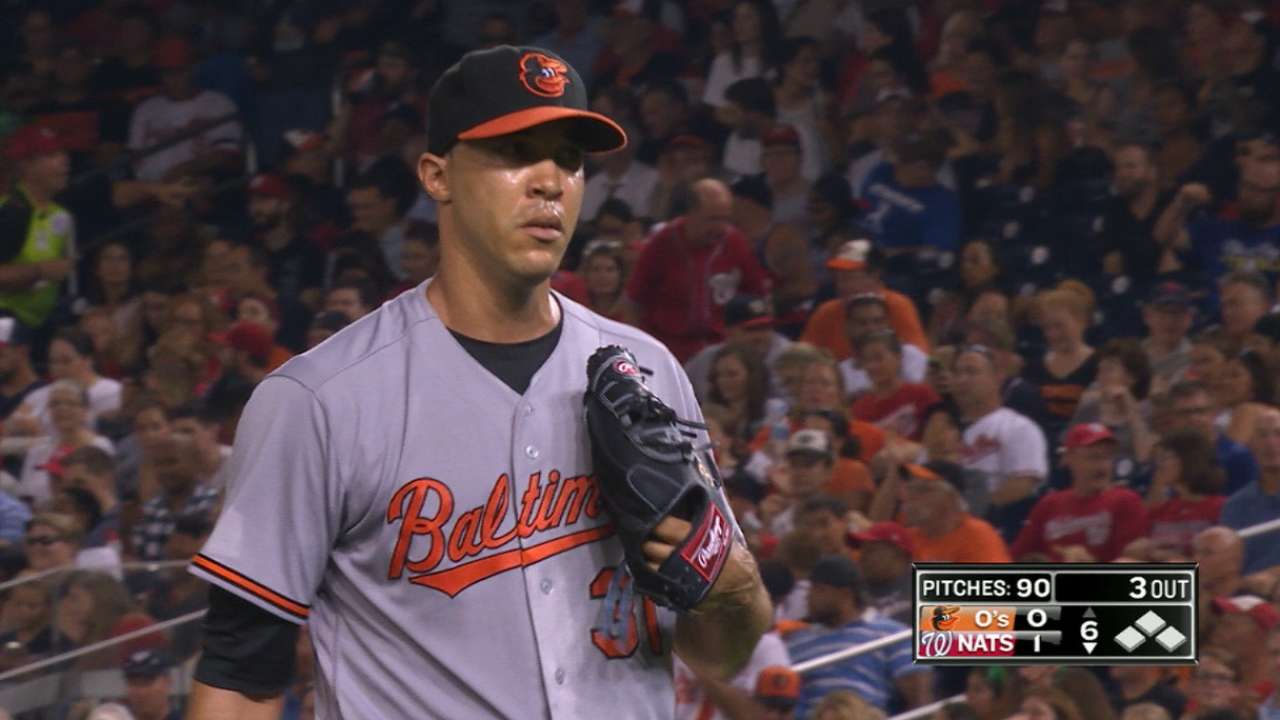 WASHINGTON -- Ubaldo Jimenez entered Thursday with a 6.94 ERA, worst among starters with at least 90 innings pitched. His opponent, the Nationals, entered with the fourth-best OPS in the National League. And yet, despite the apparent mismatch, Jimenez shut down Washington over six innings, allowing one run on five hits and no walks.
Though the Orioles lost the game, 4-0, Jimenez's start was a nice boost for a pitching-starved team that just lost ace Chris Tillman to the disabled list with shoulder bursitis.
"He was great," manager Buck Showalter said of Jimenez. "I think everybody was pulling for him. He's such a good young man, he just needed it."
The Orioles' starting pitching has been inconsistent this season, and when Tillman reported shoulder soreness late last week, the situation looked dire for the Baltimore rotation.
But in five games since Tillman last pitched, Orioles starters have been excellent, combining to allow eight runs in 30 innings (a 2.40 ERA). Yovani Gallardo submitted a solid outing in a loss to the Astros on Sunday, and Dylan Bundy, Kevin Gausman and Wade Miley all pitched well in victories over the Nats this week.
Then, on Thursday, Baltimore got a strong performance from an unlikely source.
This season has been easily the weakest of Jimenez's decade-long career. With career-worsts in ERA, WHIP and walks per nine innings, the righty was demoted to the bullpen last month. He made one spot start July 28 -- giving up only one run in five frames against the Twins -- before returning to the bullpen, where he allowed five earned runs in eight innings.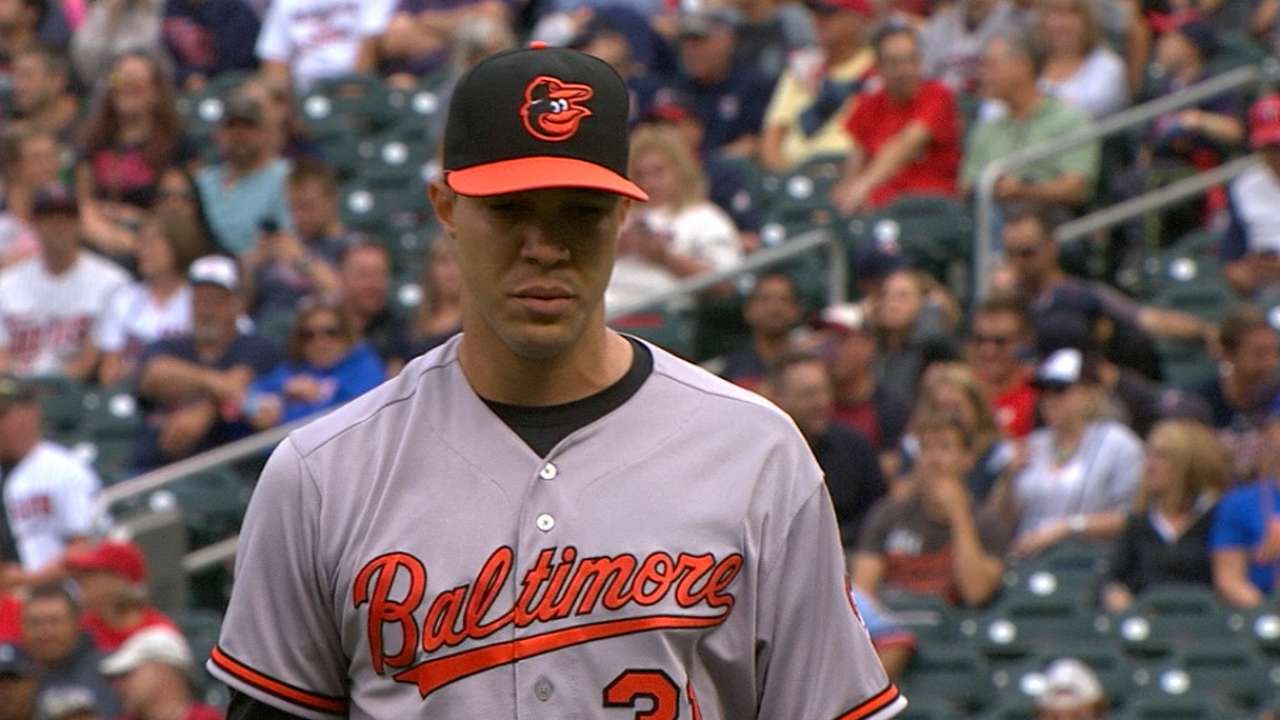 But against the Nationals, Jimenez submitted the type of outing the Orioles expected when they gave him a four-year, $50 million contract before the 2014 season.
Jimenez allowed only one hit in the game's first three innings, a single to Anthony Rendon in a 13-pitch at-bat, as he traded scoreless frames with opposing starter Max Scherzer. His sole costly mistake came at the start of the fourth inning, when he left a two-seam fastball up in the zone to Jayson Werth, who launched it over the center-field fence.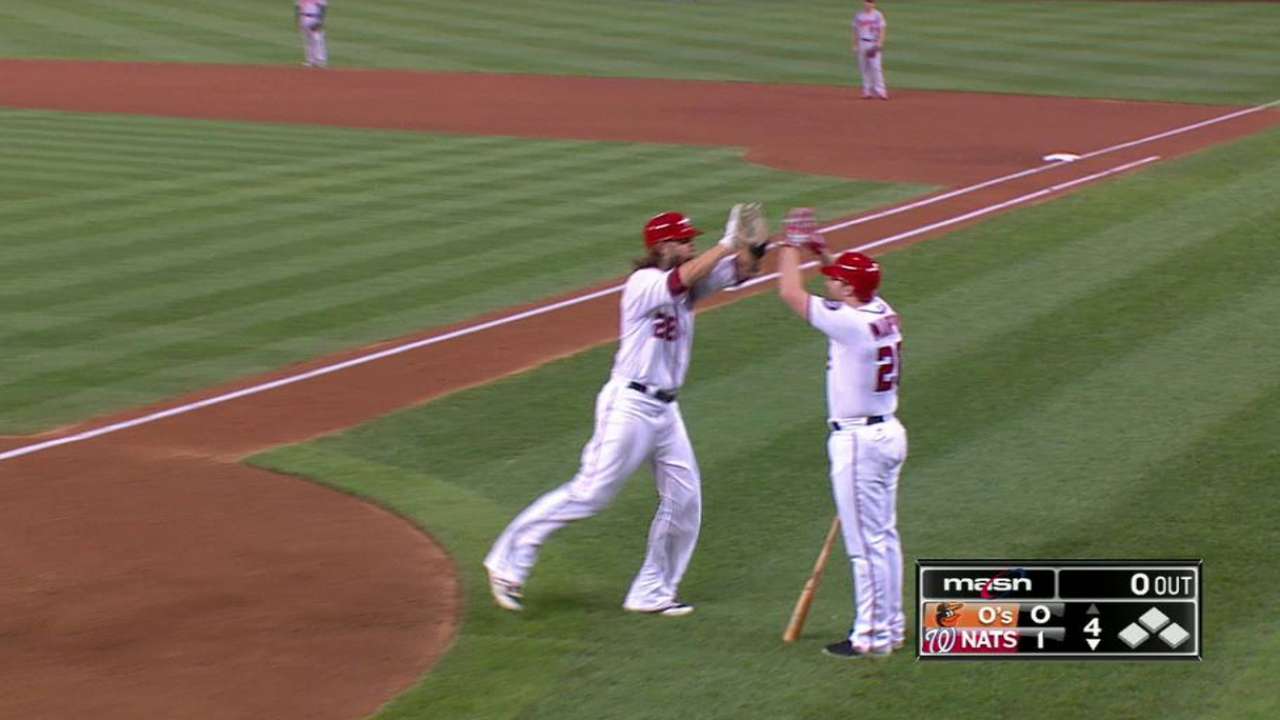 Jimenez got in trouble in the fifth, allowing a double and an infield single, but escaped the jam and threw a one-two-three sixth inning to finish out one of his best outings of the season.
"I felt good," Jimenez said. "I was able to command the fastball, throw the breaking balls behind in the count. Everything was good."
With Tillman on the DL, the Orioles will need a consistent fifth starter for the next few weeks, and Jimenez certainly made a strong case to fill that role. Showalter said he hadn't yet decided whether the righty will make another start but said, "I don't know what else he has to do."
Jimenez said he hopes to have a chance to build on Thursday's outing with another start.
"That's everything I've done in my career, start," Jimenez said. "I know why I was put in the bullpen, but it's very good to have this one and the one in Minnesota, too. Hopefully, I get some more, but wherever they put me, I'm going to try to do the best I can to be there for the team."
Alex Putterman is a reporter for MLB.com based in Washington. This story was not subject to the approval of Major League Baseball or its clubs.