Waino's start boils over with tough 5th inning
Right-hander can't get an out at 3rd base before giving up big homer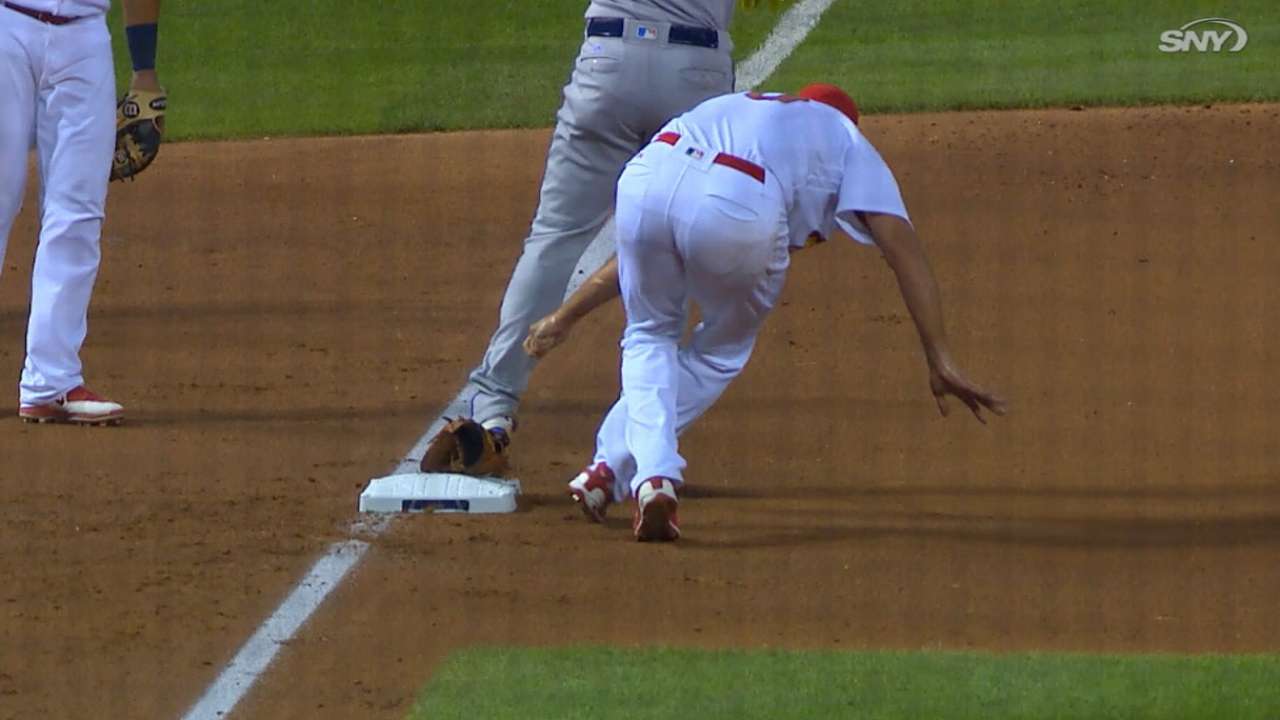 ST. LOUIS -- In need of a pick-me-up night amid another trying stretch in his season, Cardinals starter Adam Wainwright got little of it from his defense and was unable to generate much himself in what unraveled into a 10-6 loss to the Mets on Thursday night at Busch Stadium.
For the third time in five outings, Wainwright exited before the sixth, this time after having surrendered seven runs (two earned) in a start for the fourth time this season. What he described two weeks ago as the worst season of his career has only become more maddening. In five August starts, Wainwright has allowed more runs (25) than in any other month of his career.
The typically stoic right-hander let flashes of frustration show, too. He became more demonstrative on the mound in a fifth inning that unraveled with an unusual play at third base, the team's second error of the night and a back-breaking blast. And he was uncharacteristically terse in his postgame briefing with the media.
"I've been frustrated for a while and try not to show too much emotion," Wainwright said. "It's not healthy to leave it all in there either. I had a good little snap session in here, hopefully when nobody was watching. I'll be ready for the next start."
Wainwright's outing boiled over in the fifth, an inning he might well have navigated through without the Mets expanding their three-run lead if not for the result of two plays in the field. Wainwright had his glove stepped on by Yoenis Cespedes while trying to tag the outfielder at third, and, when trying to pull his hand back, Wainwright lost possession of the glove. That cost him an out.
Two batters later, an error by subbing shortstop Greg Garcia stretched the Mets' lead, as well as the inning. Alejandro De Aza followed with a three-run homer. It was the second straight inning in which an error led to unearned runs.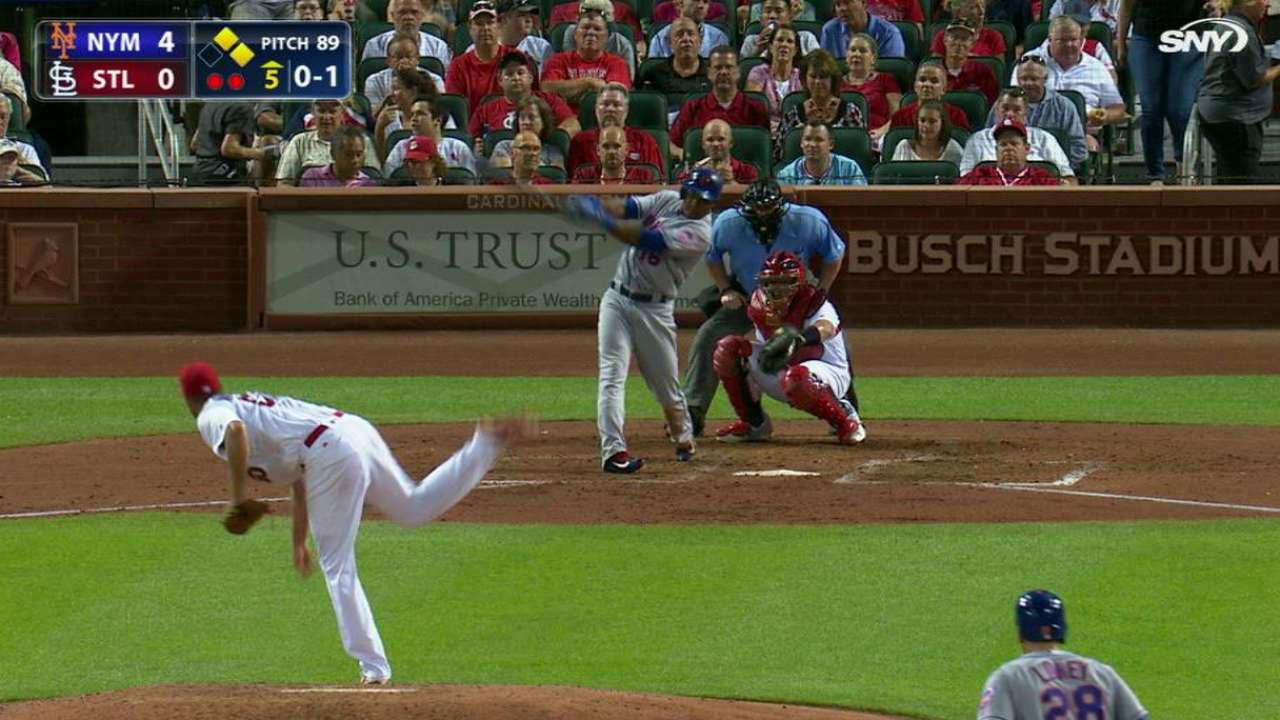 "A couple of non-plays really lengthened it out for him," manager Mike Matheny said. "Those are things we've done a nice job of minimizing. He's just going to have to continue to take steps in a positive direction with all of his pitches. I think locating that fastball is going to be huge for him or else his secondary pitches are going to become more vulnerable."
The Cardinals, so shaky on defense earlier this season, had cleaned up some of that play recently. Over its previous 12 games, St. Louis committed three errors.
That was not, however, Wainwright's focus afterward. Having already turned to video to identify mechanical flaws earlier this month, Wainwright plans to do more of it to try and salvage a positive finish to what has been an exasperating season.
"I just have to keep going and good things are going to happen," he said. "The only way it's not going to turn around is if I get down on myself, and I'll never allow myself to."
Jenifer Langosch has covered the Cardinals for MLB.com since 2012, and previously covered the Pirates from 2007-11. Read her blog, follow her on Twitter, like her Facebook page and listen to her podcast. This story was not subject to the approval of Major League Baseball or its clubs.