Freeman takes scary tumble, stays in game
Braves first baseman has sore lower back after win over D-backs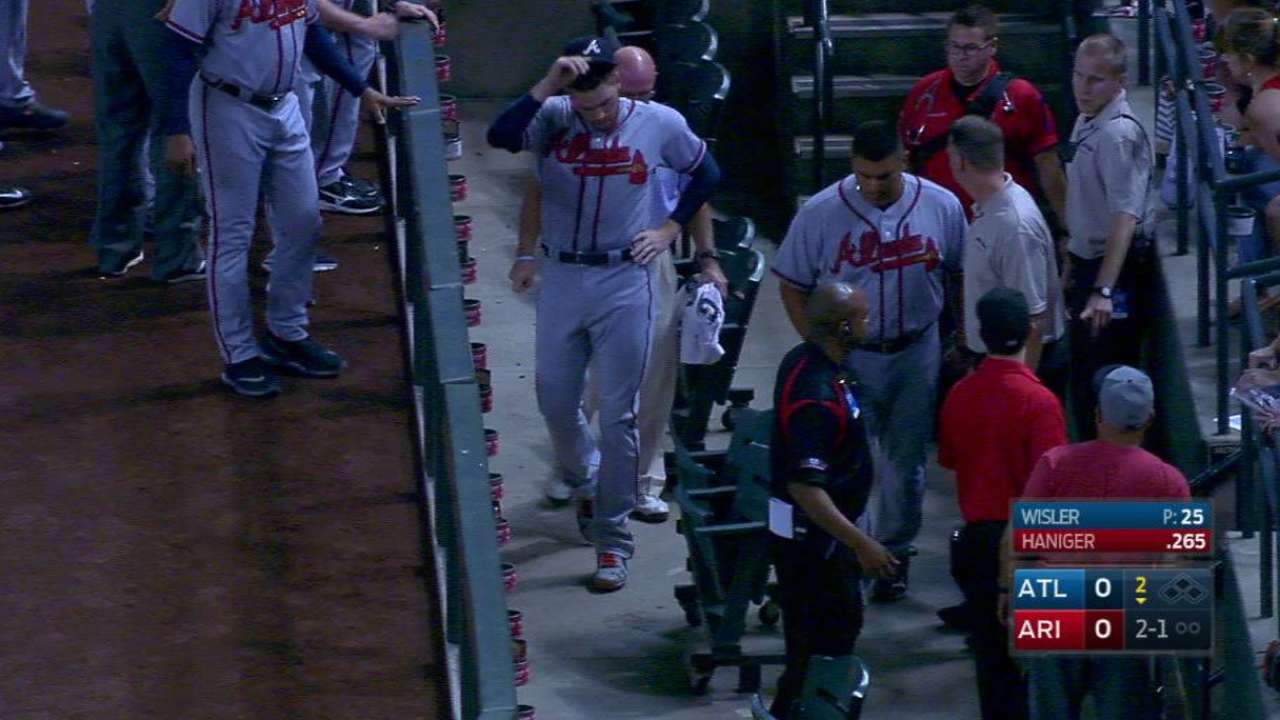 PHOENIX -- Freddie Freeman was initially happy he avoided a head injury. After getting a chance to watch the replay of his scary fall over a railing during the second inning of Thursday's 3-1 win over the D-backs, the Braves first baseman also felt fortunate he didn't snap his back.
"I was just glad I was able to get my head out of the way and let the back take the brunt of it," Freeman said. "I'm still young enough that it's not going to hurt too much."
Freeman anticipates the discomfort and swelling will increase after he sleeps, but he is still hoping to play in Friday night's series opener against the Giants in San Francisco.
Freeman was understandably feeling some lower back pain as he enjoyed this series finale victory, which was highlighted by Matt Wisler's eight-inning gem. But this discomfort did not cause him to exit after the second inning fall or shy away from his normal aggressive approach, which influenced both of the runs the Braves tallied during a decisive two-run third inning.
"To see a guy do something like that and then to come back and play in the game like that is pretty unbelievable," said Wisler, who allowed two hits and one run over eight innings. "It just motivates you to do your job because you have guys willing to sacrifice their bodies behind you."
Freeman's fall occurred as he unsuccessfully reached to grab Mitch Haniger's foul ball and then tumbled headfirst over the rail just beyond the first-base dugout. The limber veteran's tailbone bore the brunt of the impact as his legs wrapped around a couple of empty seats and his head rested a few inches from the concrete surface.
"I'm just glad [my back] stayed intact and didn't snap," Freeman said. "I just saw the replay and it didn't look too good. I'm just very fortunate nothing serious happened."
Many of the Braves immediately rushed to check on Freeman, who briefly remained on the ground before gingerly making his way back toward the dugout to compose himself before returning to his first-base position.
"I had forgot how deep that [dropoff] was over there," Braves manager Brian Snitker said. "I didn't really see it. Then when I watched the replay, we're lucky he didn't snap his back the way he hit that chair."
Freeman continued to stretch his back through the remainder of the second inning and then took four swings in the batting cage before he plated the game's first run with an RBI single in the third inning. Moments later, he aggressively slid into second base to break up a potential double play that would have prevented Adonis Garcia from scoring on Nick Markakis' groundout.
"That's part of baseball," Freeman said. "You've got to get down there and hopefully take them out. With the slide rule, now it's a little more difficult, but I just wanted to go in hard and late as much as you can so you don't get called out."
Mark Bowman has covered the Braves for MLB.com since 2001. This story was not subject to the approval of Major League Baseball or its clubs.