D-backs make moves to fortify bullpen
Bracho, Campos called up; Leone, Hathaway optioned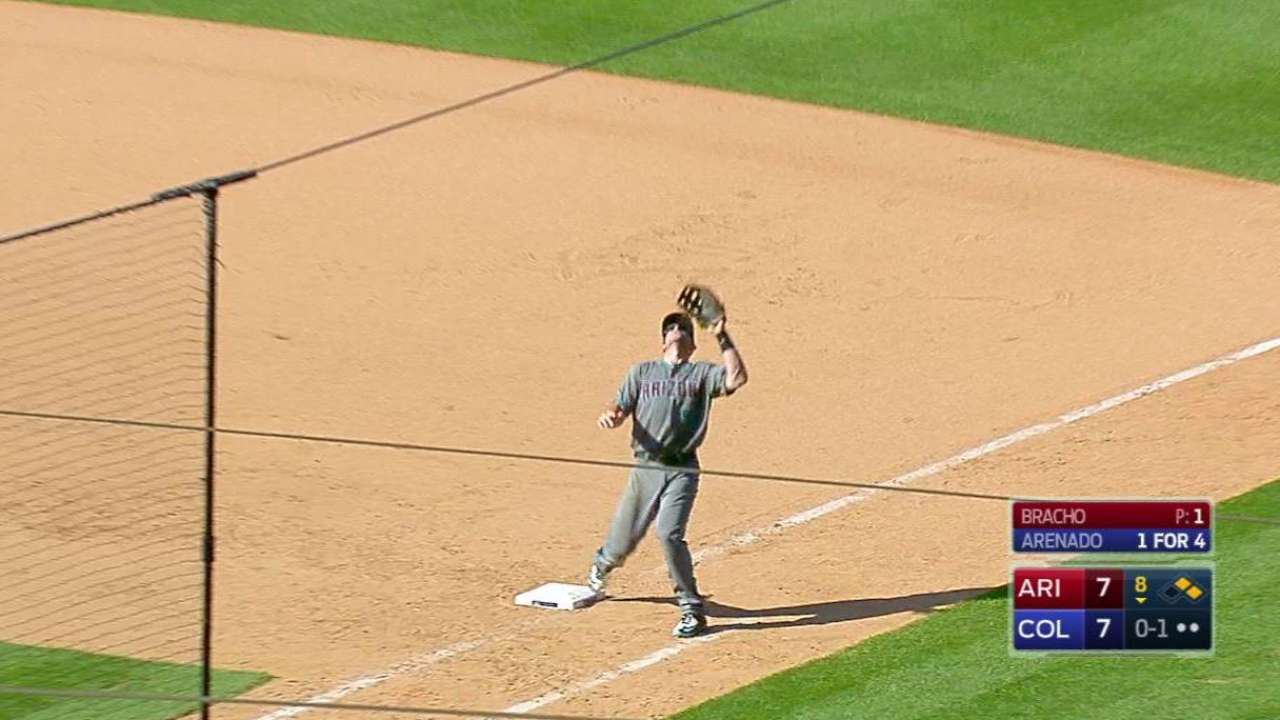 PHOENIX -- After taxing their bullpen over the past week, the D-backs made a series of roster moves to fortify their relief corps prior to Thursday's game against the Braves.
Dominic Leone and Steve Hathaway were optioned to Triple-A Reno, Silvino Bracho was recalled from Reno, and Vicente Campos was recalled from Double-A Mobile.
"They've been overworked and we need some more arms and need some help," manager Chip Hale said.
Leone has a 7.52 ERA in 20 appearances for the D-backs this season, while Hathaway posted a 5.79 ERA in 14 games, his first experience in the Majors.
Bracho has pitched in 15 games over three stints with Arizona this season, compiling a 6.75 ERA. He has a 4.81 ERA and 15 saves in 36 games in Triple-A. Bracho is the D-backs' No. 23 prospect, as ranked by MLBPipeline.com.
Bracho pitched two innings of relief Thursday, allowing an unearned run on one hit with one walk and one strikeout.
Campos was acquired in exchange for Tyler Clippard in a trade with the Yankees on July 31. The right-hander is Arizona's No. 4 prospect. He has never pitched in the Majors, but is 10-5 with a 3.26 ERA in 24 starts across three levels in the Minors this season.
Not only did the D-backs bring some new relievers up, but Hale said the team also plans to change how it uses the existing bullpen arms.
Jake Barrett and Enrique Burgos have both struggled in high-leverage, late-inning situations recently. Barrett has a 12.38 ERA in 11 games this month, with a pair of blown saves. Burgos has blown three saves since Aug. 18, posting an 18.90 ERA in five appearances during that stretch.
The D-backs will turn to Daniel Hudson and Randall Delgado in those situations for the time being.
Hudson had a 24.21 ERA in 15 games between June 23 and Aug. 2. However, the right-hander threw seven consecutive scoreless innings in 10 appearances since that stretch.
Delgado has a 4.10 ERA this season, but has pitched 10 consecutive innings without allowing an earned run dating back to Aug. 5.
"Those two are the best two at getting us out of jams," Hale said.
Jake Rill is a reporter for MLB.com based in Phoenix. This story was not subject to the approval of Major League Baseball or its clubs.