After review, Waino loses glove, Yo gets base
De Aza later hits 3-run homer in 5th as Mets win rubber game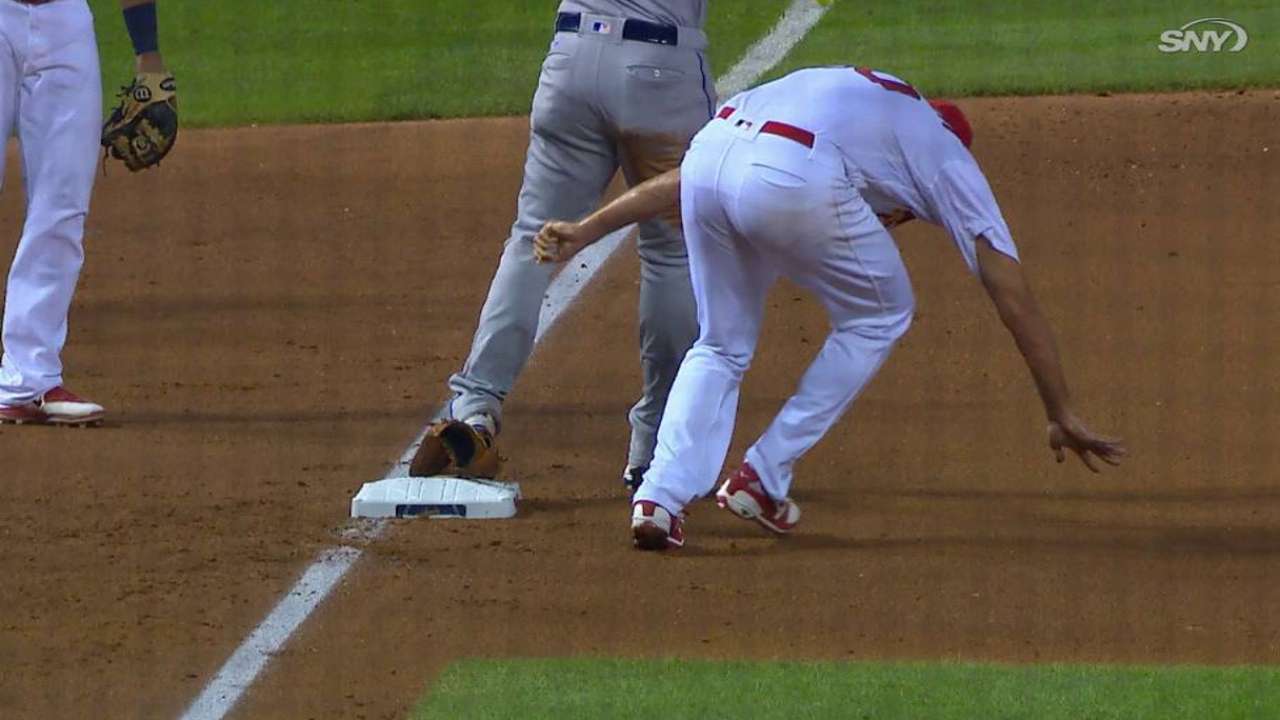 ST. LOUIS -- With one out in the fifth inning on Thursday night, Mets first baseman James Loney popped a ball into short left field that landed just out of the reach of Greg Garcia. The ensuing play at third led to a replay review that opened the floodgates to a four-run inning that propelled the Mets to a 10-6 win over the Cardinals in the rubber game.
Yoenis Cespedes, on first base, saw the ball drop and headed to third while Cardinals starter Adam Wainwright ran over to cover the base, which was vacated by Jhonny Peralta as he also tried to make the catch.
Cespedes' foot slid onto Wainwright's glove as Wainwright fielded a throw from left fielder Brandon Moss, and Wainwright's hand came out of the glove as Cespedes stepped on it. Home-plate umpire Marty Foster ruled Cespedes safe.
Cardinals manager Mike Matheny left the dugout to discuss the play with the umpires and decided to challenge the call. After a review of one minute and 44 seconds, the call was confirmed.
"We let them discuss it as a group, let them talk to New York, and it went as they thought it would," Matheny said. "You have to have control of the ball. It looked better on slow motion, obviously, but if Adam doesn't lose his balance right there, he probably keeps hold of the glove and [Cespedes is] called out."
Wainwright added that he tried to pull the glove out from under Cespedes' foot because he was concerned Loney might try to advance to second base. It was explained to Wainwright by the umpires that when he pulled his hand out of the glove, it was the equivalent of losing the ball.
"I've never seen that before, never heard of it," Wainwright said. "Really, it's the way it's been going."
Curtis Granderson then struck out for what would have been the final out of the inning had Cespedes been ruled out. Instead, Alejandro De Aza hit a three-run home run to expand the Mets' lead to 7-0 two batters later.
"Never seen that ever," Moss said of the reviewed play. "That's a tough call, too, because obviously if he's stepping on his glove, he's not going to be able to take the glove away. ... That can go a lot of ways, but the call was that he was safe and they stuck with the call. They did a good job of getting the runs in."
Nick Krueger is a reporter for MLB.com based in St. Louis. This story was not subject to the approval of Major League Baseball or its clubs.