MLB.com Columnist
Barry M. Bloom
'Old school' Dusty thriving in new-look MLB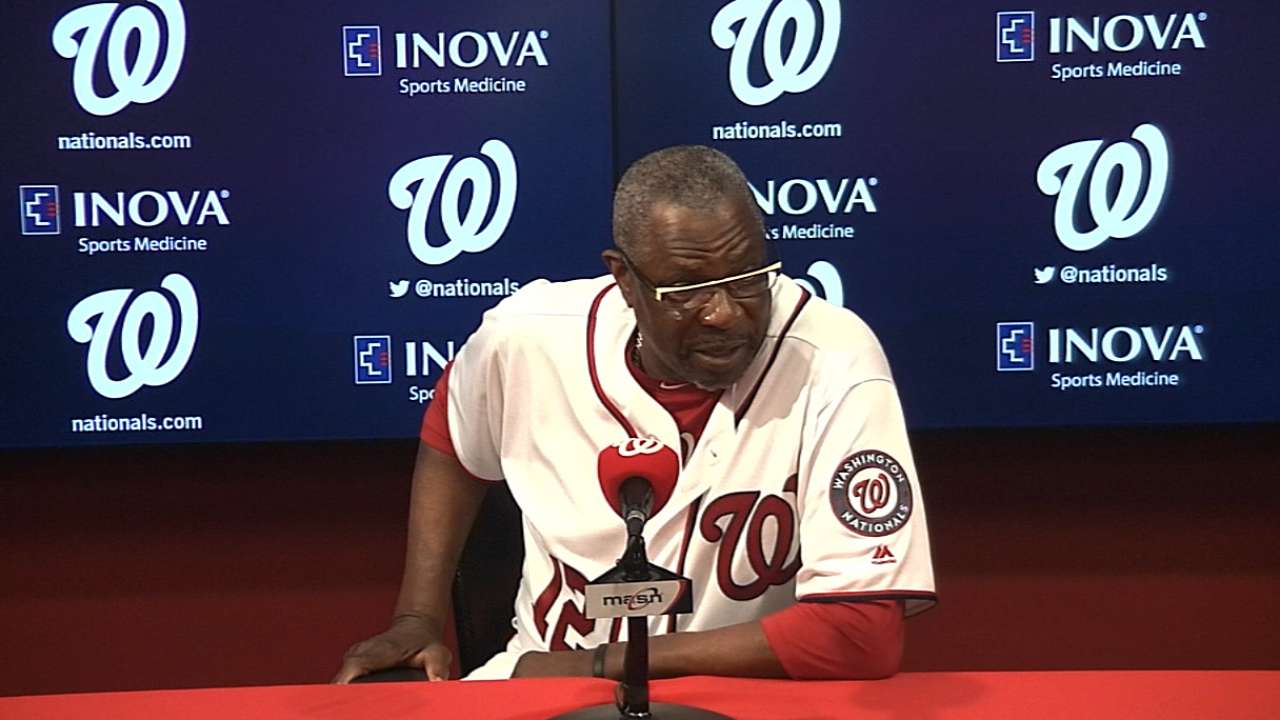 WASHINGTON -- John "Dusty" Baker Jr. is sitting in the confines of his office at Nationals Park, sifting through information about the Orioles, Thursday night's opponent.
Assiduously, Baker is marking down information in black ink on the lineup card. He doesn't use a computer or handheld device. In fact, there is none on his desk.
When asked why he's still so old school in that area, Baker says he doesn't need those tools, knowingly pointing to his left temple.
"It's all in here," Baker says, cracking the characteristic smile that has served him so well through a 19-year playing career and 21 more as a manager of four teams.
Don't let Baker fool you. Like Terry Collins with the Mets, Buck Showalter of the Orioles and Davey Johnson right here only a few years before him, Baker, the native of Riverside, Calif., is decidedly not old fashioned in his first season as the Nationals' manager.
Baker has made the adjustment to today's game of analytics and greater front-office involvement, of 13-man pitching staffs and extreme shifts, and of players being told to learn alien positions at the big league level. And right now, his team is running away with the National League East.
"Dusty's worked out great. As we expected," said Mike Rizzo, Washington's president of baseball operations and general manager. "He's a great motivator. He's a great tactician. He's a guy who's been through the wars, and nothing fazes him."
Baker, though, wasn't Rizzo's first choice. The tough, veteran baseball man looked very closely this past offseason at Bud Black, who was dismissed last season by the Padres. Baker and Black both interviewed well, but at first, Rizzo opted for Black.
When contract talks bogged down, though, Rizzo offered the same deal to Baker, two years at $2 million per. Baker took it.
"I just figured I wasn't going to get another chance," said Baker, who most recently made in excess of $3 million a year managing the Reds.
Baker has managed teams to five first-place finishes, taking the 2002 Giants within five outs of defeating the Angels in the World Series, and the 2003 Cubs within the same amount of outs against the Marlins in the NL Championship Series. Both of those clubs lost in heartbreaking fashion.
In stints managing the Giants, Cubs and Reds, those teams won 90-plus games eight times. Since 1997, only four of Baker's teams have finished below .500. The 2013 Reds, in fact, finished 90-72, but lost the NL Wild Card Game to the Pirates, leading to Baker's dismissal.
Baker sat out the past two seasons regaining his health after suffering a mini-stroke. And since he left Cincinnati, the Reds are 62 games under .500.
Baker's 1,744 wins place him second among active managers to Bruce Bochy, who has 1,770. But Bochy has what Baker is still seeking: three World Series rings since 2010, all managing the Giants.
All that success is well and good, but even with such a short absence, Baker discovered he had returned to a different game.
"The general managers are around more," Baker said. "They're in the clubhouse. You see the owners more. Like in the old days, you never saw the general manager unless he called you upstairs. And if he did that, you knew you were in trouble. They're much more involved now."
Collins, Showalter, Johnson and even Bobby Valentine in his short-lived 2012 stint managing the Red Sox found they had to seriously adjust.
But unlike Baker, their big league absences were much greater. Collins hadn't managed in the Majors for 12 years before he took over the Mets in 2011. Johnson had been out almost 11 years when Rizzo prevailed on him to replace Jim Riggleman with 83 games to go in the '11 season.
Showalter had missed only four seasons between his gigs managing the Rangers and Orioles, the team he took over in 2010.
And Valentine was out a decade after being let go by the Mets in 2002, his last two big league jobs sandwiching a successful tenure managing Chiba Lotte in Japan's Pacific League.
Rizzo acknowledged that adapting to today's game isn't easy. Valentine couldn't do it, and Collins has said that he's twisted himself into a pretzel adjusting to upper management's more hands-on style. Johnson lasted through the 2013 season and had his well-publicized clashes with the GM.
"But these guys adjust and adapt as good as anybody," Rizzo said. "We've employed more shifts here than we've ever dreamed of. We've probably increased our shifts tenfold over what we did in previous years. Analytically, we give Dusty all the information he desires and needs and stuff that we feel he needs.
"We have an analytic department that works extremely hard, and we present him with information. He's smart enough to utilize it as he sees fit. And we've seen the tangible results of it already."
Baker leafs through all that information and then makes his own decisions.
Metrics have revealed that young shortstop Trea Turner could be converted into a center fielder.
Because of short benches and deep pitching staffs, today's players have to be versatile enough to play multiple positions, particularly in the NL, where pitchers hit and pinch-hitters must always be at the ready. Short outings by starters can quickly deplete a bench.
Baker said that he and his coaches have had to teach Turner to hit cutoff men, kick start on the long throw from the outfield and how to play angles. All that and adjust to the Major Leagues.
"It's tough to play different positions," Baker said. "Consequently, you have guys out of position, making errors and not catching balls that allow some important runs to score."
It's all part of the package of managing in the Majors these days. Baker, thus far, has shown the proclivity to successfully adapt.
Barry M. Bloom is a national reporter for MLB.com and writes an MLBlog, Boomskie on Baseball. Follow @boomskie on Twitter. This story was not subject to the approval of Major League Baseball or its clubs.