Sox won't reveal direction until after season
GM Hahn says club's brass open to possible rebuild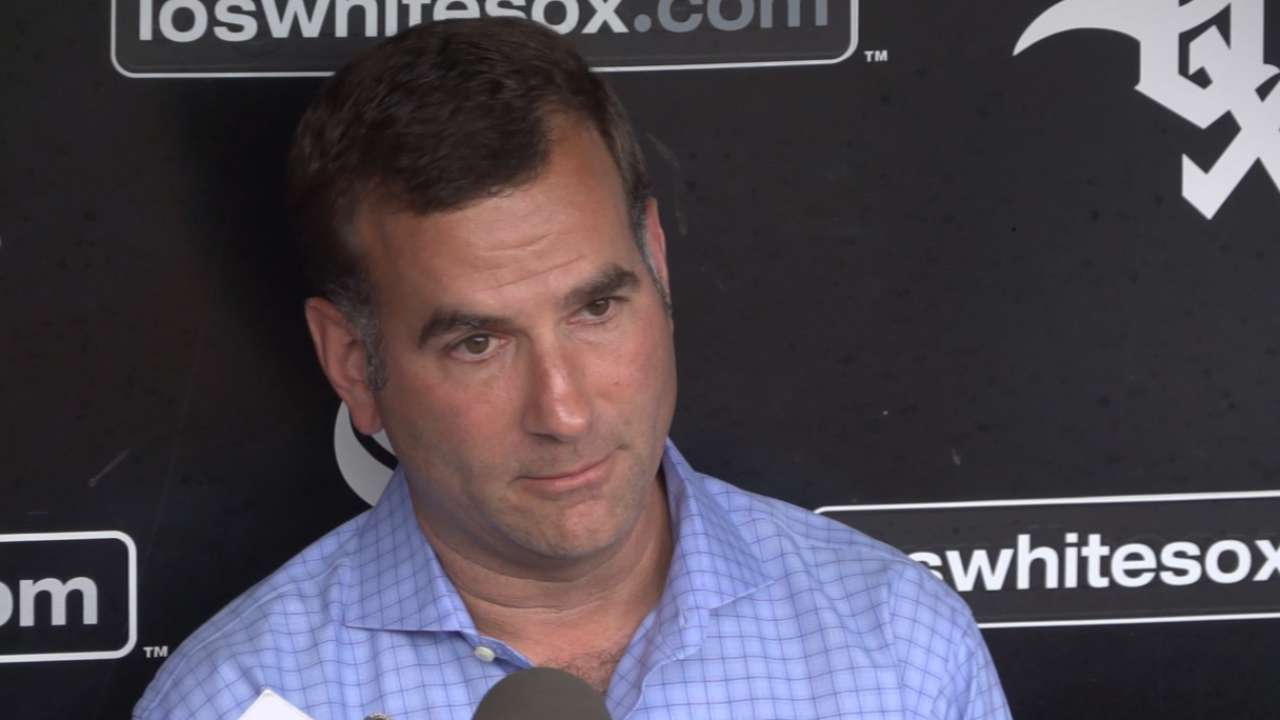 CHICAGO -- To rebuild or not to rebuild? That is the question facing general manager Rick Hahn and the White Sox organization as they move through another season "mired in mediocrity" to quote a previous Hahn news conference. Hahn and company have a pretty good idea as to the answer, but the team's direction won't be divulged until after the current campaign is complete.
"By the time we make our first or second transaction, publicly it will be fairly clear as to our direction," said Hahn during a 15-minute pregame meeting with the media before Thursday's 7-6 win over the Mariners. "While we aren't going to say, 'Next on our list is this,' it will be obvious what we're trying to accomplish.
"We have a sense of what we want to do, but we have 25 guys in there trying to win a ballgame tonight. If I were to say we're going to do a full rebuild, that's disrespectful to what they're trying to accomplish.
"To the other extreme, if I were to say we're going to fight and go for it and plug the holes it begs the question, 'Where are the holes?' and that's disrespectful to the guys in the clubhouse," Hahn said. "It's just not the time to be laying out offseason plans. We're working on it, exploring a lot of angles internally trying to come up with priorities so we can hit the ground running when the time is appropriate."
The club consistently has shied away from the full rebuild mode, choosing instead to revamp and strengthen the core since 2013 while also trying to compete in '15 and '16 in focusing on recent activity. The White Sox have not reached the playoffs since '08, and coming off a second straight disappointing season, it has become apparent that plan isn't working.
In Chris Sale, Jose Quintana, Adam Eaton and Jose Abreu, to name a few standouts, the White Sox have controllable pieces who still could be built around, but also could turn around a franchise with the right return in a major deal. Hahn reiterated Thursday that the White Sox are open to anything.
"There comes a point where there is a level of frustration with the way things have played out over the last couple of years," Hahn said. "There are different approaches and again, I'm not saying [a rebuild] is the route we're going to go.
"But I assure you there is absolute openness from [White Sox chairman] Jerry [Reinsdorf], [executive vice president] Kenny [Williams], myself. Everyone in that front office is looking for the best path to get us on an extended period of success, even if that involves a short-term step back."
Reports of Trade Deadline discord between Williams and Hahn in regard to the direction of the team not only were exaggerated but untrue, per Hahn.
"The frustrating thing is it seems every few months we need to have this same conversation," Hahn said. "The fact of the matter is I have no idea where an unnamed random report of any discord at the Deadline came from.
"It's simply untrue. There was no trade or direction of whatever it was described as vetoed, so to speak, at the Deadline. We are of a similar mindset as to how best to proceed. We've had a number of conversations, both Kenny and I as well as Kenny, Jerry and I, about the best way to approach the offseason and what we want to accomplish."
Scott Merkin has covered the White Sox for MLB.com since 2003. Read his blog, Merk's Works, follow him on Twitter @scottmerkin, on Facebook and listen to his podcast. This story was not subject to the approval of Major League Baseball or its clubs.