Crew ponders September callup for Jungmann
Right-hander started season in Brewers rotation before struggles got him sent down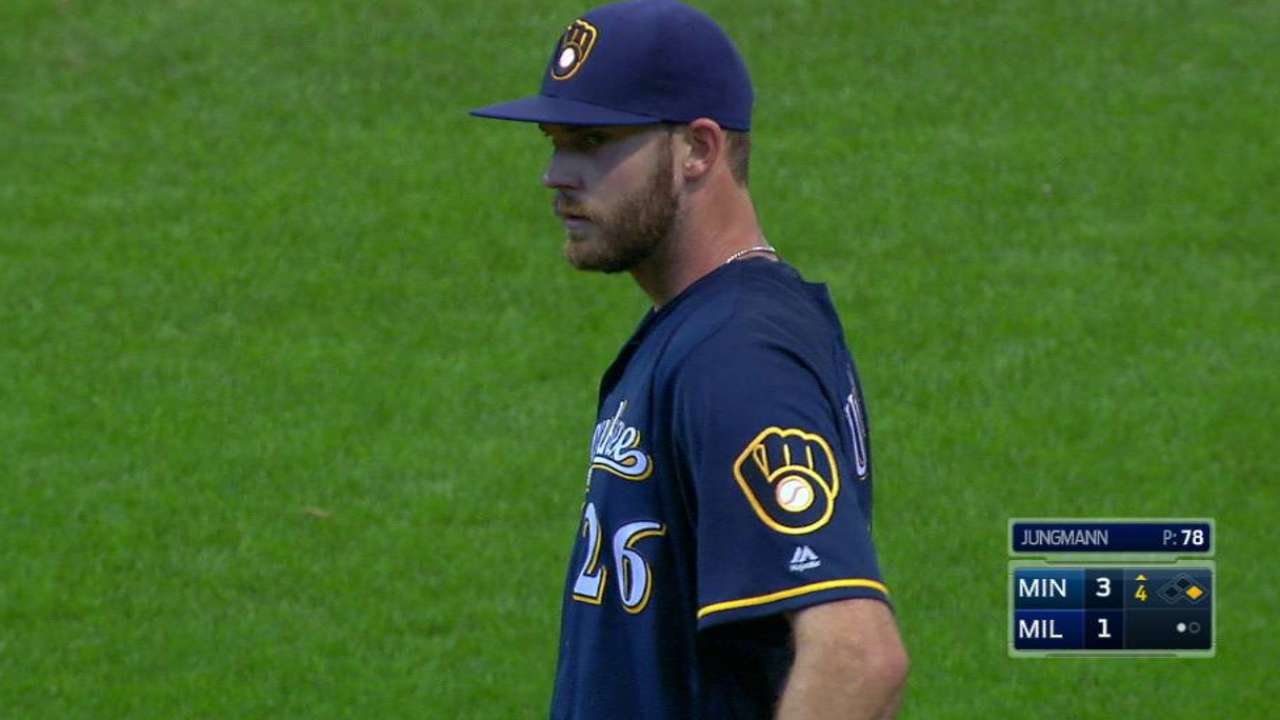 MILWAUKEE -- Brewers officials are mulling the merits of a September callup for Taylor Jungmann, the former first-round Draft pick who began this season as Milwaukee's No. 3 starter but struggled so badly he was demoted to the Minors.
Jungmann has been on a roll at Double-A Biloxi, posting a 1.13 ERA and a .507 opponents' OPS over his last six starts. In his most recent outing Tuesday, Jungmann pitched eight scoreless innings on three hits, with no walks and eight strikeouts.
"Reports on Taylor are positive, especially after his last outing," Brewers general manager David Stearns said. "With Taylor, it really starts with that fastball command, and that's what he lost earlier in the year. He's worked very hard to re-establish the feel of that, and to now when he gets out of whack, how to get himself back on track.
"Probably most encouraging is we've seen a couple of outings over the last month or six weeks where he's struggled during part of an inning, but he's been able to diagnose himself and get himself back throwing strikes. That's important. It's going to happen, and we need him to be able to adjust mid-game and stay in the game. He's been able to do that."
It took time. Jungmann was 0-4 with a 9.15 ERA in five Brewers starts before an April 29 demotion to Triple-A Colorado Springs, where he had a 9.87 ERA in eight starts.
The Brewers sent him to their complex in Phoenix to clear his mind, and on June 30 -- 20 days after his final Triple-A outing -- he debuted at Double-A Biloxi. Tuesday marked Jungmann's 11th start there.
"He's made strides," Stearns said. "I think his confidence has increased."
Will he finish the season in Milwaukee? That remains to be seen, since the Brewers have five healthy starters at the moment and a sixth, Junior Guerra, scheduled to make a rehabilitation start at Colorado Springs on Saturday. The Brewers also have a long reliever in left-hander Brent Suter, who made one spot start last week in Seattle before shifting to the bullpen.
Asked whether that puzzle included a spot for someone like Jungmann after rosters expand, Stearns said, "It's possible. We need to talk about it. Often in September, you want to have sufficient pitching depth, and we can do that in a variety of different ways. Over the next week or so, we'll figure out exactly how we want to do it."
Adam McCalvy has covered the Brewers for MLB.com since 2001. Follow him on Twitter @AdamMcCalvy, like him on Facebook and listen to his podcast. This story was not subject to the approval of Major League Baseball or its clubs.