Phillies deal longtime catcher Ruiz to Dodgers
Fellow veteran backstop Ellis headed to Phils, along with RHP prospect Bergjans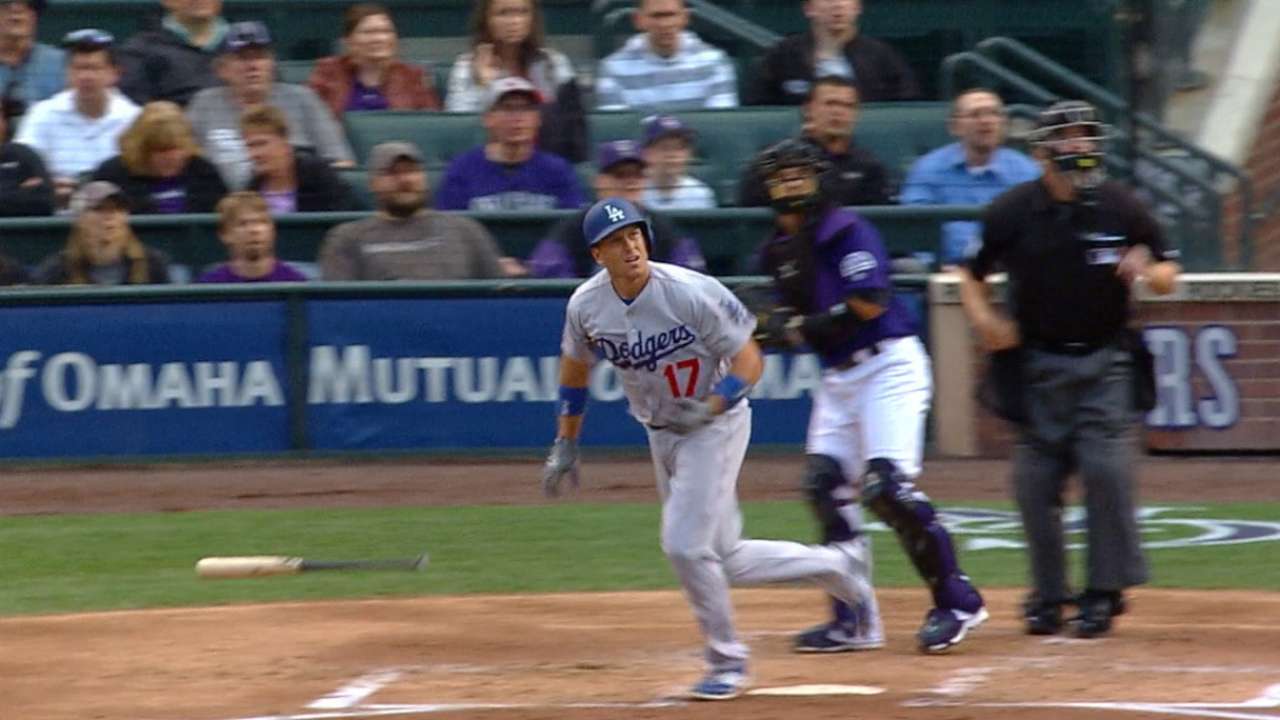 PHILADELPHIA -- The Phillies got a lifetime's worth of memories on an $8,000 investment in Carlos Ruiz in 1998.
Ruiz teamed up with Jimmy Rollins, Chase Utley, Ryan Howard and Cole Hamels to win one World Series, two National League pennants and five consecutive NL East titles from 2007 to 2011. He was not the best player on those teams, but he was one of the most popular, both in the clubhouse and in the stands. Everybody called him Chooch, and Chooch caught the final pitch of the 2008 World Series, running into Brad Lidge's arms to celebrate. He caught Roy Halladay's perfect game and postseason no-hitter in 2010, a combined no-hitter in 2014 and Hamels' no-hitter in 2015, and made the NL All-Star team in 2012.
But the Phillies traded him and cash on Thursday to the Dodgers for catcher A.J. Ellis, Class A right-hander Tommy Bergjans and a player to be named. Ruiz had full no-trade rights, so he could have rejected the move, but in the end, the pull of another World Series championship proved too strong.
"My heart and everything was in Philly," Ruiz said in a telephone interview with MLB.com, just a couple hours after the Phillies announced the deal. "I'm definitely going to miss the fans, the city, my teammates, the organization. It was tough to make that decision. It's sad to leave, but another part of me is happy, because I've got an opportunity to go to the postseason and the playoffs and have a chance to go back to the World Series."
Chooooooooooch!
Fans yelled his nickname, not only at Citizens Bank Park but wherever the Phillies played, no matter how far from home. He served a 25-game suspension in 2013 for Adderall, but it never dimmed his popularity.
Chooch hit .266 with 213 doubles, seven triples, 68 home runs and 401 RBIs in 1,069 games with the Phillies. He started eight times on Opening Day (2008-12, 2014-16). He hit .353 with four doubles, one triple, two home runs, five RBIs and a 1.194 OPS in 11 World Series games. He also delivered a walk-off RBI single in the bottom of the ninth inning in Game 3 of the 2008 World Series. He hit a three-run homer odd Dodgers ace Clayton Kershaw in Game 1 of the 2009 NLCS.
But Ruiz, 37, said the $8,000 signing bonus he received in 1998 is his most important Phillies moment, because it started everything.
"They gave me the opportunity to be a professional player," he said. "That was the biggest thing. They gave me that first step. There definitely were a lot of good memories with the Phillies. They were like a family."
Ruiz said the Phillies approached him over the weekend about a possible trade. He spoke to his wife, his family and his agent, Marc Kligman, about it.
"I have a lot of good people around me, so I tried to get some different opinions and information about what they think," he said. "Because I was like, I don't know what I'm going to do."
Ruiz said the answer finally came to him on Wednesday, when he met with Phillies general manager Matt Klentak and manager Pete Mackanin in Mackanin's office at U.S. Cellular Field.
"OK, I'm ready," he said.
"Ultimately, this was about doing the right thing for Carlos Ruiz, because he has meant so much to this organization," Klentak said.
Klentak said that the Phillies insisted on Ellis in the deal because "it was important as this team parts ways with Carlos, who has been such an important leader for so long, that we add a player with a tremendous reputation as a leader and worker."
Ellis, like Ruiz, had spent his entire career with one organization, and he was devastated by the news.
"Really, really sad day for me, for my family," Ellis said. "One thing I'm most proud of, being with the Dodgers my entire career. Drafted in '03, being the longest-tenured Dodger is something I'm extremely proud of. It's gone in a blink of the eye, without a chance to feel finality to it. Rips your heart out."
Ruiz had mixed emotions, too, but unlike Ellis, he is joining a team that has a chance to win a World Series.
"I feel like we made the right decision," Ruiz said. "I cannot wait to go there and do my best to help the Dodgers go to the playoffs. But I'm definitely going to miss Philly."
He made a point to recognize Phillies fans before the call ended.
"Oh, wow," he said. "They're a big part of my career. They were unbelievable. They were the best. They supported me and my teammates. I always tried to do my best to keep the fans happy by doing my best on the field. I think they knew that. I'm going to miss them, for sure. I'm going to miss the city. They meant a lot to me. I just want to say thank you for their support and everything. I love them, and I'm going to miss them."
Todd Zolecki has covered the Phillies since 2003, and for MLB.com since 2009. Read his Phillies blog The Zo Zone, follow him on Twitter and listen to his podcast. This story was not subject to the approval of Major League Baseball or its clubs.