Hamels lives in strike zone in win vs. Indians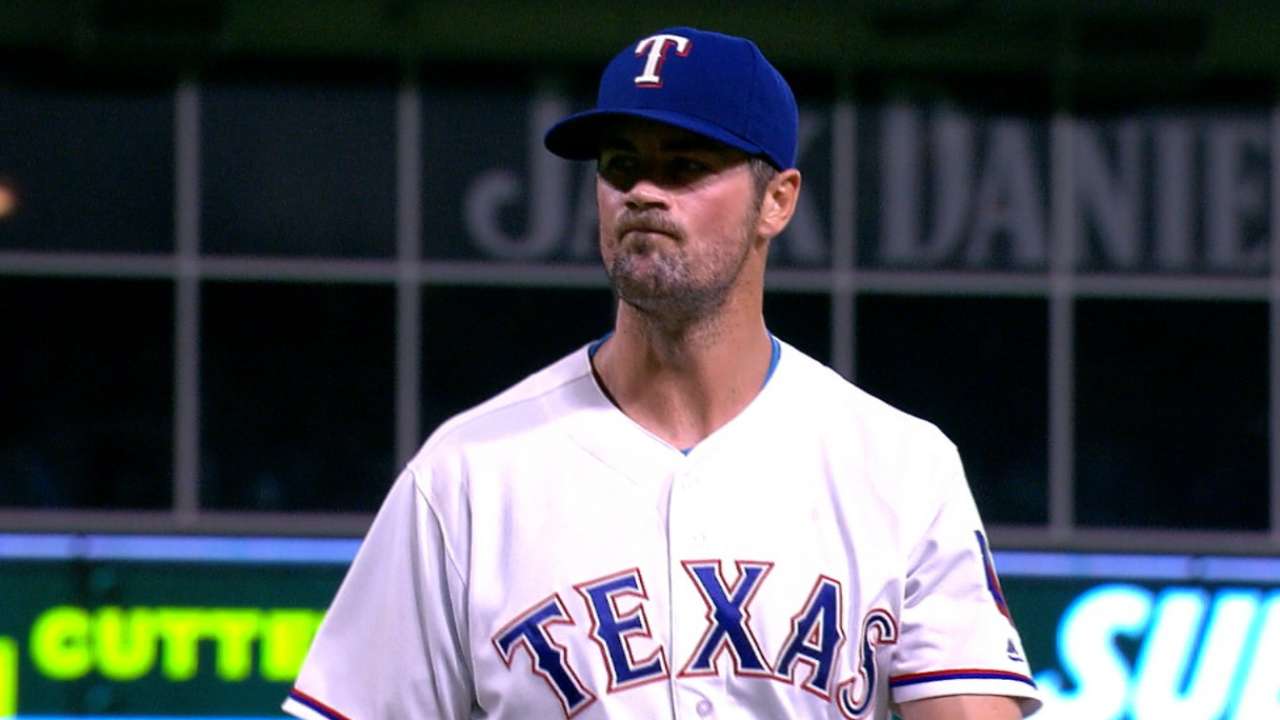 ARLINGTON -- Rangers left-hander Cole Hamels said he felt embarrassed that he's on pace to walk more batters this season than any other in his 11-year career. There was nothing embarrassing about his outing against the Indians on Thursday, though, as he threw eight scoreless innings on two hits and struck out eight while walking none in the Rangers' 9-0 victory.
It was the fourth start of Hamels' career in which he threw at least eight innings and gave up two hits or fewer, and the first since he threw a no-hitter with the Phillies on July 25 last season. He had retired 19 straight batters at one point in the outing.
"Just a special night, as far as the mix of pitches and just the command of all his pitches and the ability to do what he wanted to do tonight," Rangers manager Jeff Banister said "I think more than anything else, this is a time of the year that Cole really likes to pitch. Not that he doesn't like pitching at all times during the year, but we saw a little bit of this last year. Great pitchers, they get better as the year progresses."
Not including intentional walks, Hamels has walked 60 batters this season, which is a career high for non-intentional free passes. He responded to the walk total Thursday by throwing 75 of his 102 pitches for strikes as he picked up his 14th win of the season. The 73.5 percent strike percentage was his highest of the season, and the 17th highest by a pitcher who threw at least 100 pitches in a start this year.
"I think I've just been able to get on a roll with [catcher Jonathan Lucroy], and I'm really just trying to plug away," Hamels said, "I know we're playing some really good teams and, especially at this time of the year, these are really important games. When you're able to come home you want to set the tone for that first game, and that's what we were focused on."
Hamels admitted part of the struggle with the command earlier in the year came from still adjusting to the American League. He's just a little over a year removed from his 10 years with the Phillies.
"There's different guys that you have to learn," Hamels said. "More guys [in the AL] swing 3-0. So I can't throw a fastball down the middle in that count, which I was accustomed to in the National League."
Like Hamels mentioned, the addition of Lucroy has helped lower the walks as well. But Lucroy is quick to put the spotlight back on Hamels.
"He's pretty easy to catch," Lucroy said. "Super-intelligent, super-accomplished guy, and pretty much a dream pitcher for a catcher to catch back there. He can do it whatever he wants, pretty much."
Ryan Posner is a reporter for MLB.com based in Texas. This story was not subject to the approval of Major League Baseball or its clubs.