MLB.com Columnist
Jonathan Mayo
Inbox: Which Yankees prospect could emerge as a superstar?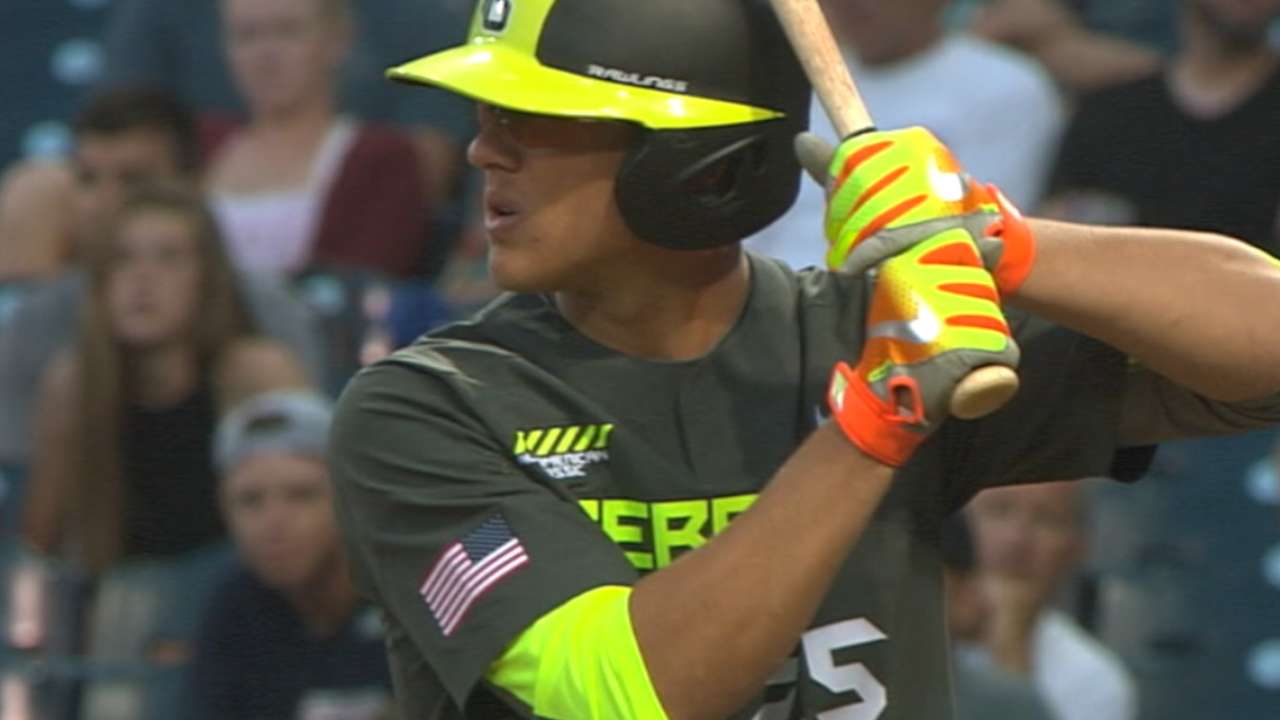 It's hard to believe that the 2016 Minor League season is almost over. Before we know it, we'll be done with the playoffs and moving on to things like the Arizona Fall League and instructional leagues.
First, of course, will be September callups. And -- wouldn't you know it? -- there will be a story soon on the Top 10 prospects who could get brought up when rosters expand on Sept. 1. Before that, however, we have an exciting Inbox coming your way.
Queries sent in were all over the map, from measuring the Yankees' newfound depth in prospects to comparing outfielders from different systems. There's something about the Braves' system and then, for good measure, a 2017 Draft-related question.
@JonathanMayo @MLBPipeline out of every Yankees prospect, which one has the best chance to be a true superstar?

— Tanner Smith (@tannwoir) August 24, 2016
Yankees fans suddenly have an embarrassment of riches in terms of prospects and there are a few options to choose from in answering this question. Based on the start to his big league career, the simple answer may seem to be Gary Sanchez, what with his nine home runs in 19 games this year. But Yanks fans of all people should know not to put too much weight on small sample sizes (see Kevin Maas), so I'm going to go elsewhere, even though I do think Sanchez has the chance to be an impact bat.
I actually think any of the top prospects currently in the system have a legitimate shot at being an elite-level player. We do have Clint Frazier as the top prospect in the system, and he has the potential to do a lot of things on the baseball field, with an all-out style of play that will certainly help in terms of persona. Jorge Mateo's plus-plus speed give him a chance to shine, though some small makeup issues that popped up this year make you pause.
So I think I'll go with No. 6 on the list, Blake Rutherford. I think we might be light on the bat with his 55 grade -- if you told me the 2016 first-round pick would be at least a 60 bat, I'd believe you. A plus bat combined with 50-55s across the board add up to a potential superstar to me.
@JonathanMayo @MLBPipeline Bradley Zimmer or Kyle Tucker?

— Allan Dudek (@Exposfan1998) August 24, 2016
I have to say this is the first time I've ever seen these two talented outfield prospects put together in such a way. Obviously, Bradley Zimmer is at the top of the Indians' system while Kyle Tucker is in A ball with the Astros (though he did get bumped up recently from the Midwest League to the California League). Let's compare their tools:
Zimmer: Hit: 55 | Power: 50 | Run: 55 | Arm: 55 | Field: 60
Tucker: Hit: 60 | Power: 55 | Run: 50 | Arm: 55 | Field: 50
Tucker has an edge with the bat, while Zimmer runs and fields better. This is a close one, even though Zimmer is 16 spots ahead of Tucker on the Top 100. If both players maximize their potential, then the choice is Zimmer as a center-field possibility with a higher ceiling. But Tucker's ability to swing the bat, without the same swing-and-miss Zimmer has, might give him a higher floor.
@JonathanMayo @MLBPipeline after reports of injury in the 1st half, has Austin Riley re-justified hopes with his 2nd half?

— Bravesfan1010 (@Bravesfan1010a) August 24, 2016
I wanted to take at least one Braves question to reflect just how passionate fans of that team are right now about the farm system. As the author of their Top 30 prospects list, I have seen firsthand just how strong opinions are about the future of this organization. The tweets I've seen about guys in the 25-30 range, not to mention replacements when guys graduate, have amazed me.
There has certainly been no lack of passion regarding Austin Riley, Atlanta's pick at No. 41 overall in the 2015 Draft. I heard it from fans when we had Riley ranked No. 20 in our midseason re-rank last summer, many of whom felt Riley was the heir apparent to Chipper Jones at third after an incredible summer debut that saw him hit 12 homers in 217 at-bats.
While I was concerned about sample size, that summer along with reports of how he looked at instructs made me move him up to No. 7 on our 2016 preseason list. Riley promptly had a .671 OPS during his first half as he was moved aggressively to full-season Rome. He has certainly bounced back in the second half with a .901 OPS and 14 of his 17 home runs. He had been moved down on the list, currently sitting at No. 13.
It certainly is encouraging to see Riley make some adjustments and have more success in the second half. Seeing his strikeout rate go down and his walk rate go up is also good to see. More gains in that area -- in his overall approach -- will be needed as Riley moves up the ladder. A 138/37 K/BB ratio isn't going to work against better competition. I'm not ready to hand him Chipper's crown just yet, but I'm willing to be cautiously optimistic.
@JonathanMayo @MLBPipeline Is JJ Schwarz the next number one pick?

— YoSoy Joey D. (@joeydivito) August 24, 2016
In a word: No.
Keep in mind the 2017 Draft is still relatively far off, and Schwarz does have a track record at the University of Florida on his resume. But if the Draft were today, the catcher would almost certainly not be the top pick. Schwarz didn't hit well during his time in the Cape Cod League (.207 average with one home run and five RBIs in 29 at-bats), leaving early with a minor injury.
Yes, that's a very small sample size, but how a college hitter performs with a wood bat in that league carries significant weight. That came on the heels of a decent sophomore season at Florida, though it wasn't as good as Schwarz's stellar freshman campaign. If he hits for the Gators as a junior like he did when he first began his college career, his stock will rise. Schwarz will benefit, for sure, from a lack of college bats in the upcoming class, with Vanderbilt's Jeren Kendall leading that crop as of now. Even if Schwarz does bounce back, I'm not sure he's a top-pick candidate. If you told me he could be a top-10 pick, like Zack Collins ended up being, I'd be willing to buy that.
Jonathan Mayo is a reporter for MLBPipeline.com. Follow him on Twitter @JonathanMayo and Facebook, and listen to him on the weekly Pipeline Podcast. This story was not subject to the approval of Major League Baseball or its clubs.