Gomez homers in first AB with Rangers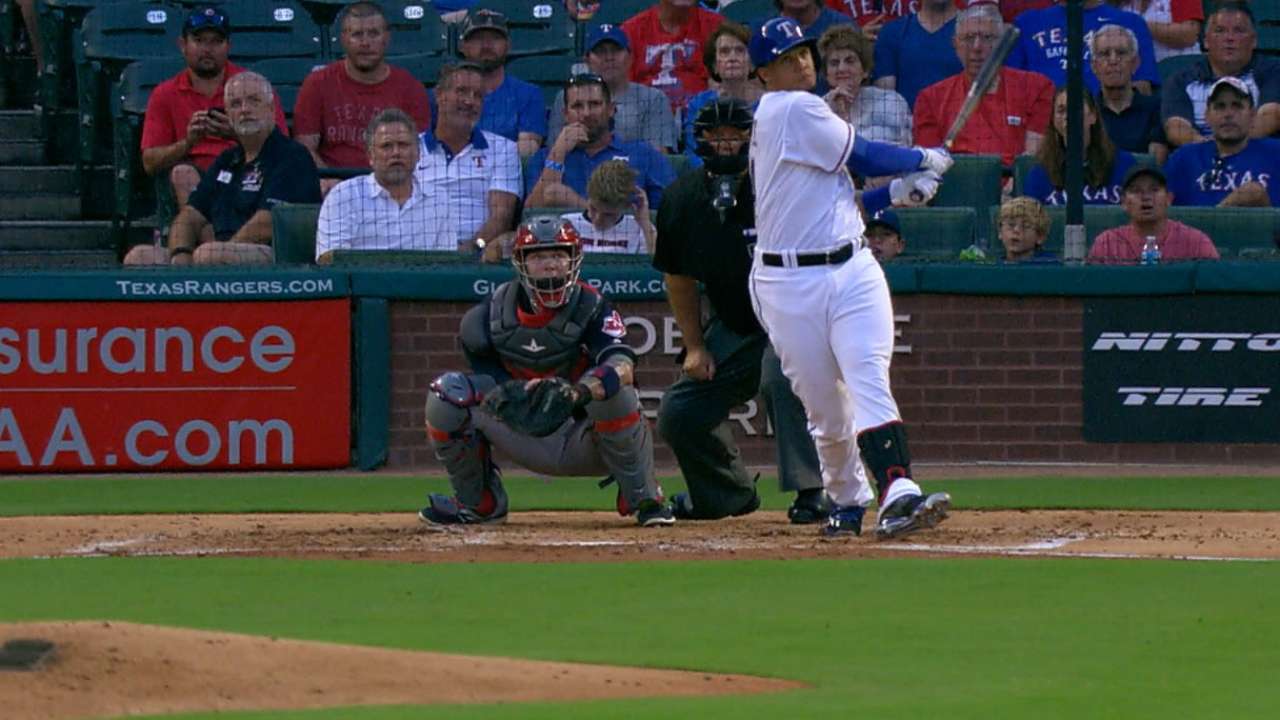 ARLINGTON -- Newly signed outfielder Carlos Gomez had hit 108 home runs entering his Rangers debut on Thursday night against the Indians. But for the first time in his 10-year career, he was nearly brought to tears after he sent a three-run shot into the left-field seats in his first at-bat with his new team.
"It was so emotional that [crying] is what I felt like," said Gomez, whose homer helped lead the Rangers to a 9-0 victory that featured a playful interaction between fellow second basemen Rougned Odor and Jason Kipnis. "I feel so blessed, to come from having no job to coming here. To be in first place and to start like this right away is a gift from God."
Gomez had his contract purchased from Triple-A Round Rock on Thursday after signing a Minor League deal with the Rangers on Saturday. He was released by the Astros on Aug. 18 after hitting .210 through 85 games.
The home run had an exit velocity of 107.2 mph, as measured by Statcast™, and Gomez has only two homers in the Statcast™ era with a higher exit velocity. One of them was hit July 17 against Seattle. His new teammates were nearly as excited as he was when they saw the ball clear the fence, storming him at the top steps of the dugout after he rounded the bases.
"I enjoyed it, to see all the guys get up on the top [step] and go to the dugout and give high fives to each one is really fun," said Gomez, who finished 1-for-4 batting out of the eighth spot in the lineup. "That's what makes this team special."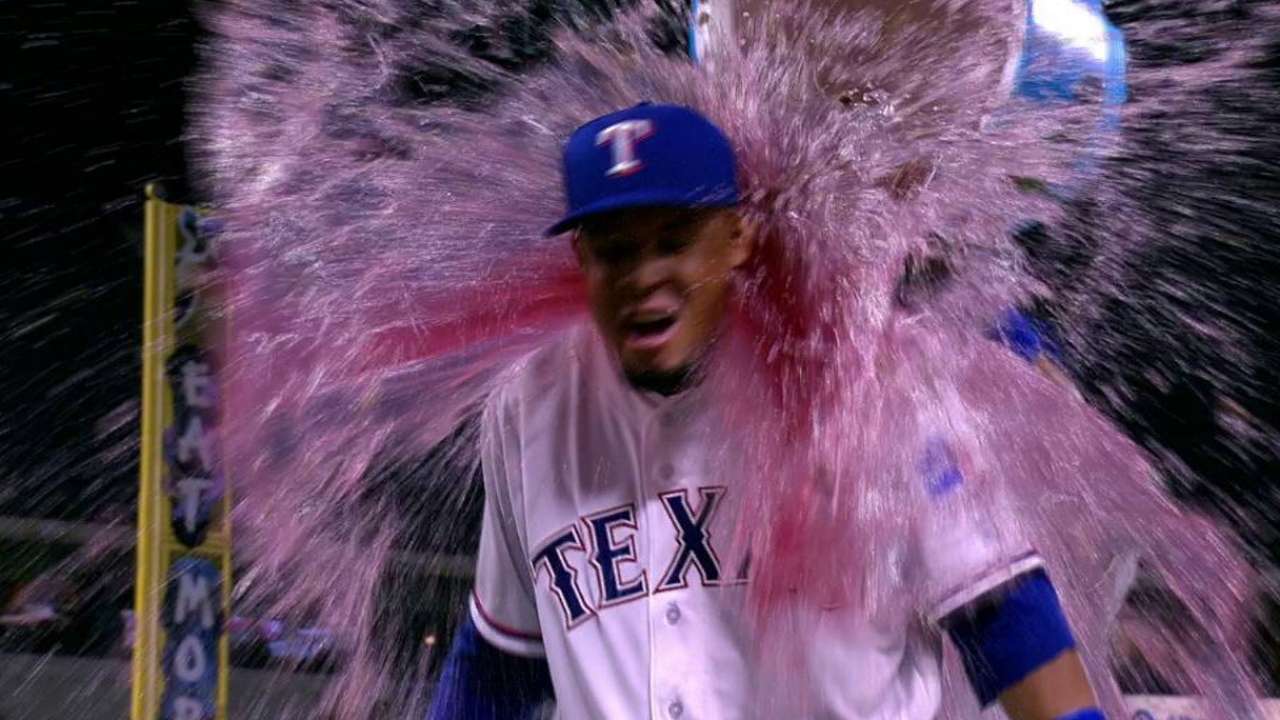 Rangers manager Jeff Banister stressed that it was just one game, but he couldn't deny the impact Gomez can have on a daily basis.
"This is a player that can impact the game. He's not without his moments in the game of baseball, but this an extremely talented player," Banister said. "He's a five-tool player that's hungry to prove to the baseball world that he's still very relevant."
Before his debut, Gomez said he believed that signing with the Rangers would help bring a fresh start to his career.
"Having the opportunity to come to a team that can be in the playoffs is a [blessing]," Gomez said. "I feel like my season will start today. You have to put some work in, too, to make the best of it. I'm happy to be in this clubhouse."
Banister acknowledged that with Gomez's talent also comes a high level of energy that has sometimes rubbed people the wrong way. That doesn't bother him, though.
"He's going to push the envelope, which I don't mind," Banister said. "He's not unlike some of the guys who we have in this clubhouse who are edgy players. They play with a passion and they step on the edge of an energy that, when you're sitting in the other dugout, you don't like it very much. But when you're playing as teammates, you enjoy the successes."
Gomez is expected to play every day in left field against right-handers. Banister said he'll likely shift to right field against left-handers to allow Delino DeShields to remain in left field. DeShields and Nomar Mazara will platoon at the leadoff spot with Gomez's addition.
Drew Stubbs was designated for assignment to accommodate the addition of Gomez on the roster. Stubbs, 31, hit .300 in 19 games (25 plate appearances) with the Rangers after starting the season with the Braves.
Ryan Posner is a reporter for MLB.com based in Texas. This story was not subject to the approval of Major League Baseball or its clubs.