After strong start, Norris still aiming higher
Lefty tosses season-high 6 1/3 innings, believes he can pitch deeper into games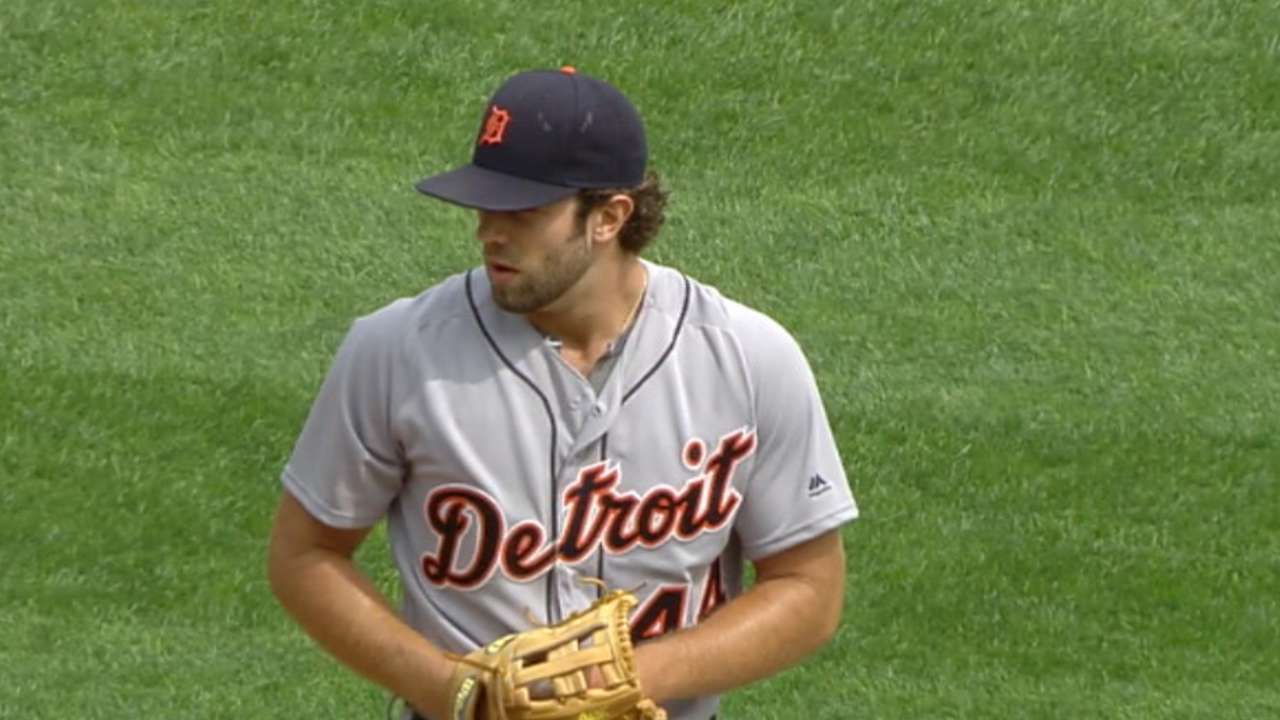 MINNEAPOLIS -- Tigers manager Brad Ausmus said that left-hander Daniel Norris had his best start of the season in Thursday's 8-5 win over the Twins at Target Field, but Norris insisted that he still didn't have his best stuff and that he can continue to work deeper into ballgames.
"It was another one of those games where you kind of go out there without your best stuff and you've just got to grind through it, and that's what we did," Norris said. "It showed me I can go out there and compete without my best stuff and get deep into games. That's ultimately what I want to do, and give the team a chance to win."
Even without his best stuff, Norris pitched a season-high 6 1/3 innings and allowed two runs while striking out five without issuing a walk. He hasn't allowed more than three earned runs in all four of his starts since his Aug. 9 return from a right oblique strain, and he owns a 2.91 ERA in that span.
After noticing the aggression of the scuffling Twins' lineup in the first two games of the series, Norris focused on establishing his fastball and pitching to contact in an effort to limit his pitch count and get deeper into the ballgame, which he has struggled with since joining the Tigers. Thursday marked only the third time in 15 starts with Detroit that Norris completed the sixth inning.
"It was just attacking guys," Norris said. "I knew they were going to swing early. That's kind of how they've been doing it this series, so I was just going play right into that and let them get themselves out. When I needed a strikeout, I went and got it. It was good."
Norris was solid from the start of the game, allowing one hit in each of the first two innings before settling down and retiring 11 straight batters. The Twins, however, were able to hit him better in their third time through the lineup during the sixth and seventh innings, as Brian Dozier and Miguel Sano doubled before coming around to score.
Norris thinks he knows where his approach went wrong, and he believes he can limit those mistakes in his future starts.
"To me, it's just making the adjustment before they do," he said. "They were just swinging early and trying to attack later on, and I got into fastball mode and was going right after them, and they picked up on that. I think I can go even deeper."
This strong outing was made even more impressive by the fact that Norris was pitching through congestion in his head at the start of the game, which is why he believes he didn't have his best stuff.
"Any time you go out there, whether you feel good or you don't, it's a big league game, and you go out there and try to win it for your team," he said. "That's what it's all about."
If it makes Norris feel any better, his teammates didn't seem to notice.
"He looked good physically," second baseman Ian Kinsler said. "I don't know, maybe he should not feel good physically from now on."
Do-Hyoung Park is a reporter for MLB.com based in Minneapolis. This story was not subject to the approval of Major League Baseball or its clubs.