Winker among Reds' potential prospect callups
Cincinnati could also use Herrera, Stephenson, Garrett in September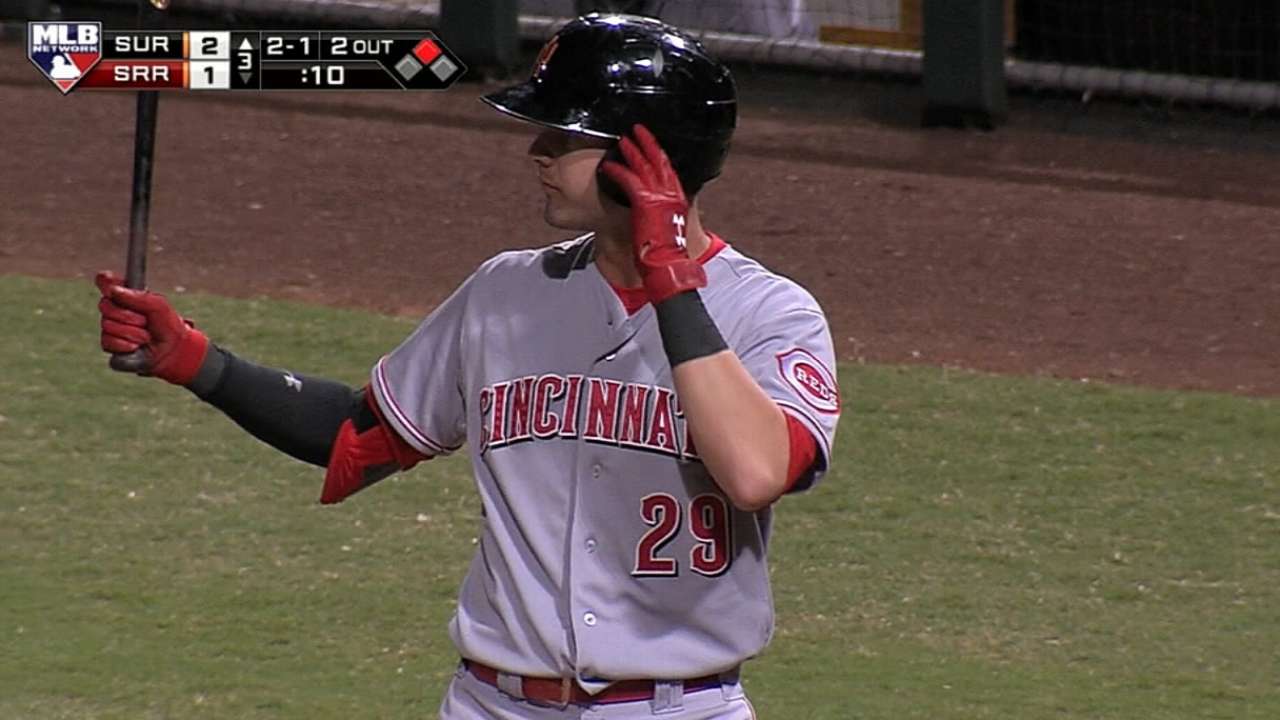 CINCINNATI -- The end of August in the Major Leagues signals that reinforcements will soon be summoned. Rosters are allowed to expand on Sept. 1, often an opportunity for prospects and deserving players to get some exposure to the big leagues.
For the Reds, the possibilities this September offer some intrigue. Will outfielder Jesse Winker get his long-awaited promotion? Will pitcher Robert Stephenson be recalled despite an inconsistent year? Infielder Dilson Herrera, acquired from the Mets in the Jay Bruce trade on Aug. 1, should be wearing a Reds uniform for the first time.
One change from 2015, however, will be the reason behind many of the callups, especially for pitchers. Last season, with a roster depleted by trades and injuries, some promotions were not merit-based. The rotation started a rookie pitcher in each of the final 64 games of the season, a new record. Cincinnati also lost 14 of its final 15 games to end with 98 losses.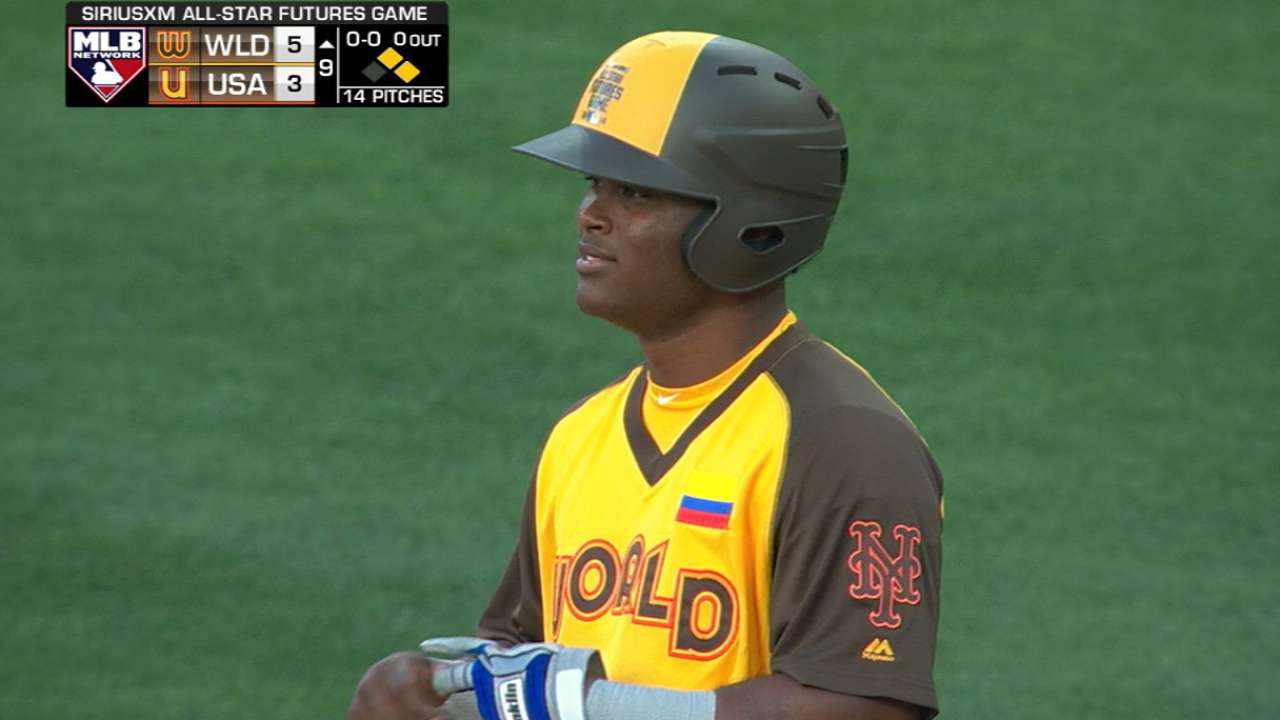 "Who has enough innings left? And who is available to start?" manager Bryan Price said of the Reds' thinking last September. "I couldn't imagine a worse environment in which to play ... trying to fill holes with guys you didn't necessarily see as long-term starters or may not be ready to start here. They were here based on need rather than performance-based, at least in some cases."
This season, the Reds have the second-best record in the National League during the second half, at 22-15. Four of the five rotation spots appear to be locked up, with only Brandon Finnegan an exception, only because he's nearing his innings limit.
"I don't think there will be any directives that a guy will come in and make starts," Price said.
As they are wont to do, the Reds have not telegraphed their plans for September callups. But here is a look at few of the more notable contenders:
Winker
The 23-year-old No. 3 prospect overcame a right wrist sprain in June and has been one of Louisville's best hitters. He entered Thursday batting .301/.390/.394 and has had a nice second half. A line-drive hitter, Winker has yet to find much power, with five homers this season and one since April 30. He would need to be added to the 40-man roster.
Herrera
A second baseman, Herrera is batting .275/.327/.459 with 13 homers at Triple-A this season, but he hasn't done much with his Major League stints with the Mets over 2014-15, totaling 49 games. Herrera dealt with a minor shoulder injury shortly after the Bruce trade, and he is 4-for-15 since returning.
Stephenson
The Reds' No. 4 prospect has endured inconsistency for Louisville, but he made two solid spot starts in the big leagues in April. His inability to make adjustments has seemed to madden the organization at times, including his last start when Louisville manager Delino DeShields said, "If I was him, I'd be embarrassed." Slated to start Thursday, Stephenson is 6-9 with a 4.66 ERA in 22 starts for Louisville.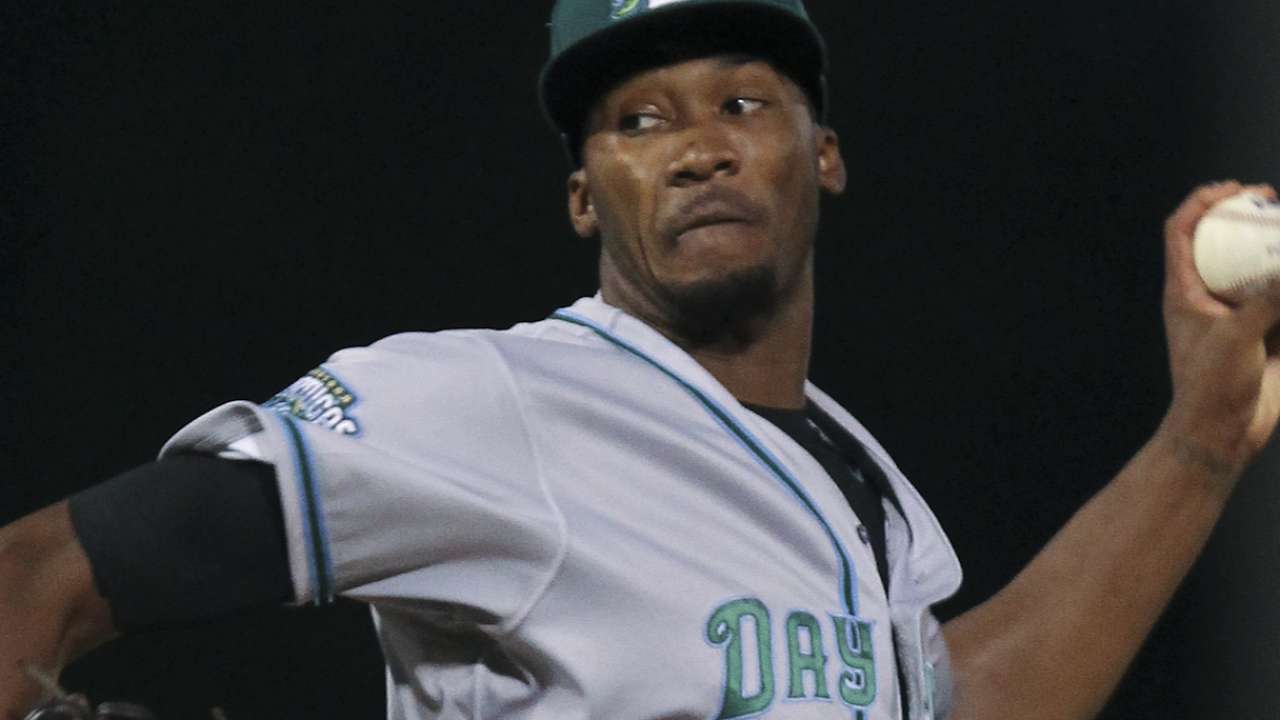 Amir Garrett
Now the No. 2 prospect, the lefty starting pitcher posted a 1.75 ERA in 13 games for Double-A Pensacola before getting moved up to Louisville. He has impressed the organization with how he's handled the challenge, which could warrant a promotion.
Expected to return
Lefty starter Cody Reed, who was 0-7 with a 7.36 ERA in 10 big league starts and right-handed reliever Keyvius Sampson.
Mark Sheldon has covered the Reds for MLB.com since 2006, and previously covered the Twins from 2001-05. Follow him on Twitter @m_sheldon and Facebook and listen to his podcast. This story was not subject to the approval of Major League Baseball or its clubs.