Big game hunter: Mahtook's arm, bat shine
Left fielder snaps 0-for-34 skid with key double, snuffs rally with great throw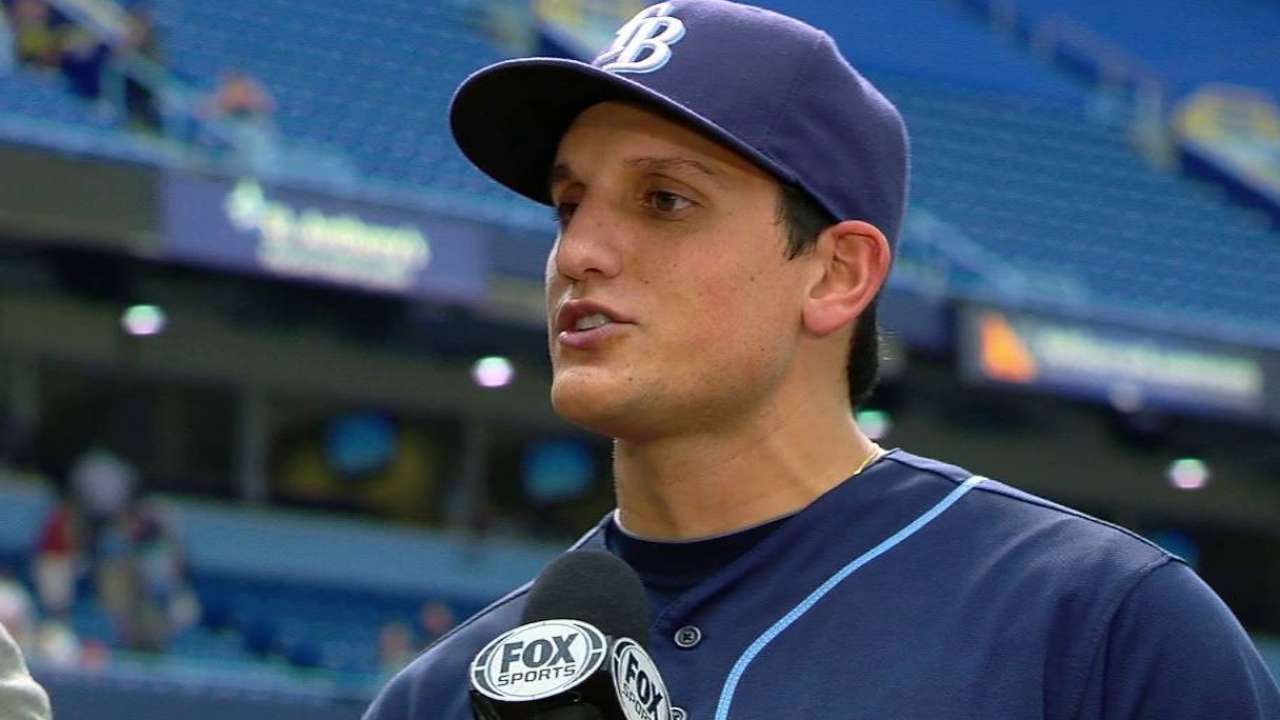 ST. PETERSBURG -- Talk about relief. Mikie Mahtook personified the emotion while on his knees at second base after he'd doubled home Steven Souza Jr. for what would turn out to be the winning run.
The Rays came away with a 2-1 win over the Red Sox and a split of their four-game series at Tropicana Field on Thursday, and Mahtook came away with an escape from a dreadful 0-fer.
Luke Scott set the Rays' team record with an 0-for-41 stretch in 2012. While Mahtook had some work to do to reach Scott, their names were becoming intertwined since the Rays outfielder found himself in an 0-for-34 slump.
Mahtook's notoriety came to an abrupt halt in the seventh with his double to left.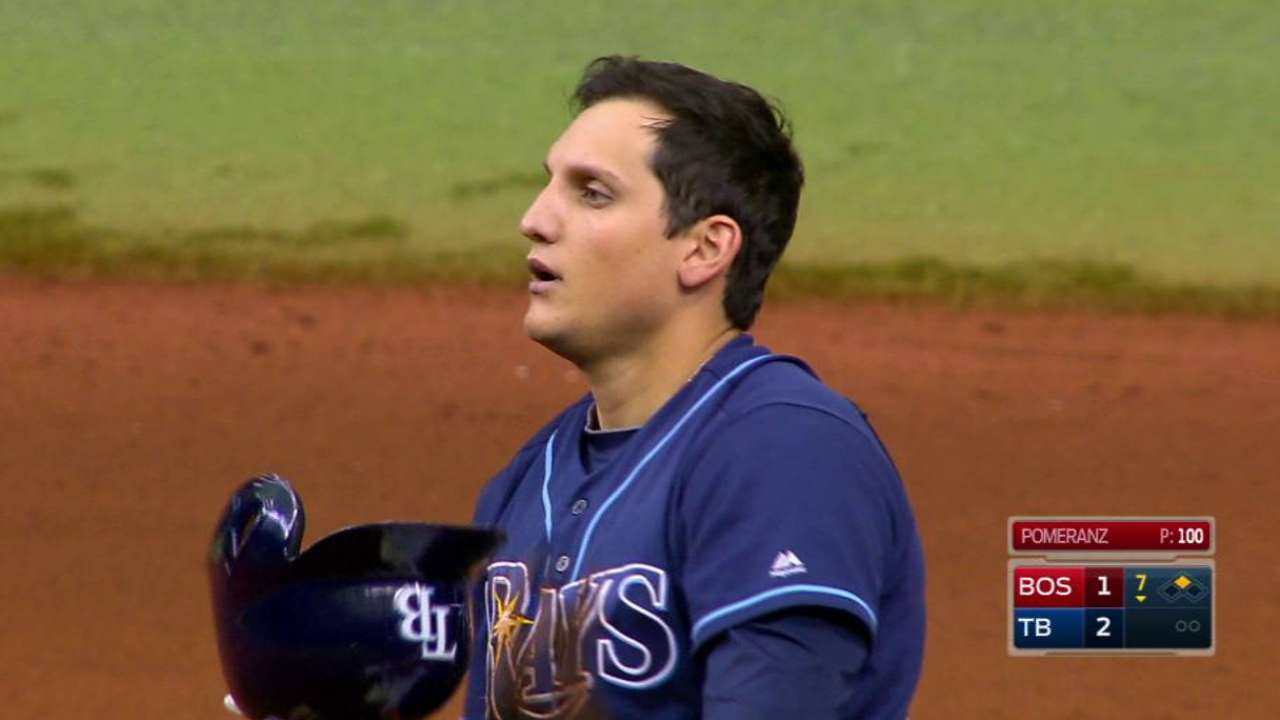 "Finally, to break through like that was nice," Mahtook said. "It was a relief. But it was more me feeling good about me putting in all the work leading up to it to finally see the results. ... To finally have a hit and especially in that moment, it was nice."
A reporter asked Mahtook how it felt not to catch Scott. Mahtook said he didn't know "what I was trying to catch him for."
When told about the 0-for-41 streak, Mahtook beamed.
"Yeah, it's nice," he said. "I don't have to have that record on the books."
Mahtook celebrated in the top of the eighth by throwing out Mookie Betts trying to stretch a single into a double for the third out of the inning.
"Obviously, Mookie's a good runner, and the ball just caroomed perfectly to me and I was able to make a good throw," Mahtook said. "And [second baseman] Logan [Forsythe] did a good job of getting the tag down and getting him out."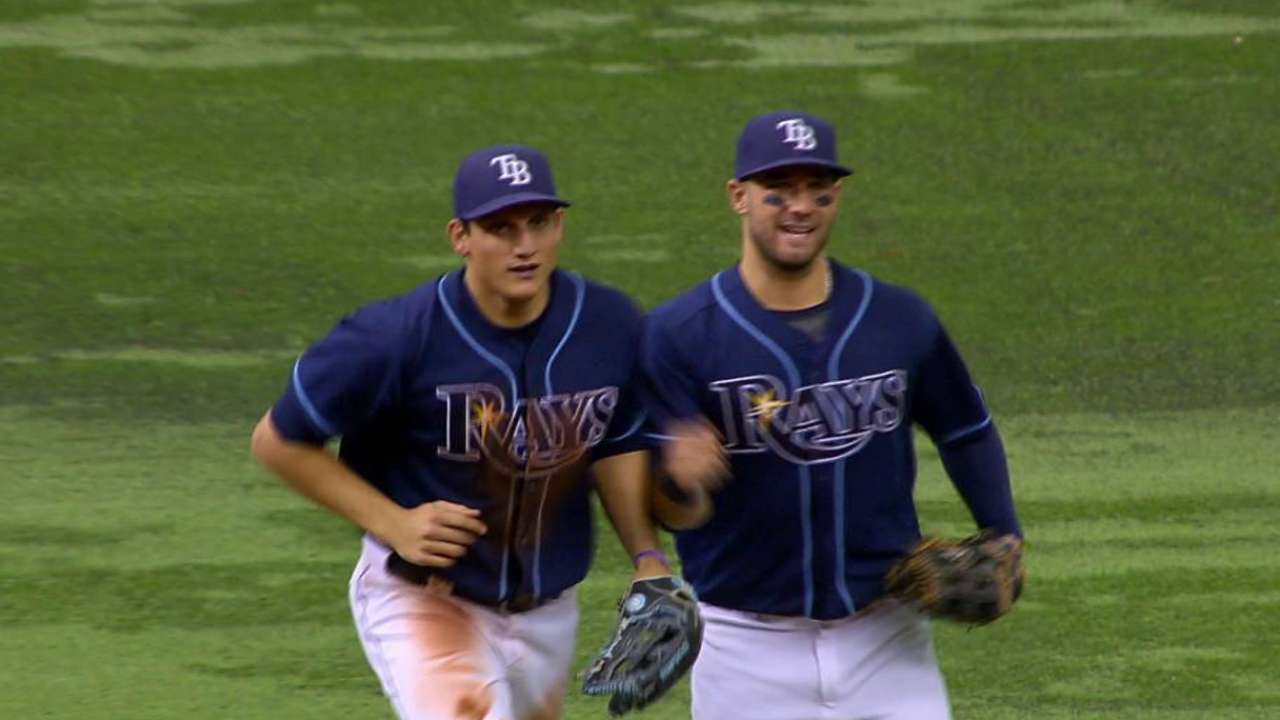 Mahtook allowed that the hit and the throw brought him equal pleasure.
"Obviously, the hit gave us the lead," Mahtook said. "And then the throw helped us preserve it, but I can't pick one or the other. It was just one of those things where I was just happy that I could be in a position to help us not only take a lead, but keep it and then win the game."
Mahtook's teammates showed joy at his accomplishments, which Mahtook appreciated.
"It was great," Mahtook said. "Obviously we're a pretty close-knit group of guys here. Everybody roots for everybody. Especially because the guys in the locker room play the game the right way. So it's nice to see them happy for me. But if the roles were reversed, it would be the exact same thing."
Rays manager Kevin Cash also expressed pleasure about Mahtook's day.
"Just a tremendous day," Cash said. "He needed that for him. He's been struggling. And it's nice to see a player that comes in a directly contributes and leads to a big team victory like it did today."
Bill Chastain has covered the Rays for MLB.com since 2005. This story was not subject to the approval of Major League Baseball or its clubs.