Upton's production up after time off
Outfielder notches 4 straight multihit games upon return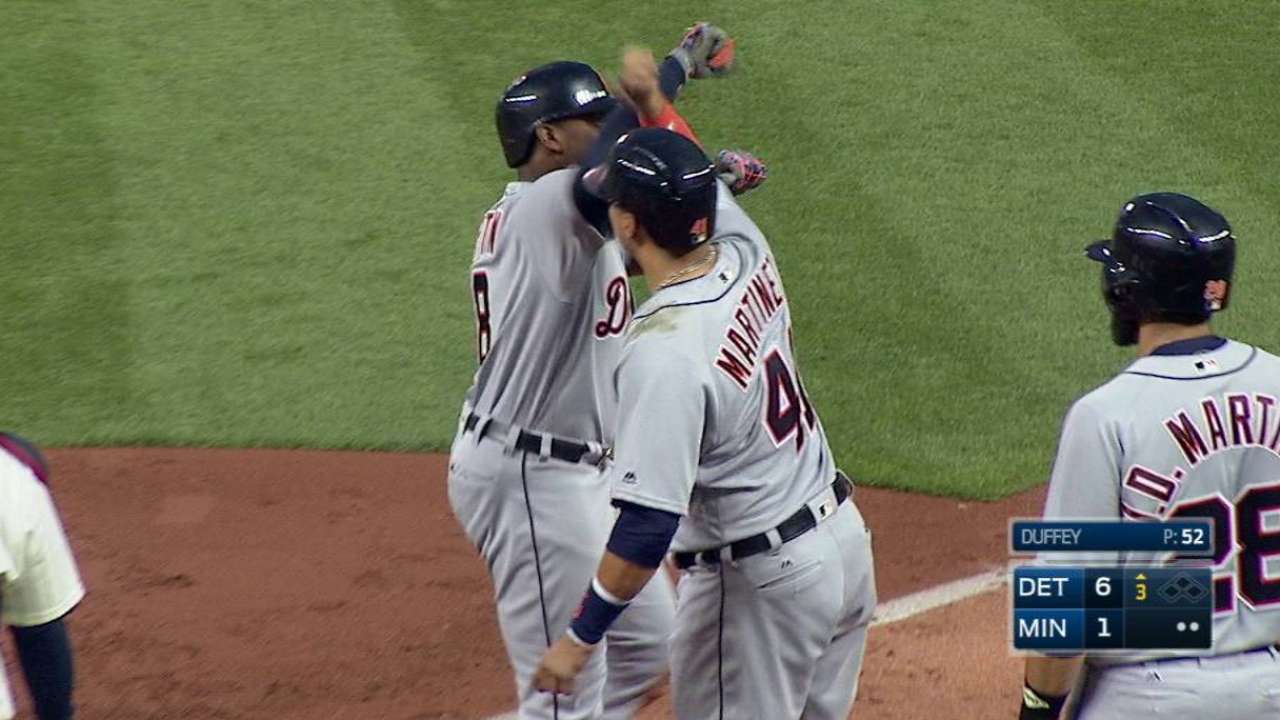 MINNEAPOLIS -- It's only been five games since his return, but it sure looks like a three-day break to work on his swing and clear his head was exactly what Justin Upton needed to find his groove again.
Upton had been mired in a 1-for-31 slump in the nine games before his break, but he recorded four straight two-hit games following his return to the lineup, collecting four runs scored, three homers and nine RBIs in that span. He went 2-for-5 with a three-run homer in the Tigers' 9-4 victory over the Twins on Wednesday night before the multihit streak ended Thursday, when he went 0-for-4 with a walk and a run scored in Detroit's 8-5 win over Minnesota.
"He's been more offensive," manager Brad Ausmus said. "He's hitting the ball harder and more consistently. We gave him a few days, he worked on some things with the hitting coaches, and he's looked pretty good since he's come back."
In his first season with the Tigers after signing a six-year contract last offseason, Upton had been hitting .226/.281/.372 in 113 games before his break, his lowest totals since his rookie season with the D-backs in 2007.
Upton's streak of four straight multihit games since then was his longest such stretch since April 10-13, 2014. Although he did work on his swing with hitting coach Wally Joyner during the three-day break, he said that improved timing has been the biggest difference for him at the plate.
"Sometimes, that's needed, man," Upton said. "A mental break, and I'm back at it now."
"That was kind of the hope, given three days off, that he could reset, throttle back and start over, so to speak," Ausmus added.
It probably helps that he's faced the Twins since returning, as he's crushed Minnesota pitching to the tune of a .404/.440/.638 slash line, with three homers, eight RBIs and nine runs scored in 12 starts.
With the Tigers in the race for one of the American League's two Wild Card berths, they will gladly take the added production from Upton and hope that the 29-year-old outfielder can finish strong after what has been an inconsistent season at the plate.
"He can hit the ball as far as anyone in the lineup, so it's good to see him swing the bat, and we want to keep him rolling," Ausmus said.
Do-Hyoung Park is a reporter for MLB.com based in Minneapolis. This story was not subject to the approval of Major League Baseball or its clubs.