Graveman gleaning wisdom from early struggles
Young righty is Oakland's most consistent member of rotation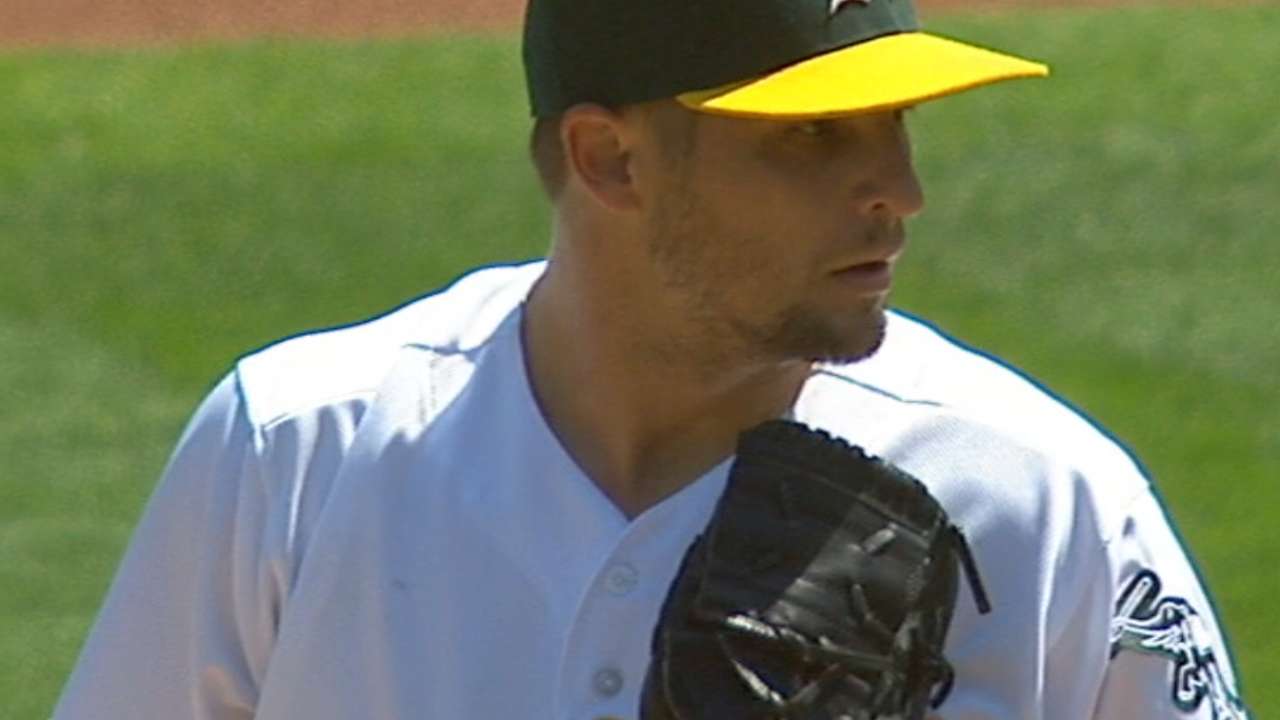 OAKLAND -- Kendall Graveman returned to Target Field's visiting dugout after a scoreless 20-pitch first inning, having worked around a walk to Minnesota's Joe Mauer and a tighter-than-usual strike zone from home-plate umpire Manny Gonzalez, and he turned to his close friend Sonny Gray.
They began to discuss what felt like a conversation more than a year in the making, even if he didn't realize at the time.
"After the first inning, I was like, 'How am I going to get some of these pitches?'" Graveman said.
Graveman felt he had little choice but to throw his sinker -- a hard, diving pitch when it's working -- over the middle of the zone. Stephen Vogt, his catcher, then walked over to deliver a similar message.
Trust it, he said. If they hit it, so be it.
They didn't -- at least not well. Graveman finished 6 2/3 innings, allowed one run and won for the third time this season. And just like that, on a nondescript July 4 afternoon in a 3-1 win, Graveman's season began to turn. Few teams have hit him hard since.
Graveman has been quietly piecing together a superb sophomore season, transforming from fringe starter to rotational mainstay. He's won 10 times, is 9-2 with a 3.33 ERA in his past 16 starts, and he has been the only starter to remain in Oakland's rotation all season. So much has gone wrong for the A's this year. Graveman hasn't.
Infused with renewed confidence and a personal challenge to meet in-game goals -- Graveman bristles if he walks more than one batter per game or doesn't record at least 10 ground-ball outs -- he has become Oakland's steady, dependable option.
"In a year where we haven't had that, it's been very refreshing to see him step up and be that guy," Vogt said.
"I think the main thing for him has always been that self-confidence to throw the ball over the plate and throw it downhill," said Gray, who then brought up the start vs. the Twins.
"That mentality has been everything the last couple months. It's been really cool to see."
Graveman threw his sinker 75 percent of the time in July, according to Brooks Baseball, nearly doubling his April output. He throws it in the mid-90s. Midway through the season, Vogt began dropping to one knee in his catching stance. The reason? To remind Graveman to keep the ball down. You don't need to look hard to see the cohesion between his approach and his execution.
But what isn't as quantifiable is the subtle shift in the 25-year-old Graveman's presence on the mound. He's pitching like someone who belongs. He's more sure of himself, his preparation, his routine.
"It's a long season," Graveman said. "You can get down and lose confidence. If you're mentally strong, you can overcome some of that stuff."
Graveman has seen his mettle tested over the past 24 months, too. The righty climbed up the Blue Jays' organization before being traded to the A's in the Josh Donaldson deal. He opened 2015 in Oakland's rotation, posted an 8.27 ERA in four starts and was sent down to Triple-A Nashville by May. Graveman says he's better for it.
"Everybody told me that," Graveman said. "I was like, 'There's no chance. I'm going down to Nashville? I'm getting sent down? There's no way I'd be better for this.' … It's something you look back on now, like, 'Yeah, I definitely was.'"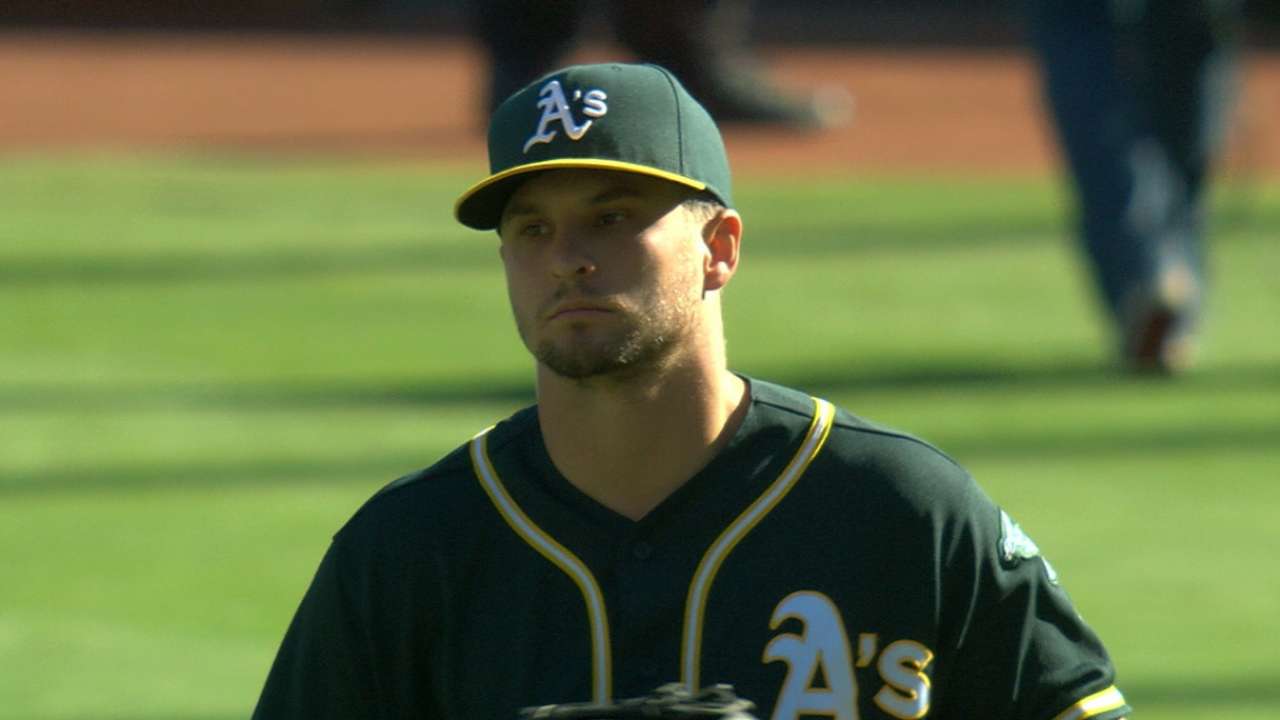 Even this year, Graveman was 1-5 with a 5.84 ERA in his first seven starts, including a May 8 start where the Orioles clobbered him for four homers in 2 2/3 innings.
Graveman's father, Gary, said it was the most down he's ever heard his son after a start.
"Kendall always calls me after every game," Gary said. "That night, he didn't call me. So I texted him and said, 'Kendall, you're not going to call tonight?' He called me. He said he didn't feel like talking.
"And then he was like, 'Nothing I threw worked. Everything I threw -- nothing worked.'"
Graveman was in a similar place to when he was sent down last year. But it was in Nashville where the introspective pitcher reconnected with Barry Zito, then pitching for Nashville as well. The pair sat in the stands together during games they didn't pitch and charted pitches. While doing so, Graveman heard how pressure -- whether real or perceived-- can affect anyone.
As Zito put it, there is wisdom to be gained from struggles.
"I always remember what Zito told me," Graveman said. "The guy had come off winning a Cy Young and he signed the biggest contract, at the time, for a pitcher when he went over to San Francisco. … And he thought he had to be something more, something better."
"I really appreciated the humility Kendall had," said Zito, adding he saw a lot of himself in Graveman -- a friendly pitcher under self-inflicted pressure, trying hard to win people over.
"I think guys deep down want to admit weakness and ask things," Zito said. "Some can't bring themselves to do it."
Graveman did, and he began to harness his own expectations and return to an even-keeled approach.
The son of a schoolteacher, Graveman has made a habit of studying those around them, beginning with his father, whose message while coaching him throughout his childhood in Alabama was simple: Never let someone outwork you.
Earlier this month, Graveman spoke with Greg Maddux on the phone for 15 minutes, writing down a list of questions geared toward learning more about "the mental side of pitching." Three days later, Graveman threw a "Maddux," firing a complete-game shutout against the White Sox in 98 pitches.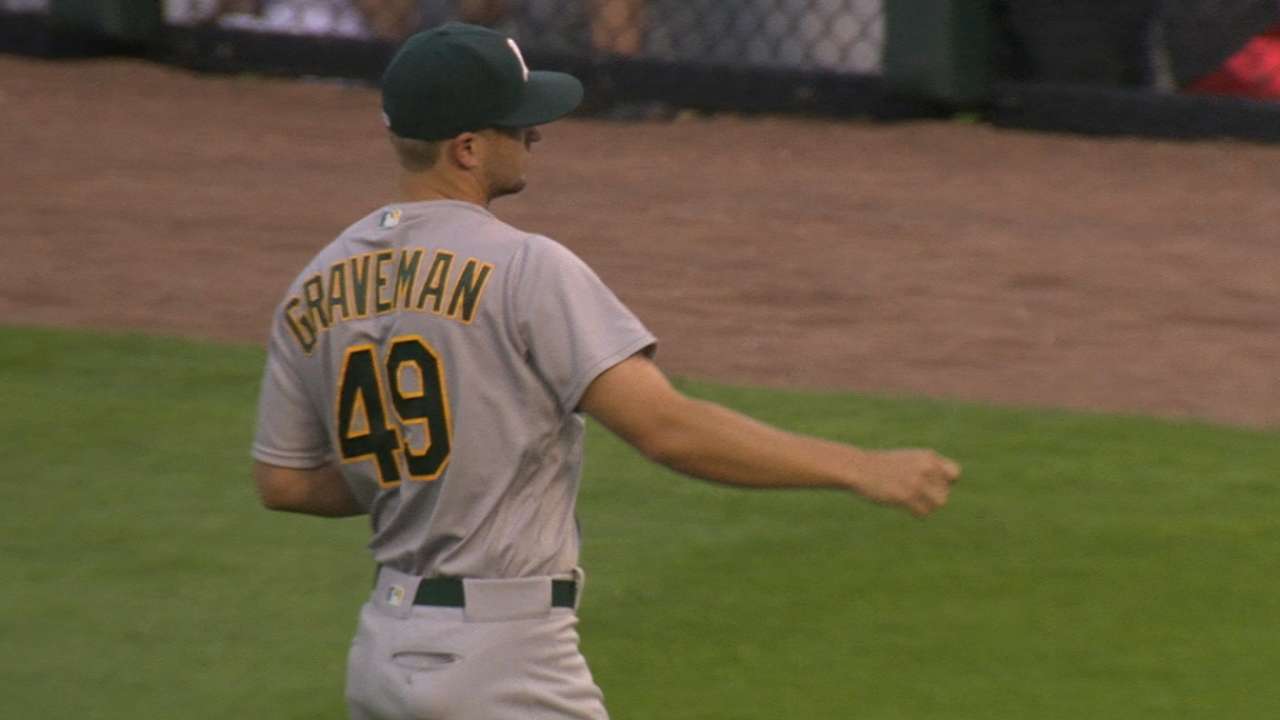 While with the Blue Jays, Graveman studied Mark Buehrle's routine between starts. He tries to be as prepared as former A's pitcher Jon Lester. He lauded Gray's competitive nature on the mound. Graveman joked former teammate Rich Hill must've reminded him about pitching with conviction at least 20 times while the pair shagged batting practice in the outfield.
"I think he could see that was the last little piece I may have been missing, in his eyes," Graveman said. "And he just kept hammering it into me."
That conviction is ever-present now, a growing wave of confidence fueled by a crashing sinker. The Orioles, the same team that battered Graveman in May, saw it Aug. 8, when Graveman gave up one run in seven innings to beat them.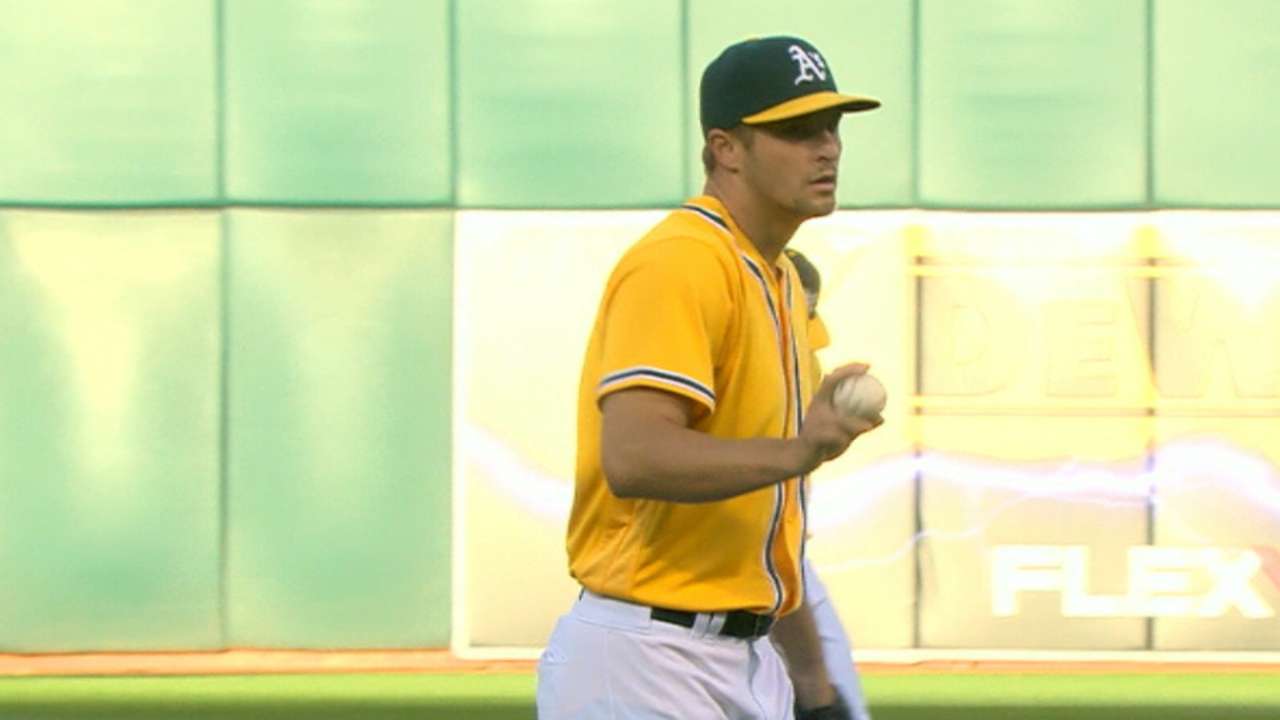 "You have to overcome stuff in this game," Graveman said. "If that's on your mind, it's going to make for a long career, a long season. It's definitely not on my mind. What's on my mind is, 'How can I improve? How can I learn from those experiences that weren't so pleasant?'"
As Graveman has shown, sometimes it's by simply asking the right questions and taking the time to listen. Take Minnesota, for example, when Graveman turned to Gray. But this time, as Gray told him, Graveman already knew the answer.
"You started to see me use the sinker more and have success with it," Graveman said. "I think that was something that, if that wouldn't have happened, you wouldn't have had the eye-opening experience.
"I was talking to Sonny, not even thinking anything about it. And he was like, 'Listen to what you just said.' When you have success and you have a good game, it kind of really brings to light some things you might not experience throughout the season."
Mark Chiarelli is a reporter for MLB.com based in the Bay Area. This story was not subject to the approval of Major League Baseball or its clubs.