Greene leads top 25 high school prospects for 2017 Draft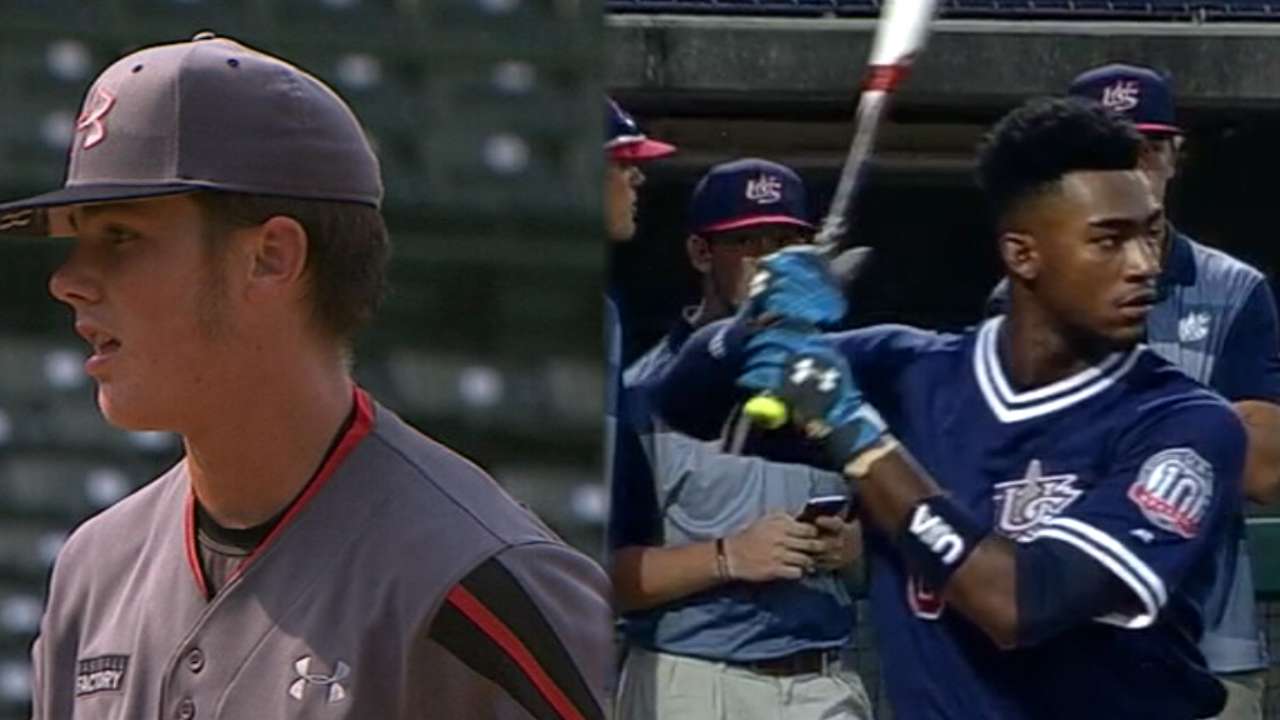 With the high school summer showcase season wrapped up, it's time to put a bow on it with an early ranking of the top 25 prep prospects for the 2017 MLB Draft.
For Draft fans, there were two main takeaways from the showcase circuit, which includes Perfect Game National, USA Baseball's Tournament of Stars, East Coast Pro, the Area Code Games and a couple of high school all-American games. The first was the consistent pitching dominance of two-way star Hunter Greene (Notre Dame HS, Sherman Oaks, Calif.), who cemented himself as the industry consensus top high school prospect. The second was the emerging depth of position players, a speedier group than prep classes of the past.
Of the top 25 players in this ranking, at least four players -- Jordon Adell, Quentin Holmes, Cole Brannen and Adam Hall -- grade as plus-plus runners. Jordan Anderson and Garrett Mitchell also have plus wheels, and there are others here like Brady McConnell and Royce Lewis who have at least above-average speed. But these players do more than just burn up the basepaths -- they all swing the bat with projectable hitting tools as well.
Having attended the Perfect Game National and Tournament of Stars showcases in June, this ranking was compiled from my scouting notebook, and it was supplemented with feedback from scouts and industry sources who attended other showcase events. Also, this is where we put the usual caveat that it's a very early juncture for a Draft prospects ranking, as evaluations of teenaged baseball players can and will change dramatically in the span between now and next June.
Top 10:
1. Hunter Greene, RHP, Notre Dame HS (Sherman Oaks, Calif.)
6-foot-3, 195 pounds; R/R; Committed to UCLA
Greene is a first-round talent as a shortstop, but the industry prefers him on the mound, where he's a potential top-five pick and a possible top-of-the-rotation starter. He has an outstanding feel for his three-pitch arsenal, which includes a mid-90s fastball that tops out at 98 mph, a plus slider and an advanced changeup.
2. Jordon Adell, CF/RHP, Ballard HS (Louisville, Ky.)
6-foot-3, 198 pounds; R/R; Committed to Louisville
Adell is probably the best athlete in the draft, a 70-grade runner with electric bat speed and plus raw power. He has swing-and-miss challenges to overcome, but he made noticeable progress at the plate as the summer wound down. Adell also has a plus-plus arm that produces lasers from the outfield and low-90s heaters from the mound.
3. Brady McConnell, SS, Merritt Island (Fla.) HS
6-foot-2, 169 pounds; R/R; Committed to Florida
Equipped with average or better tools across the board, McConnell has a good chance to play shortstop, and he looks the part with his lithe frame. He pairs an advanced approach with a live bat, which takes a clean line-drive path and could produce 15-plus home runs annually.
4. Alex Scherff, RHP, Prestonwood Christian Academy (Plano, Texas)
6-foot-3, 210 pounds; R/R; Committed to Texas A&M
Scherff checks all the boxes that scouts want to see in a high school pitching prospect, with his rock-solid build, low-effort motion and feel to pitch. He throws a low-to-mid-90s fastball and a changeup that flashes plus, though his breaking ball needs tightening to become more than an average pitch.
5. Royce Lewis, INF/OF, JSerra Catholic HS (San Juan Capistrano, Calif.)
6-foot, 183 pounds; R/R; Committed to UC Irvine
A fast-twitch athlete with present strength, Lewis demonstrated the lightning in his bat when he launched a mammoth home run in the Under Armour All-America Game. He doesn't have a clean defensive profile, but he offers versatility with his above-average arm, above-average speed and solid glove.
6. DL Hall, LHP, Houston County (Ga.) HS
6-foot-1, 179 pounds; L/L; Committed to Florida State
Hall employs a three-pitch mix that includes one of the best breaking balls in the class, a three-quarters curveball with the depth and rotation needed to miss bats at the next level. He also has a low-90s fastball that touches 95 mph, a promising changeup and a starter's delivery, giving him a chance to pitch in the middle of a rotation someday.
7. Alex Toral, 1B, Archbishop McCarthy HS (Southwest Ranches, Fla.)
6-foot, 231 pounds; L/L; Committed to Miami
Toral has the look of a future cleanup hitter with plus raw power and an uncommon feel for the barrel. He can't play any other position besides first base, but the hitting tools are too good for anyone to really care.
8. Caleb Sloan, RHP, Regis Jesuit HS (Aurora, Colo.)
6-foot-3, 215 pounds; R/R; Committed to TCU
Thanks to a durable build, outstanding arm action and projectable stuff, Sloan is easy to imagine as a starter. His low-90s fastball stands to gain more velocity, and he mixes in a hard slider with a nascent changeup.
9. Conner Uselton, OF, Southmoore HS (Oklahoma City)
6-foot-4, 199 pounds; R/R; Uncommitted
Country strong with an athletic physique, Uselton pairs plus raw power with an emerging feel to hit, though an extended lead arm adds length to his swing. He has the offensive profile for right field, where his plus arm strength is an asset.
10. Trevor Rogers, LHP, Carlsbad (N.M.) HS
6-foot-5, 190 pounds; L/L; Committed to Texas Tech
Rogers entered the summer with little fanfare, but that changed at the Area Code Games when he came out firing a 93-95 mph fastball with little effort and showed a promising breaking ball. The low-slot lefty doesn't bring that velocity with consistency yet, though one scout observed that he's a "baby giraffe still trying to figure out his body," an ultra-projectable frame that should add the strength to do so.
The best of the rest:
11. Cole Turney, OF, Fort Bend Travis HS (Richmond, Texas)
6-foot, 203 pounds; L/L; Committed to Arkansas
12. Blayne Enlow, RHP, St. Amant (La.) HS
6-foot-4, 169 pounds; R/R; Committed to LSU
13. Jacob Heatherly, LHP, Cullman (Ala.) HS
6-foot-2, 210 pounds; L/L; Committed to Alabama
14. Nick Allen, SS, Francis Parker School (San Diego)
5-foot-8, 152 pounds; R/R; Committed to Southern California
15. Quentin Holmes, CF, Monsignor McClancy HS (East Elmhurst, N.Y.)
6-foot, 173 pounds; R/R; Committed to Mississippi State
16. Hans Crouse, RHP, Dana Hills HS (Dana Point, Calif.)
6-foot-5, 184 pounds; L/R; Committed to Southern California
17. Jordan Anderson, CF, James Clemens HS (Madison, Ala.)
6-foot-1, 190 pounds; R/R; Uncommitted
18. Cole Brannen, CF, The Westfield Schools (Perry, Ga.)
6-foot-1, 188 pounds; L/R; Committed to Georgia Southern
19. Kyle Hurt, RHP, Torrey Pines HS (San Diego)
6-foot-2, 189 pounds; R/R; Committed to Southern California
20. Garrett Mitchell, OF, Orange Lutheran HS (Orange, Calif.)
6-foot-1, 201 pounds; L/R; Committed to UCLA
21. Shane Baz, RHP, Concordia Lutheran HS (Tomball, Texas)
6-foot-2, 184 pounds; R/R; Committed to TCU
22. MJ Melendez, C, Saint James HS (Fort Pierce, Fla.)
5-foot-11, 175 pounds; L/R; Committed to Florida International
23. Mark Vientos, 3B, Charles W. Flanagan HS (Pembroke Pines, Fla.)
6-foot-3, 186 pounds; R/R; Committed to Miami
24. Adam Hall, SS, A.B. Lucas Secondary School (London, Ontario)
6-foot, 170 pounds; R/R; Committed to Texas A&M
25. Hagen Danner, RHP/C, Huntington Beach HS (Calif.)
6-foot-1, 194 pounds; R/R; Committed to UCLA
Jesse Burkhart is a contributor for MLB.com. This story was not subject to the approval of Major League Baseball or its clubs.