Mauer held out of lineup with sore quads
Molitor says injury 'a little bit more problematic' than originally thought
MINNEAPOLIS -- Twins first baseman Joe Mauer was held out of the lineup for a second straight game with sore quads, and manager Paul Molitor said the injury is a bit more serious than originally thought.
Mauer was also out of the starting lineup on Sunday (he pinch-hit in the ninth) before playing on Tuesday after the Twins' off-day on Monday.
"It's lingering a little bit," Molitor said. "I think it was actually a little bit more problematic than he was leading on in terms of trying to find a way to play through it."
Mauer has been dealing with the injury for past few weeks, but he worsened it on Aug. 16, when he scored from first on a double against the Braves. He went 3-for-4 with a homer that game, but is 1-for-16 since then.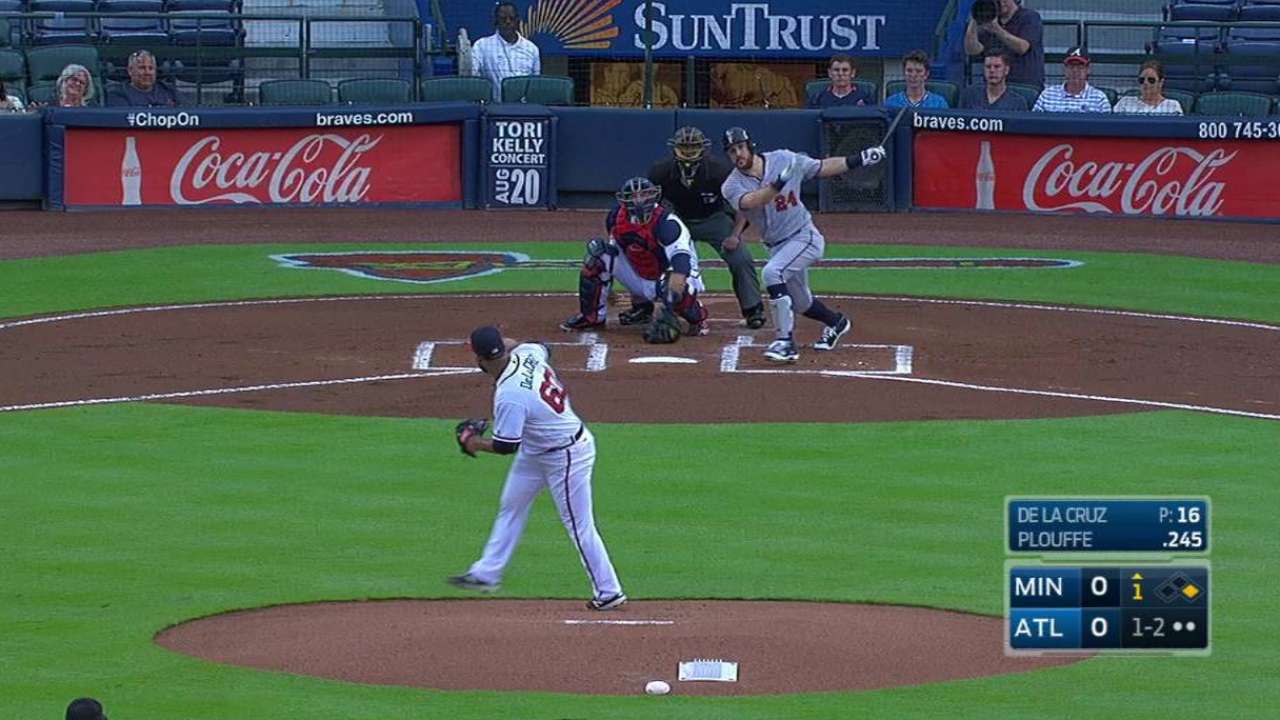 "I think that aggravated it," Molitor said. "Whatever low-level condition he had wasn't concerning, although we had been resting him more. But I think that play pushed it to a different level."
Molitor said he's hopeful that Mauer will return to the lineup on Friday in Toronto, but he wants to make sure he's healthy before he's back on the field.
"Tentatively, I'm still thinking about tomorrow," Molitor said. "I think hitting is a part of it, but it's running and first-step quickness defensively."
With Mauer out, Trevor Plouffe made his second straight start at first base with Eduardo Escobar at third. Miguel Sano remains bothered by a sore throwing elbow, and Molitor said he's still not sure when he'll be able to play third.
"It's kind of day to day," Molitor said. "I've had conversations with him the last couple days, and I don't get the impression he's overly confident in making throws right now. I do feel like he can play there, and we ran him out there once, but I'm not getting the signal he's feeling great about how his elbow is doing."
Worth noting
• Left-hander Buddy Boshers, on the 15-day disabled list with left elbow inflammation, threw his first bullpen session before Thursday's game without any issues. Fellow injured pitchers Trevor May (lower back strain) and Tommy Milone (left biceps tendinitis) are slated to throw their first bullpens on Sept. 1. Boshers is likely to head out on a rehab assignment, while Milone and May won't have that luxury with the Minor League season ending on Sept. 5.
• Lefty Hector Santiago said he'll make his next start on Wednesday after getting his scheduled start on Friday pushed back because of a bruised left thumb. Santiago said it's something he's dealt with off and on for the past few seasons but that it worsened recently.
"It's just some soreness from a deep bruise, but I don't think it's too serious," Santiago said. "I think with my offspeed, it has a big effect on it. So I've had to depend on the fastball, and hitters are giving up on the offspeed and waiting for fastballs."
• With the Twins celebrating Diversity Week, Major League Baseball's Ambassador for Inclusion Billy Bean met with club executives and coaches before the game. Bean, who made public he was gay in 1999 after a six-year Major League career, previously addressed Twins players in Spring Training. He praised the organization for its inclusiveness.
"It shows how baseball is grabbing hold of the understanding we have a wonderful platform," said Bean, who regularly meets with clubs throughout the season. "The influence these players have on young kids can really be utilized in a great way."
• On Thursday, Byungho Park underwent successful season-ending surgery on a tendon in his right middle finger on the back of his hand near his wrist. Dr. Thomas Varecka performed the operation. He'll rehab in Minneapolis.
Rhett Bollinger has covered the Twins for MLB.com since 2011. Read his blog, Bollinger Beat, follow him on Twitter @RhettBollinger and listen to his podcast. This story was not subject to the approval of Major League Baseball or its clubs.