Teheran struggling since coming off DL
Braves ace not the same since lat strain and infection sidelined him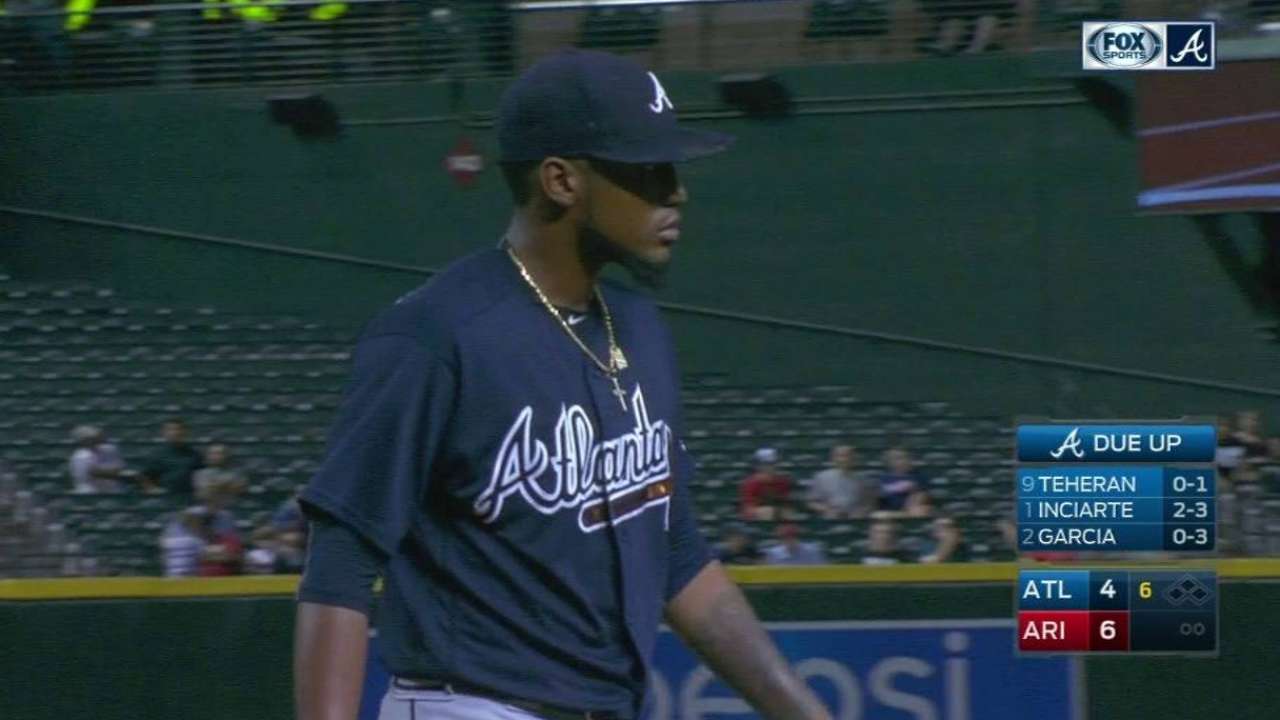 PHOENIX -- Julio Teheran might need more time to distance himself from the right lat strain that forced him to spend a portion of this month on the disabled list. But regardless of what transpires over the next few weeks, the Braves ace will still have to wonder what might have happened had these past two months not been plagued by bothersome ailments.
Teheran held himself accountable after he forced the Braves to come back from a significant deficit during Wednesday night's 10-9, 11-inning loss to the D-backs at Chase Field. Making just his second start since returning from the disabled list, the All-Star hurler simply was not as polished as he had consistently been within this season's first three months.
"I feel fine," Teheran said. "It was just one of those days for me. When you don't have your stuff, you give up some runs and that's what happened to me today."
Teheran matched season highs as he allowed 11 hits and six earned runs over six innings. He did not generate the extra pop with his four-seam fastball like he did earlier this season and, more important, he was unable to consistently command the glove side of the plate with his fastball. Jean Segura and Jake Lamb provided a couple big blows when they homered during a three-run fifth inning.
"He was down a long time and this is his second time out," manager Brian Snitker said. "He's probably not as sharp as he was before he hurt himself. As long as he is healthy, he'll be even better next time. The downtime interrupts the flow and the feel he had for his pitches."
Technically, Teheran was only sidelined from July 31, when the Braves placed him on the disabled list with the lat strain that had developed the previous week, through Aug. 19, when he returned to completed five decent innings against the Nationals. But the 25-year-old right-hander has not been able to experience a regular routine since a right thigh infection began bothering him in early July.
Teheran exited June with a 23-inning scoreless streak and then allowed five earned runs in the two starts he made immediately after the infection developed. He completed 11 scoreless innings to open the season's second half, but had to exit the fifth inning of his July 22 start at Coors Field because of the upper back stiffness that was diagnosed as a lat strain.
"I feel like I've had a lot of stuff going on the past two months," Teheran said. "It feels weird now that I've given up some runs. But I think that's part of the game."
Over the seven starts made since the infection developed, Teheran has seen his ERA rise from 2.46 to 3.15. He had never previously been on the disabled list and now he's challenged with the task of getting back into a groove with the hope of finishing this season as impressively as he started it.
"He dealt with that injury and he's just getting back," Braves utility man Jace Peterson said. "There's no doubt in one more start or two more starts, we'll get Julio back."
Mark Bowman has covered the Braves for MLB.com since 2001. This story was not subject to the approval of Major League Baseball or its clubs.