One-run win a wonderful result for Rays
Club has struggled in tight games all season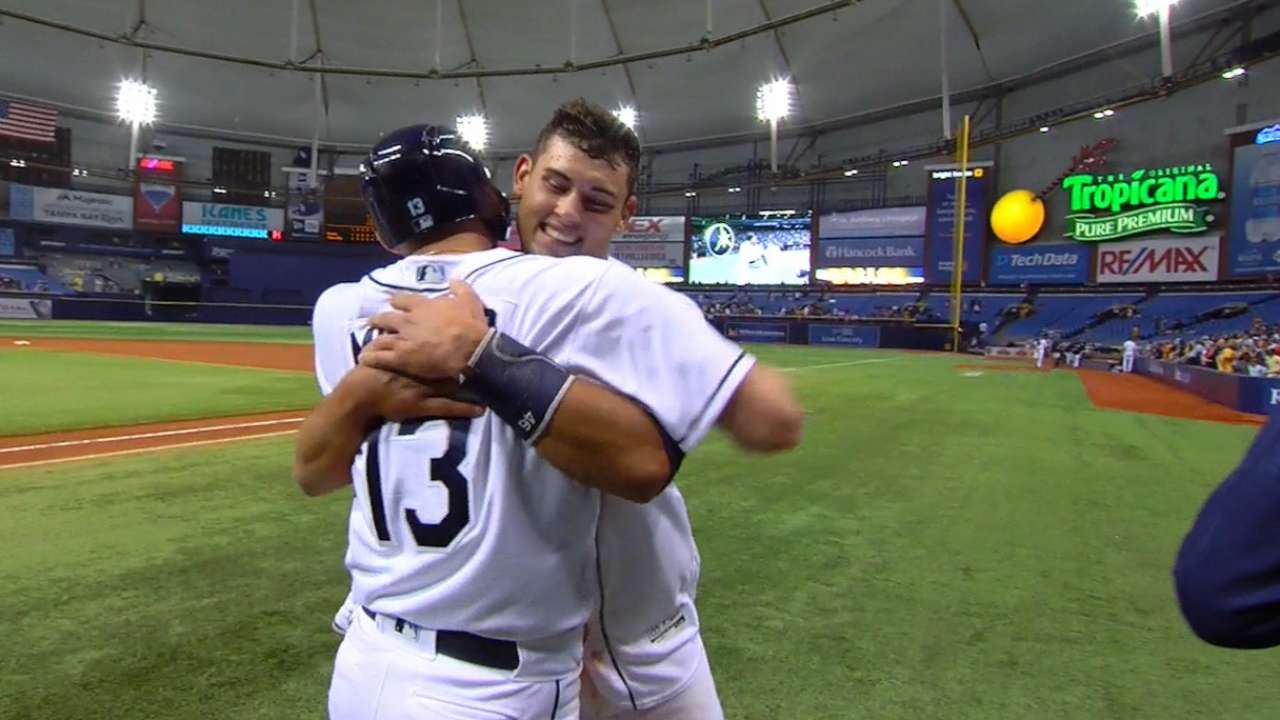 ST. PETERSBURG -- One-run games have not been kind to the Rays this season.
Entering Wednesday night's action, the Rays had an 8-19 record in one-run games, the worst in the Major Leagues. And they had lost 10 of their previous 11 such games. But all seemed to be forgotten in the afterglow of a 4-3, 11-inning win over the Red Sox at Tropicana Field.
"We're one better after tonight," Rays manager Kevin Cash said. "We've got to find a way to win those games, there's no doubt about it. We're built to play close baseball games, and it was a good one tonight."
Luke Maile entered the game in the 10th after Bobby Wilson, who started at catcher, stroked his third hit in the ninth and Cash sent in Mikie Mahtook to pinch-run.
Maile brought the No. 9 spot in the lineup its fourth hit of the night when he doubled down the right-field line with two outs in the 11th. After Logan Forsythe followed with a walk, Kevin Kiermaier stepped to the plate.
The speedy center fielder can make things happen with his legs. So when he hit a ball to first baseman Travis Shaw, he sprinted toward the bag.
"I had a 1-1 count right there and I knew [Red Sox pitcher Heath Hembree] was going to throw me a slider or cutter, whatever it was," Kiermaier said. "... I got the pitch I wanted and still got jammed and broke my bat, but I tried getting down the line as quick as possible and hope for the best."
Shaw tried to flip the ball to Hembree, but the right-hander dropped it. That allowed Maile to make the turn at third and head for home, sliding head first to score the winning run after catcher Sandy Leon dropped the throw.
"Thankfully he didn't come up with it clean, and it kicked away from him, and Luke did a great job busting his butt to get down the line, sliding into home," Kiermaier said.
Cash called what transpired a "very odd play."
"A unique play," Cash said. "I didn't envision Luke Maile taking an extra 90 feet on a ball that didn't get out of the infield, but I'm glad he did."
Maile explained that once he arrived at second, he felt like he needed to push his secondary leads in order to have the best chance to score if possible.
"I knew I wasn't the fastest guy on the field, so I wanted to get as much of an advantage, get off the bag as much as I could," Maile said. "As soon as I saw the ball go on the ground, I knew I wasn't going to be able to beat it unless it got kicked around a little bit. But I just tried to run hard, pick up the ball as soon as I touched third, and instincts kind of took over after that."
Maile had just finished watching the play on the TV in the Rays' clubhouse before he talked to reporters. When asked if he thought he was safe before Leon dropped the ball, he smiled.
"I just saw [the replay]," Maile said. "It doesn't really look like it, but at the time I did."
Once Maile was called safe, the Rays celebrated their walk-off win, savoring the feeling of being on the right side of a one-run game for a change.
"It's just one of those things where you can't really put your finger on why [the Rays have lost so many one-run games]," Kiermaier said. "But I don't know if it's just one of those things where I feel like this whole year we've had trouble coming up with the big hit in big situations. But that's baseball. There's not really an answer for it. It's just kind of been the story of our season."
Bill Chastain has covered the Rays for MLB.com since 2005. This story was not subject to the approval of Major League Baseball or its clubs.