Show of force: Miggy has 44th four-hit game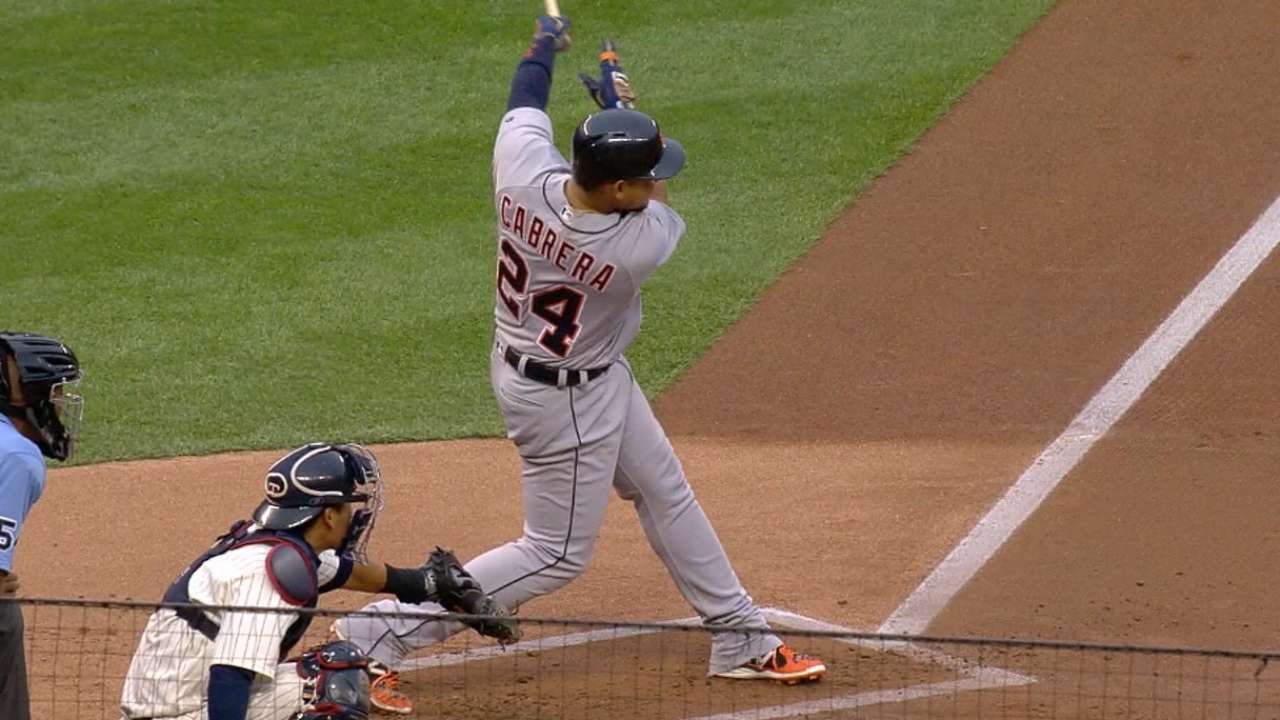 MINNEAPOLIS -- Miguel Cabrera's otherworldly hitting has become such a given that it doesn't even seem to faze anyone in the clubhouse when he has a four-hit game.
"I've been watching that on [television] for a long time," said teammate Justin Upton after the Tigers' 9-4 victory over the Twins on Wednesday night. "It's no surprise -- like I said, it's fun to watch."
Cabrera notched the 44th four-hit game of his career, with a solo homer, two doubles and a single, to lead the charge as the Tigers knocked 14 hits.
Putting things in perspective, Cabrera, in his age-33 season, is now second in four-hit games among active players, behind only Ichiro Suzuki's 53. With his 44th such game, he moved into a tie for 29th among all hitters since 1913 with former Tiger Ivan Rodriguez.
"It doesn't surprise me that he's had 44 [four-hit games]," said manager Brad Ausmus with a chuckle. "[He and I] have probably combined for 50."
Cabrera gave the Tigers a lead in the first inning by crushing a Statcast-estimated 423-foot solo home run off the berm in center field for his 28th homer of the season.
As it turns out, that was just a sign of things to come.
With the score tied at 1, Cabrera added an RBI double in the third inning as part of a five-run rally that gave the Tigers the lead for good, and was awarded a single in the fifth inning after his line drive down the left-field line was initially ruled foul before the call was overturned by a replay review.
After those first three hits, Cabrera only needed a triple to complete his first career cycle, but that would be a tall order -- he has only hit 17 in his 14-year career, though in a funny twist of fate, his only triple of the 2016 campaign came against the Twins.
Cabrera briefly looked as though he might have a shot at the history books with a line drive into right-center leading off the ninth inning, but Twins outfielders converged on the ball quickly enough that he barely reached second base with his second double of the day.
That meant that for a shocking 32nd time in his career, Cabrera fell a triple short of the cycle, placing him second among active players in that category behind Albert Pujols and seventh in Major League history dating back to 1913.
Instead he had to "settle" for the 20th game of his career with three or more extra-base hits, moving him into a tie with Robinson Cano for second among active players behind only Mark Teixeira (21).
For most baseball players, such a performance would be a career day; for Miguel Cabrera it's just another day at the office.
Do-Hyoung Park is a reporter for MLB.com based in Minneapolis and covered the Tigers on Wednesday. This story was not subject to the approval of Major League Baseball or its clubs.