Rosario's defense taking center stage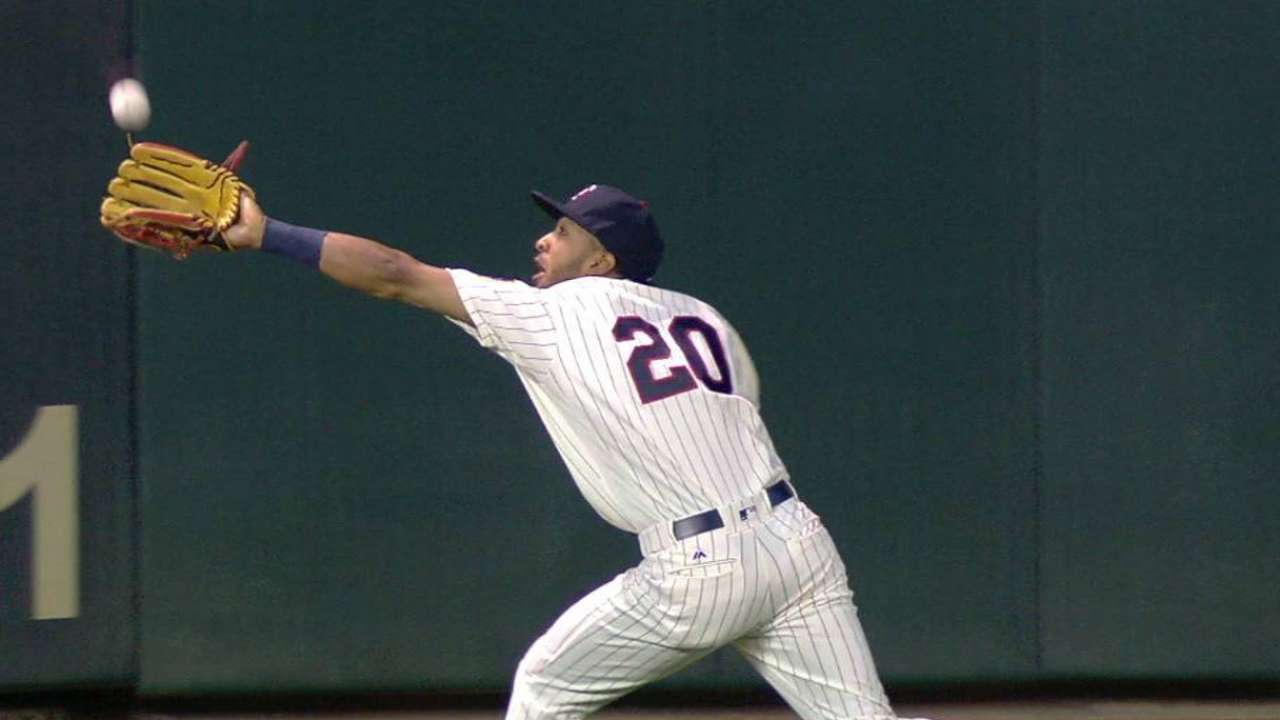 MINNEAPOLIS -- It was another rough night for the Twins' pitching staff in a 9-4 loss to the Tigers on Wednesday, but it could have been even worse if not for three impressive catches by center fielder Eddie Rosario.
With elite defender Byron Buxton at Triple-A Rochester since late July to work on his swing, Rosario has served as the everyday center fielder. And although he doesn't have the range of Buxton, he's filled in capably in center despite playing mostly in left for the last two seasons.
"He's getting some extended experience out there, and he's adapted fairly well," manager Paul Molitor said. "We know he's a quality outfielder. It's just a different look in center. But he did a nice job running some balls down near the fence in left-center and closed in on a ball very nicely. So it was a good night for him on the defensive side."
Rosario's first highlight-reel play came in the third, when he robbed Casey McGehee of extra bases with a running catch in deep left-center. Rosario made the catch at full speed, extending his glove just enough to make the grab before running into the wall.
"I had a good read to the ball," Rosario said. "I just kept running and running, but I wasn't sure if I could catch the ball. But when I got close, I just said to myself, 'I'm going to try for it.'"
His next running catch came in the fourth, when Jarrod Saltalamacchia lifted a shallow fly ball into right-center and Rosario was able to track it down for the inning's first out.
In the fifth he made a catch similar to the one he made in the third, racing all the way to the 411-foot sign in left-center to make a catch up against the wall to take a hit from J.D. Martinez.
Given Rosario's stellar defensive play in left field as a rookie last year, it's no surprise he's handled the transition to center so well. He had come up as a center fielder in the Minors before the Twins experimented with playing him at second base before Brian Dozier developed into a star.
So Rosario is embracing his time in center, and said he feels comfortable because he has so much experience there, especially in the Minors, where he made 209 appearances at the position. He still profiles as more of a corner outfielder, especially with his strong and accurate arm, but with Buxton in the Minors, he's proven to be a solid stopgap defensively.
"I feel good," he said. "I feel confident in center field. If the team needs me in center, that's where I'll play. I'm trying to do a good job in center."
Rhett Bollinger has covered the Twins for MLB.com since 2011. Read his blog, Bollinger Beat, follow him on Twitter @RhettBollinger and listen to his podcast. This story was not subject to the approval of Major League Baseball or its clubs.