Turner continues rise with Nats-record 8 straight hits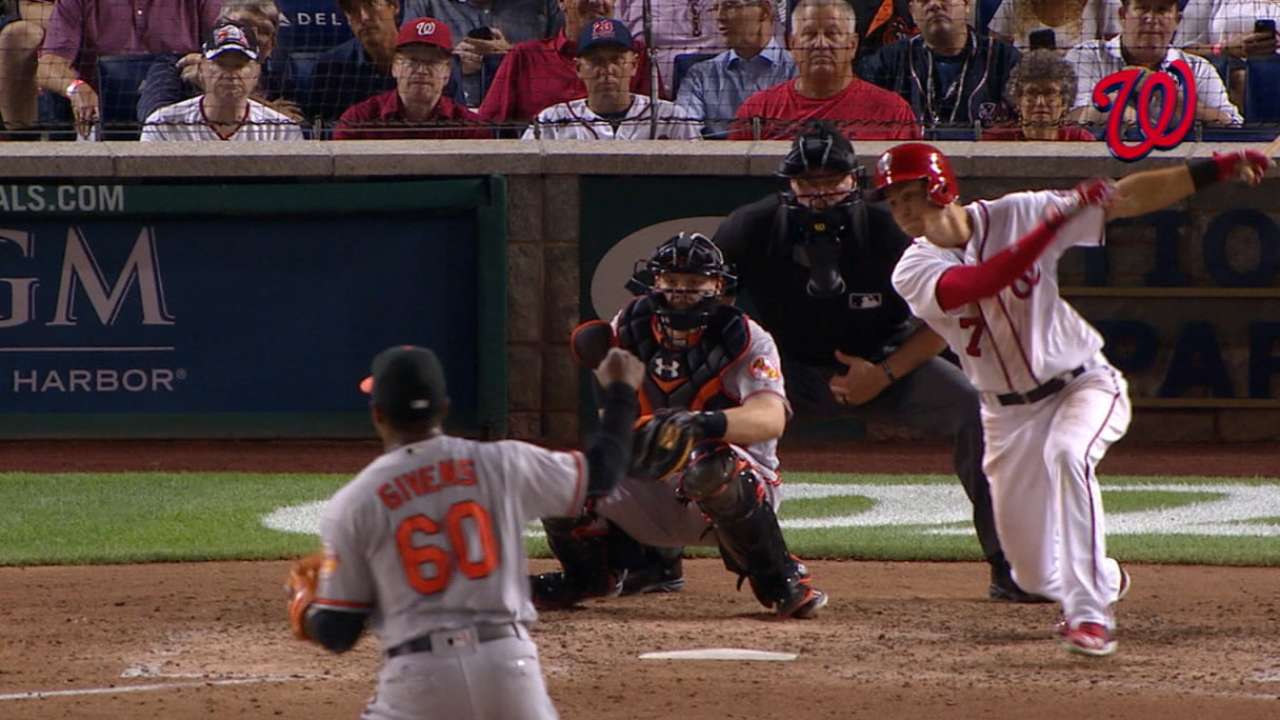 WASHINGTON -- It wasn't until Trea Turner was watching video of his last at-bat of the night -- a strikeout in the ninth inning of Wednesday's 10-8 loss to the Orioles -- that he realized the significance of his accomplishment over the previous eight at-bats.
There Turner saw a graphic flash on the screen that with a hit in eight consecutive plate appearances, he had tied a franchise record. Turner matched Andre Dawson (June 4-7, 1983, with the Expos) and Dimitri Young (May 31-June 1, 2007, with the Nationals) as the two players in franchise history with a hit in eight consecutive plate appearances.
"It's always nice to have your name associated with other great players and a record," Turner said. "It's something that I'll remember. I'm not shooting for it, but I'll take eight straight hits any day of the week."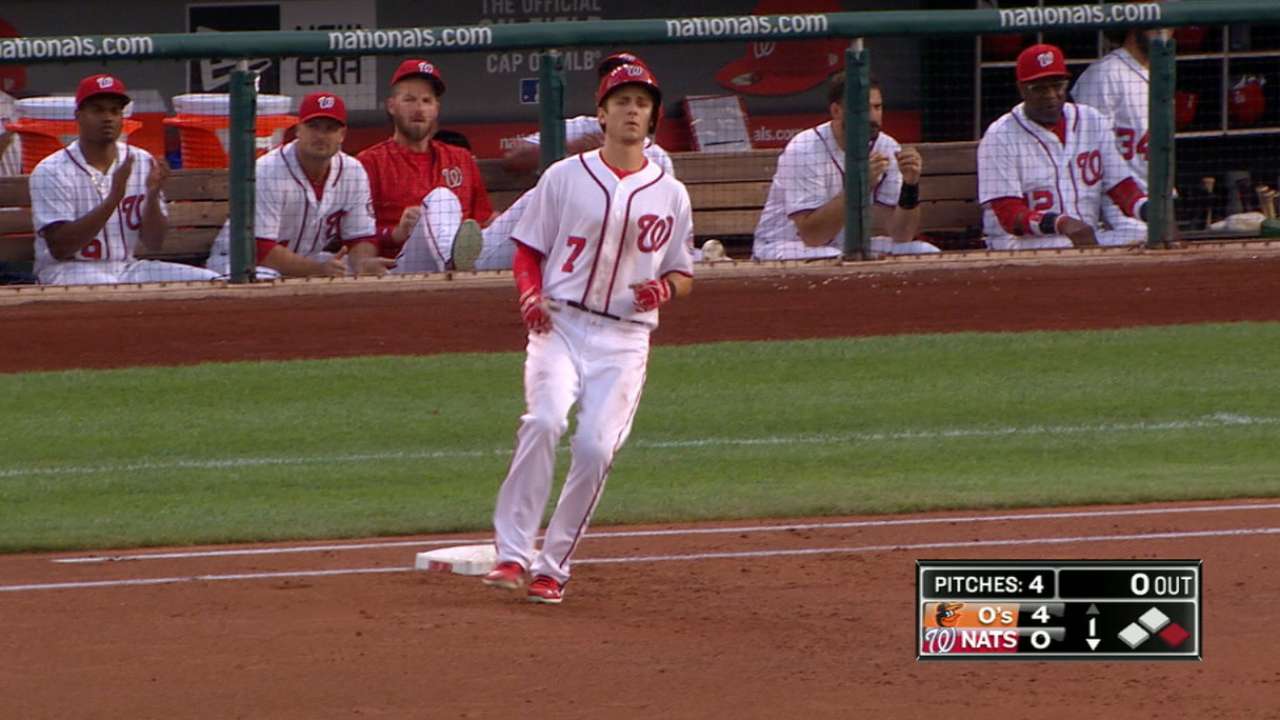 Turner went 4-for-4 with three singles and a double in Tuesday night's loss at Camden Yards and 4-for-5 with four singles to start Wednesday's game. He is hitting .335/.359/.544 this season and is 14-for-17 in stolen-base attempts. He nearly stole two bases on Tuesday night, but both were overturned after replay reviews.
Turner has given Washington production out of the leadoff spot, which it lacked this season before his promotion, and he's settling in nicely as the team's starting center fielder.
Turner began Wednesday's game by making a diving catch in center field to rob Adam Jones of an extra-base hit. Turner, who had never played the outfield before June, covered 102 feet with a route efficiency of 97.6 percent, according to Statcast™. The ball came off Jones' bat at 96.4 mph with a launch angle of 28.4 degrees, and similar batted balls have a .375 batting average and a .605 wOBA.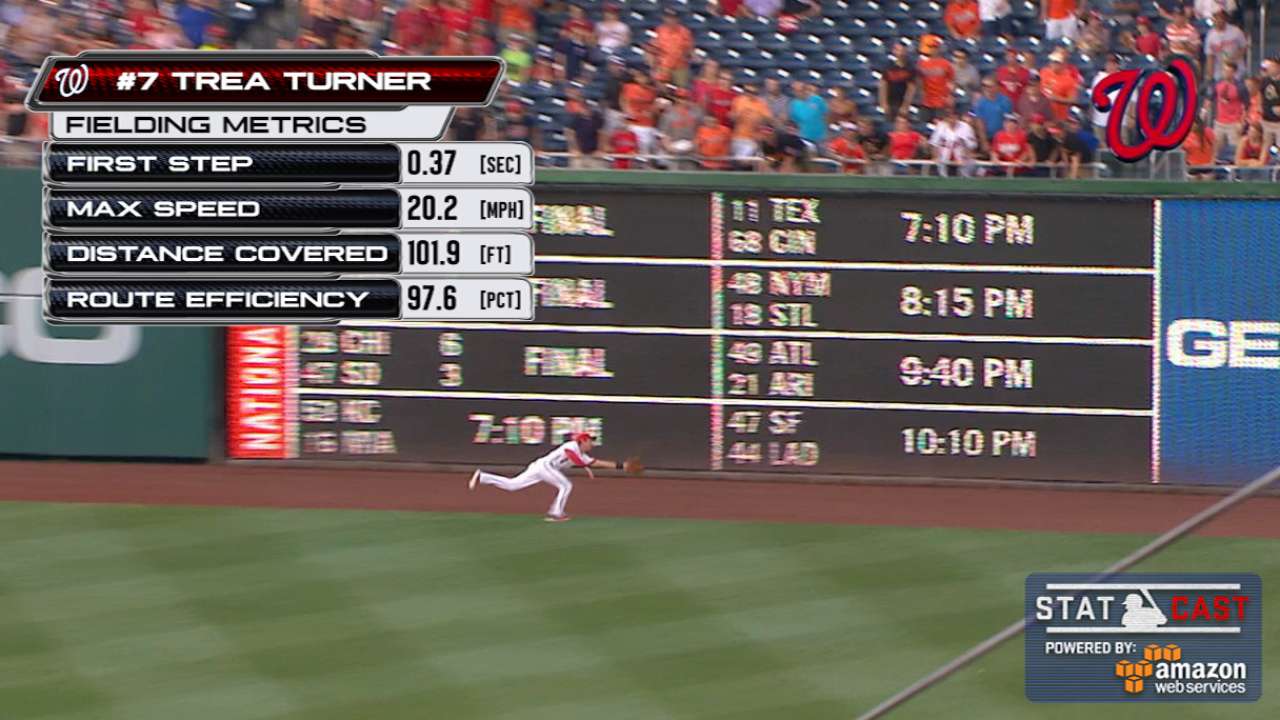 "That was big; he just outran that ball," Nationals manager Dusty Baker said. "Trea's been playing great. He had a great night at the plate. He's also a very determined young man. That determination and youthful exuberance, I think, has rubbed off on the team."
Turner's comfort level in center is still growing. He was a bit hesitant making a play at the wall in the fifth inning, resulting in a double by Matt Wieters.
Still, Turner has become one of the Nationals' most dynamic players in his 37 games this season.
"I just think the more he's here, the more he gets comfortable, the more he's learning," first baseman Ryan Zimmerman said. "He's still so young. He's still learning how to play and learning himself. His baseball IQ is through the roof. I think he makes adjustments really quick. He's really observant of what goes on around him. He's going to be a really good one."
Jamal Collier covers the Nationals for MLB.com. Follow him on Twitter at @jamalcollier. This story was not subject to the approval of Major League Baseball or its clubs.