Command woes at root of deGrom's struggles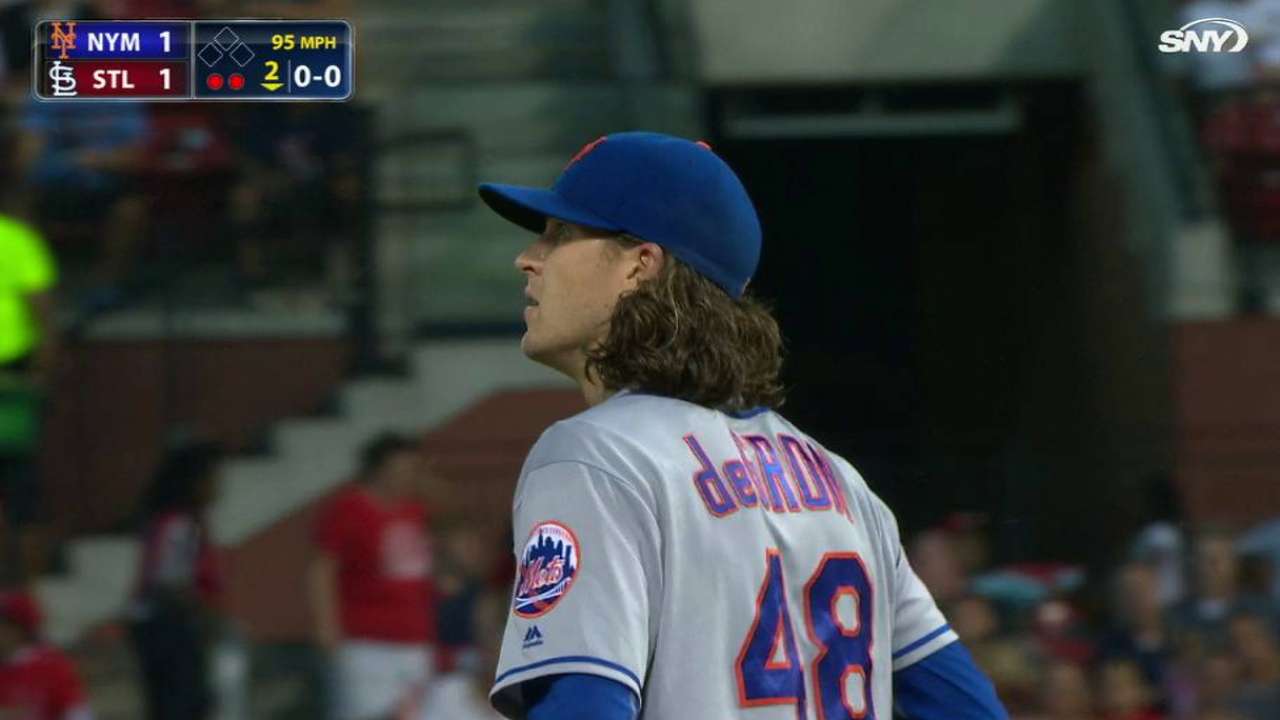 ST. LOUIS -- Terry Collins was sitting in his office chair earlier this week, brushing aside concern over Jacob deGrom's career-worst start in San Francisco, when he acknowledged an uncomfortable truth clouding the Mets' postseason chase.
"Right now, we're leaning on those three guys that we started out the year with," Collins said, referring to starting pitchers Noah Syndergaard, Bartolo Colon and deGrom. "They're the guys that certainly, when they go out there, they've got to give us maximum innings."
With injuries to Matt Harvey and Steven Matz crippling the Mets' uber-rotation, Syndergaard did his part Sunday night, beating the Giants to send the Mets to the Midwest on a high note. Colon has done his bit all season, giving the Mets the type of consistency they haven't always found elsewhere. But deGrom has struggled during the season's most critical stretch, giving up another five runs on 12 hits Wednesday in the Mets' 8-1 loss to the Cardinals. That increased his total to 13 runs on 25 hits over his last 6 2/3 innings, ballooning his ERA from 2.24 to 2.96.
In his first 21 starts, deGrom gave up 34 earned runs. Over his last two, he has allowed a baker's dozen.
"It's hard to get results when you throw everything right down the middle," deGrom said. "That's what it is. I'm missing down the middle. And these are big league hitters, and that's what they do."
Wednesday's culprit was indeed poor command; deGrom leaked too many balls out over the middle of the plate, allowing the Cardinals to bash three homers -- Matt Carpenter, Randal Grichuk and Stephen Piscotty all had their turn -- two doubles and seven singles. While deGrom's velocity has been strong throughout his poor stretch, regularly reaching 95 mph, his precision has not.
Asked why his signature command is suddenly lacking, deGrom could not provide an answer. Collins suggested fatigue, an issue for every Mets starter coming off last season's postseason run.
"Obviously we need to take a look and see how he's doing," Collins said. "In this particular stage of the season, the first thing you look at is fatigue. We'll start there."
When pressed about that, deGrom replied: "I don't feel tired at all. I felt fine."
All of this leaves the Mets in a prickly position with fewer than six weeks left in the regular season. Harvey is not returning this year, and while the Mets insist Matz will miss only one start, that is far from a guarantee. In the interim, the Mets are proceeding with a rotation including two rookies, Robert Gsellman and Seth Lugo, who have made one big league start. Combined.
To say that the outings of deGrom -- a former National League Rookie of the Year Award winner and NL Cy Young Award candidate -- are critical would be an understatement. The Mets refuse to skip a healthy deGrom. And they need him to be more than just healthy. They need deGrom to be stellar.
He knows it. They know it. The only question is whether deGrom can fix this in time.
"He's done a tremendous job since he's arrived in the Major Leagues with his command," Collins said. "It's never been an issue. … We thought he'd be a little fresher today, and it's still not there. So we need to take a good look at it."
Anthony DiComo is a reporter for MLB.com. Follow him on Twitter @AnthonyDiComo and Facebook, and listen to his podcast. This story was not subject to the approval of Major League Baseball or its clubs.