MLB.com Columnist
Barry M. Bloom
Nationals on solid ground with Rizzo in charge
WASHINGTON -- There's no secret to Mike Rizzo's success, and thus the success of the Nationals, who are running away with the National League East as the baseball season heads toward Labor Day.
"It's like anything else, it starts with scouting and player development," Rizzo, the Nationals' president of baseball operations and general manager, told MLB.com prior to Wednesday night's 10-8 loss to the Orioles at Nationals Park.
"If you scout well, you draft good players. We're not trying to reinvent the wheel here. You put in place a theory. We build ourselves on pitching, defense and athleticism. All the players we draft and the deals we make are all in that vain."
In an era where some teams rely heavily on analytics to make their player selections, those words are undoubtedly music to old-school ears. Rizzo is a former Minor League infielder and third-generation scout, who learned the game from his father, Phillip, and grandfather, Vito, both of them scouts.
Phil, 86, is still a senior adviser to his son in the Nationals organization
To be sure, there's a strong reliance on analytics, but it all begins with old-fashioned eyes on players and stomping the bushes. In that way, the Nats are built for the long-term, and they are indeed now reaping the benefits.
The core is four first-round Draft picks: Stephen Strasburg, Bryce Harper, Ryan Zimmerman and Anthony Rendon. Danny Espinosa was a third-round pick.
They are surrounded by major free-agent signees Jayson Werth, Max Scherzer and Daniel Murphy, who cost the Nationals a total of $373.5 million.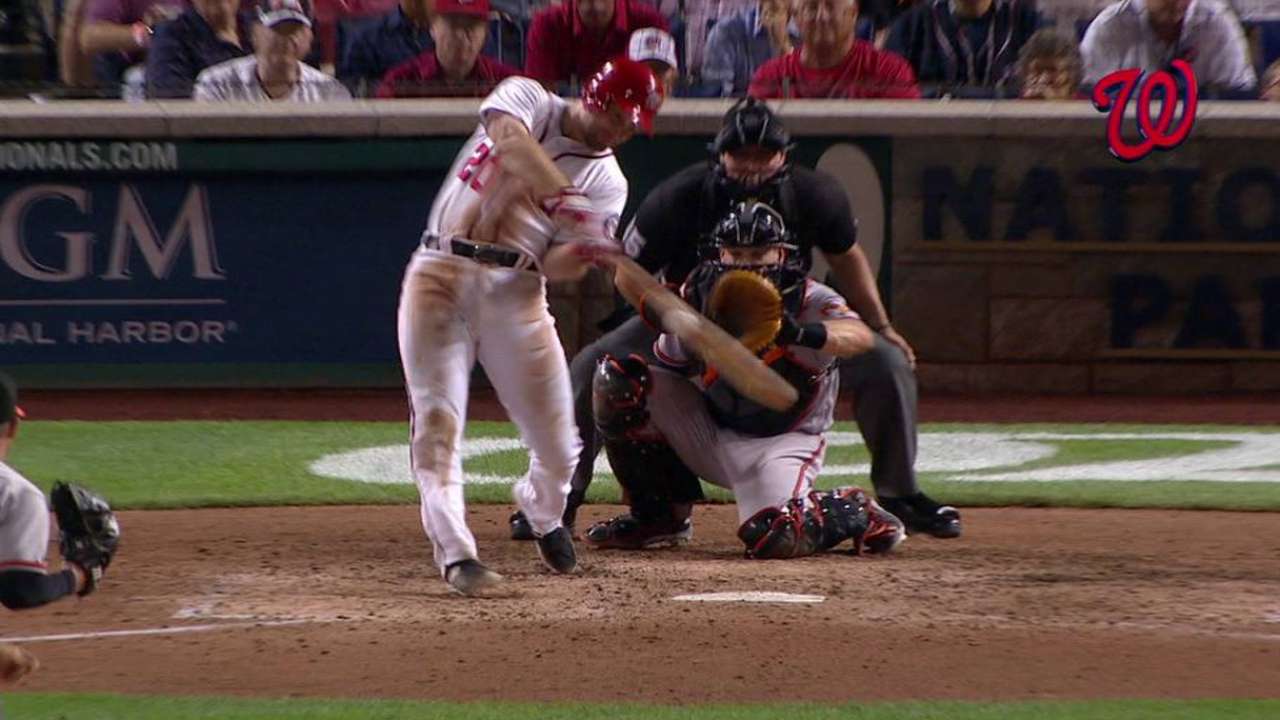 Plus, here are some of the key trades Rizzo has made:
Catcher Wilson Ramos from the Twins for reliever Matt Capps.
Left-hander Gio Gonzalez from the A's for four players no longer in Oakland.
Trea Turner and Joe Ross from the Padres in a three-way deal with the Rays that netted Wil Myers for San Diego, but cost the Nationals just Travis Ott and Steven Souza Jr.
Right-hander Tanner Roark from the Rangers for Cristian Guzman.
And most recently, closer Mark Melancon from the Pirates for Felipe Rivero and Minor Leaguer Taylor Hearn.
It's all part of philosophy, which has the Nats where they are today.
"Our thought process all along was to draft well and develop the players," Rizzo said. "You either infuse those players on the big league club or use those players to make trades. We have 12 players right now who we acquired via the trade route. We have three free agents that we've invested in and the rest of them we've drafted, signed and developed ourselves."
There have been poor deals, of course. The recently released Jonathan Papelbon, obtained from the Phillies last year, is one Rizzo might want to have back. But even that one only cost the Nationals Nick Pivetta, a right-hander who's still in Philadelphia's Minor League system.
Papelbon displaced closer Drew Storen -- who ultimately was traded to Toronto for Ben Revere -- and last season fought Harper in the Nationals' dugout. Papelbon was released with 19 saves in 22 opportunities, four losses and a 4.37 ERA.
"We thought we needed an upgrade at the back end of the bullpen," Rizzo said. "We were fortunate enough to acquire Melancon, and we went with what we felt were our best seven relievers."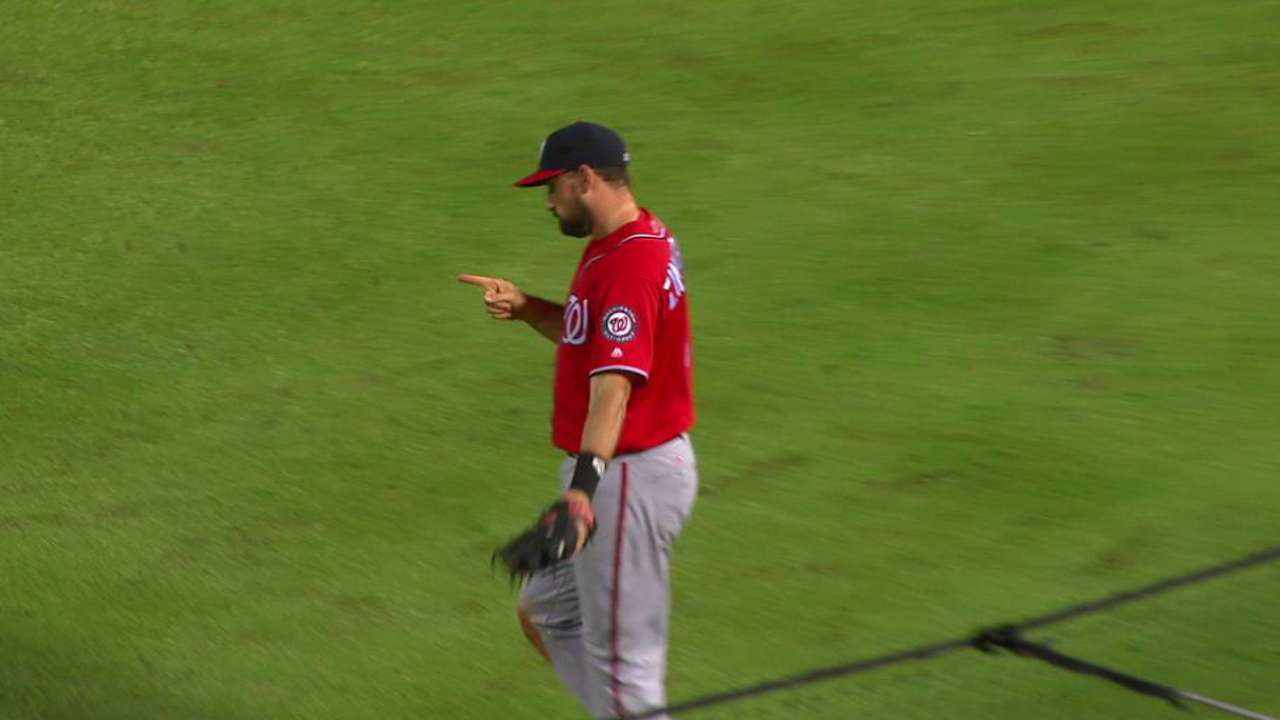 Of course, they can't all be gems. And though Rizzo's deals haven't been enough yet for the Nationals to emerge from the NL Division Series, he's succeeded in a much greater proportion than he's failed.
Rizzo is much further ahead of the curve and that should come as no surprise.
Rizzo cut his teeth, so to speak, with the D-backs, spending seven years with Arizona as director of scouting, where he was hired by general manager Joe Garagiola Jr.
In the nascent days of that organization, the charge from then managing general partner Jerry Colangelo was to build a winner in the big leagues and develop a productive Minor League system.
Under Garagiola Jr. and Rizzo, the D-backs did both, winning the 2001 World Series in seven games over the Yankees, and developing a core of young players that helped win NL West titles in 2007 and '11.
Under Rizzo's watch, the D-backs drafted and developed such hallmark players as Scherzer, Brandon Webb, Justin Upton, Stephen Drew, Miguel Montero, Carlos Gonzalez and Mark Reynolds, just to name a few.
All of them, save Webb, whose career ended prematurely because of a right shoulder injury, are still contributing big time in the Major Leagues. Drew joined Scherzer on the Nats' current roster.
"I remember when I got here right after the Draft on July 24, 2006, that '07 team that Arizona had was formidable," Rizzo recalled. "That was a great scouting and player development success at the time."
Hindsight is 20-20.
When Garagiola resigned and left for Major League Baseball's central office in 2006, Josh Byrnes was hired over Rizzo as general manager. Rizzo left the D-backs and went to the Nationals as an assistant under then general manager Jim Bowden. When Bowden stepped down two years later, Rizzo replaced him.
Since then, the D-backs have gone from Byrnes to Jerry Dipoto to Kevin Towers to Dave Stewart. The Nats, under Rizzo, are trying to discern a path to at least get to their first World Series.
As good as their current season has been, they still finished out the day with eight less victories than the Cubs, who've also traveled the same path as Rizzo -- building toward a championship through scouting and development.
Despite what could be a legendary season on the North Side of Chicago, Rizzo believes his club is right there in the nation's capital.
"We think we are," he said. "We're trying to be a good, consistent team with that depth. I think it takes talent and depth to win consistently here. And we like the roster we've put together."
Barry M. Bloom is a national reporter for MLB.com and writes an MLBlog, Boomskie on Baseball. Follow @boomskie on Twitter. This story was not subject to the approval of Major League Baseball or its clubs.