Hamilton dazzles with another diving snag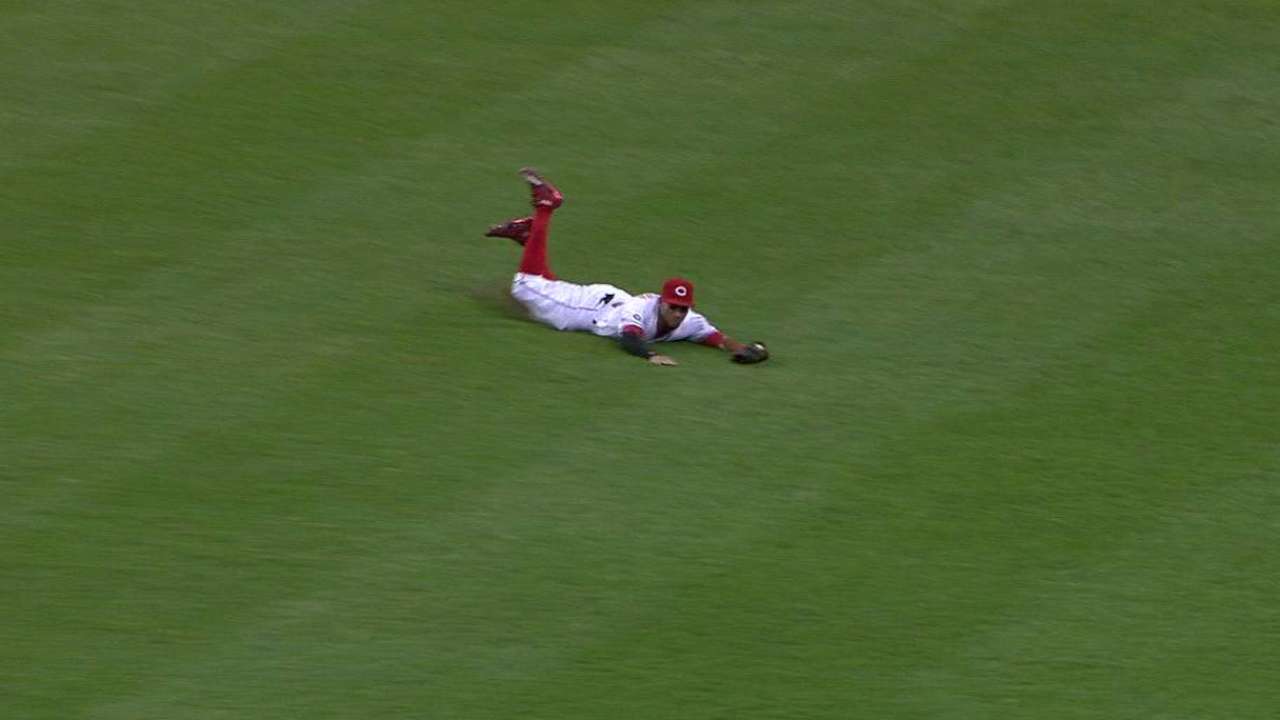 CINCINNATI -- What does Reds center fielder Billy Hamilton do for an encore after making one of the best catches of his career? He goes back to work and takes away another hit with another tremendous defensive effort.
For the third out of the Rangers' fourth inning during the Reds' 6-5 loss, Mitch Moreland hit a fly ball off Tim Adleman to right-center field. It had Hamilton take a wide turn to his left and race into position to once again leave his feet to make the diving catch.
Was it the showstopper type of play that Hamilton made on Tuesday vs. Texas during a 3-0 victory? No, but then again, that was a tough act to follow.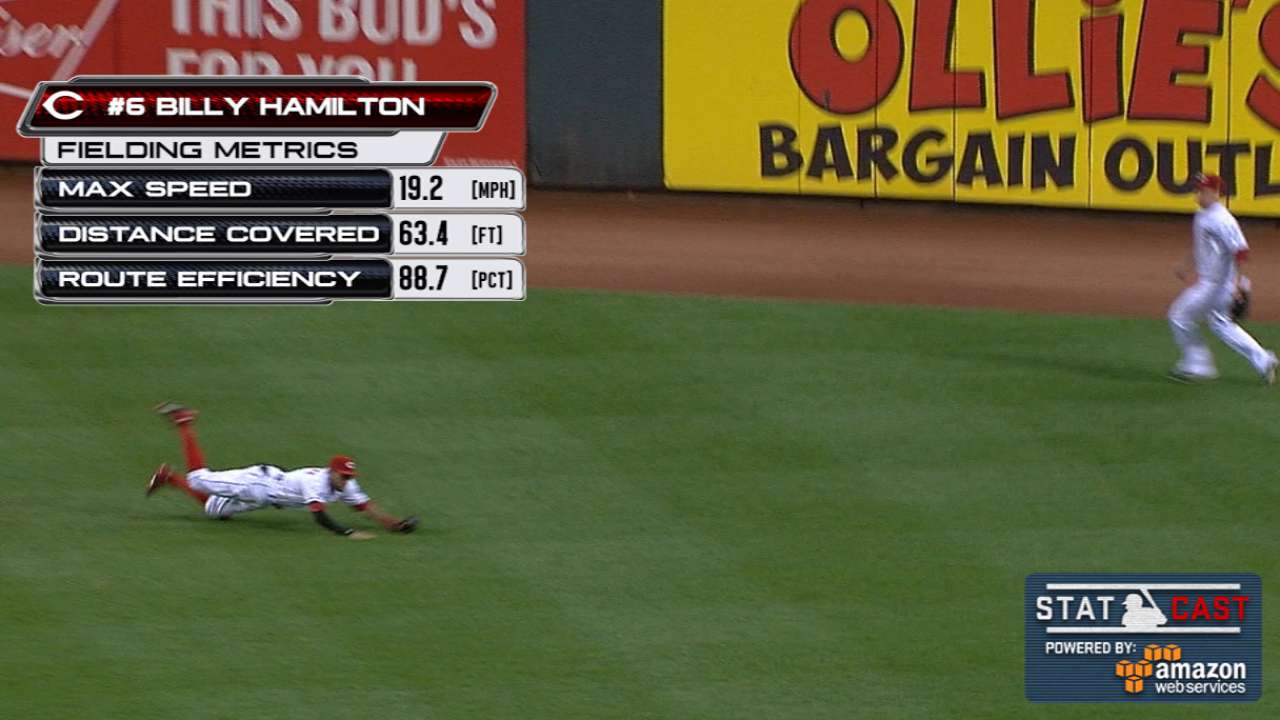 "The plays that are pretty extraordinary are starting to become routine with him," Adleman said. "So it's great to have him out there."
On that drive to deep left-center field by Carlos Beltran in the third inning, Hamilton ran it down and made a spectacular fully extended diving catch on the warning track as he sailed headfirst toward the wall.
For comparison's sake, here is the data from Statcast™:
On the Moreland play, Hamilton had a first-step reaction of 0.07 seconds and reached a top speed of 19.2 mph while covering a distance of 63.4 feet. His route efficiency was 88.7 percent. The exit velocity of the ball coming off the bat was 92.5 mph, with a launch angle of 20.7 degrees that traveled 308 feet.
With that exit velocity and launch angle combination, similar plays have a .271 batting average and .335 slugging percentage.
"It was a great play," Moreland said. "He made so many this series, the one yesterday was unbelievable. He can really cover some ground. We had bad aim. Everything we hit was near him."
For Tuesday's awe-inspiring play, Hamilton had a first-step reaction of minus 0.03 seconds -- meaning he was already moving just before the ball was hit -- and reached a top speed of 22 mph. He covered 123 feet with a route efficiency of 97.2 percent.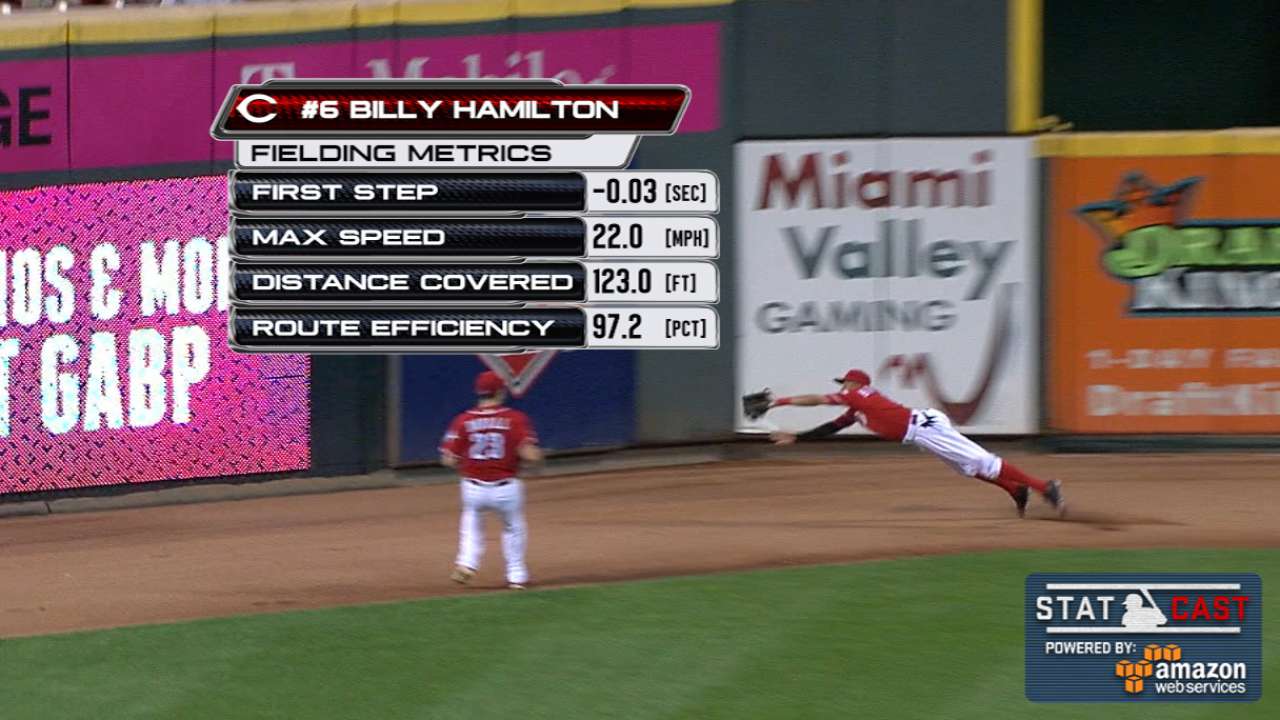 The Beltran ball had an exit velocity of 98.8 mph and a launch angle of 25.3 degrees. Batted balls with that combination have a combined .612 batting average and .950 slugging percentage.
Hamilton's defensive gems vs. Texas should help bolster his efforts to win his first National League Gold Glove Award. Among center fielders, he leads the NL with an 11.6 ultimate zone rating and 13 defensive runs saved, according to Fangraphs.com.
While the plays have disparate data, they do have two things in common. Reds pitchers on the mound appreciate the effort and the fans at Great American Ball Park were treated to another Hamilton dazzler that shouldn't be taken for granted, even if it's become more commonplace.
Mark Sheldon has covered the Reds for MLB.com since 2006, and previously covered the Twins from 2001-05. Follow him on Twitter @m_sheldon and Facebook and listen to his podcast. This story was not subject to the approval of Major League Baseball or its clubs.