Giants still showing fight despite rough stretch
LOS ANGELES -- When a hitter crushes a pitch on a two-strike count, that doesn't necessarily mean he employed a two-strike approach.
Brandon Crawford proved this in the eighth inning of the Los Angeles Dodgers' 1-0 victory Wednesday night over the San Francisco Giants. Lining reliever Joe Blanton's 0-2 delivery toward the right-field wall, Crawford briefly appeared destined to buoy the reeling Giants with a three-run homer. However, Dodgers right fielder Josh Reddick caught up with the drive and snared it a step in front of the barrier.
Though Crawford's bid for a homer was unsuccessful, his was the type of attitude the Giants must maintain to stay in contention for a postseason spot. Many hitters saddled with a two-strike count would have retreated into self-preservation mode, trying to prolong their plate appearance by slapping dinky foul balls.
Not Crawford. He went after the big prize.
"It's definitely a two-strike approach," Crawford said, politely correcting a reporter who thought otherwise. "I was trying to stay short [with the swing] and be ready for any pitch right there."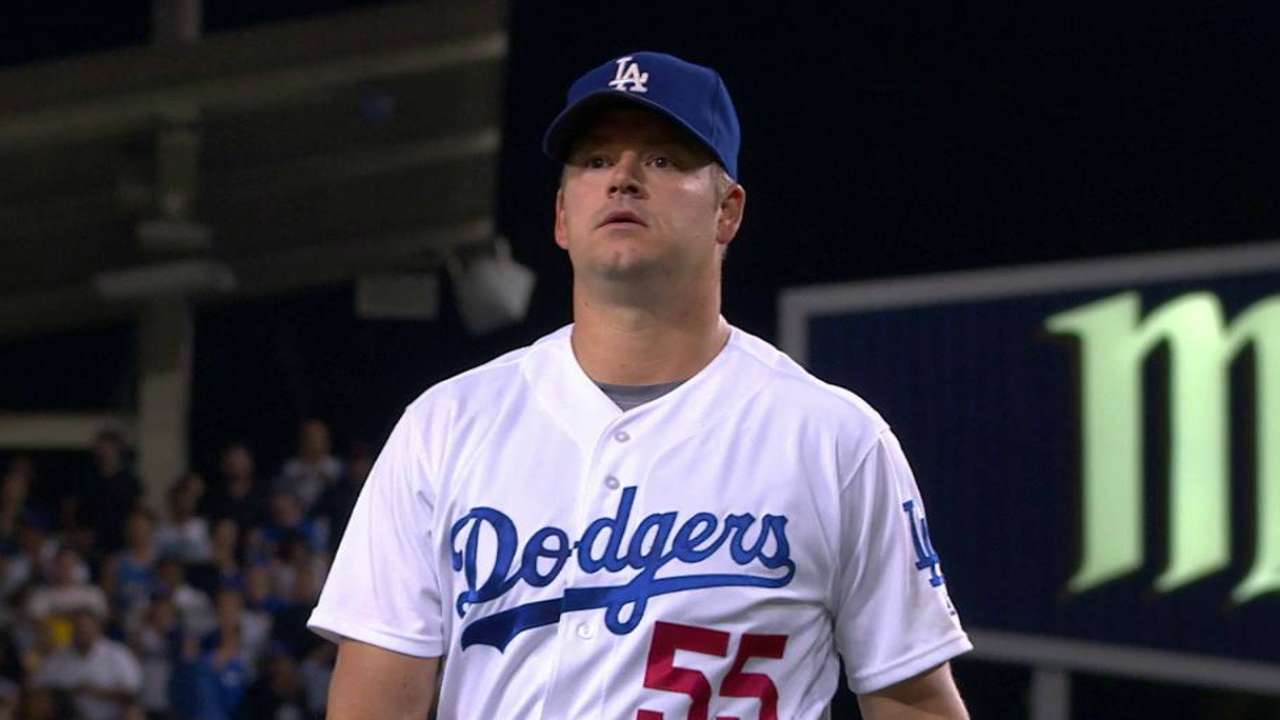 San Francisco trails Los Angeles by three games in the National League West and leads St. Louis by a half-game for the first Wild Card berth. The Giants have lost four consecutive games and eight of their last 10 while compiling a Major League-worst 11-25 record since the All-Star break. That's why they desperately grasped for hope when Crawford connected with runners at the corners and two out in the eighth.
"When he first hit it, I thought he got enough of it, but it died out there," Giants manager Bruce Bochy said.
Giants outfielder Gregor Blanco, who's confined to the bench while sidelined with a right shoulder injury, was convinced that Crawford would hit a double.
"Crawford, he always seems clutch," Blanco said. "So at that moment, I expected him to do good things. When he hit the ball, it was like, 'Oh, the ball's gone.'"
Crawford, who has hit 11 homers this season, didn't have that no-doubt feeling as he watched his drive travel.
"I thought I might have had enough," he said. "It got in on me a little bit, so I didn't square it up quite as well as I would have wanted."
Earlier in the eighth inning, the Giants' scoring bid was disrupted when Buster Posey was ruled to have struck out by first-base umpire Sam Holbrook, who fielded a request for an appeal. Posey bellowed angrily as he strode back to the dugout, careful not to stare at any umpire lest he be ejected.
"I knew it was close," a much calmer Posey said after the game. "I just feel like hitting's hard enough as it is. Anytime I feel like it's a borderline call, I think it should go in the hitter's favor. But if I'm catching, I probably would feel differently."
The Giants don't feel differently about themselves. They remain confident that each game brings them another opportunity to reclaim their lost momentum.
"You don't have a choice," Posey said. "I think it's as simple as that."
Chris Haft has covered the Giants since 2005, and for MLB.com since 2007. Follow him on Twitter at @sfgiantsbeat and listen to his podcast. This story was not subject to the approval of Major League Baseball or its clubs.